I first heard of Conkers earlier this year when a group of some of my favourite bloggers visited and shared their fun and adventures on their blogs. Everyone had an amazing day out but the one thing that went against it for me was the 3 hour drive from Bournemouth.
I was approached by Conkers to see if I wanted to attend their next bloggers event in July and as we live 180 miles away they suggested we use their Stay Play Explore short break offer – for just £129 a family of four can visit any 3 of 5 world class attractions including Conkers, National Space Centre, Twycross Zoo, Twinlakes Theme Park and Stonehurst Family Farm, plus enjoy overnight accommodation including breakfast at a choice of 4 star family friendly hotels. We stayed at Hinckley Island Hotel and you can read my review of our stay here.
We wanted to visit the National Space Centre last year when staying at Chorlton Moss but we ran out of time, so it made sense to make a weekend of it and do both. Sadly Hubby was working but I managed to persuade the teen to come with me and help out as he really wanted to try out the Zip Wire and go to the National Space Centre.
We set off at 6.45am to ensure we got to Conkers for the 10am start and actually arrived just after 9.30am as the roads were clear. Conkers is billed as somewhere you can enjoy the Great Outdoors. You can either take it slow and explore the 120 acres of maturing woodlands, lakes, ponds and play areas – or go wild and take the 18 stage Assault course challenge, climb the hi and lo ropes or launch yourself down the 70m zip wire.
Indoors there is also a lot to see and do so the weather can't spoil your fun. Delve into the life of a British Woodland with over 100 indoor interactive exhibits in our four seasonal zones. Or experience the Enchanted Forest full of adventure and discovery climbing through the treetops and along rope walkways – one thing was very clear, one day was not going to be long enough!
We started the day off by meeting the rangers who got us organised into families to do a spot of orienteering. We had to find letters and then work out the anagram to receive a reward for the next activity.
It was a great way of getting a general feel for the place and we spent around 40 minutes exploring the area. We found lots of different huts, picnic areas, the obstacle course, the hi and lo ropes course, maze and much more. Armed with our letters, we found our way to the next activity – Bushcraft.
The next challenge was to build a shelter and we were handed two elastic cables and a sheet of tarpaulin. The rest we had to improvise and despite Sebastian's best efforts to knock it over I was quite impressed with our efforts. We did struggle with the next part of the challenge though – building a fire!
We watched how the expert did it and he made it look super simple! Sadly our efforts didn't really take as the wood we had collected was quite damp, but the lovely Ranger came to our aid and soon had our fire burning bright. The reward for our orienteering was marshmallows to roast on our fire and Eliza and Isaac were soon enjoying the sticky, gooey, melted mess. Thank goodness for baby wipes!
We had one more challenge to complete before lunch – the Barefoot Walk.
Yes, we really did have to kick off those shoes and wriggle our toes in the mud. It is a purpose-built course where you get to feel the forest floor beneath your feet by walking on timber, bark, coal, mud, clay and pebbles. It was a strangely liberating experience as you got to feel all their textures as you walked along. The water was ice-cold and Sebby took an instant dislike to it, but Isaac and Eliza loved every minute, especially in the slippery clay.  Thank goodness I brought a change of clothes as Eliza fell over more than once, giggling everytime!
Thankfully they have a wash station as the end where you could clean up and put your shoes back on before climbing aboard the CONKERCHOO II train on one of its free regular trips between the Discovery and Waterside Centres to have a spot of lunch and a play in the massive play area.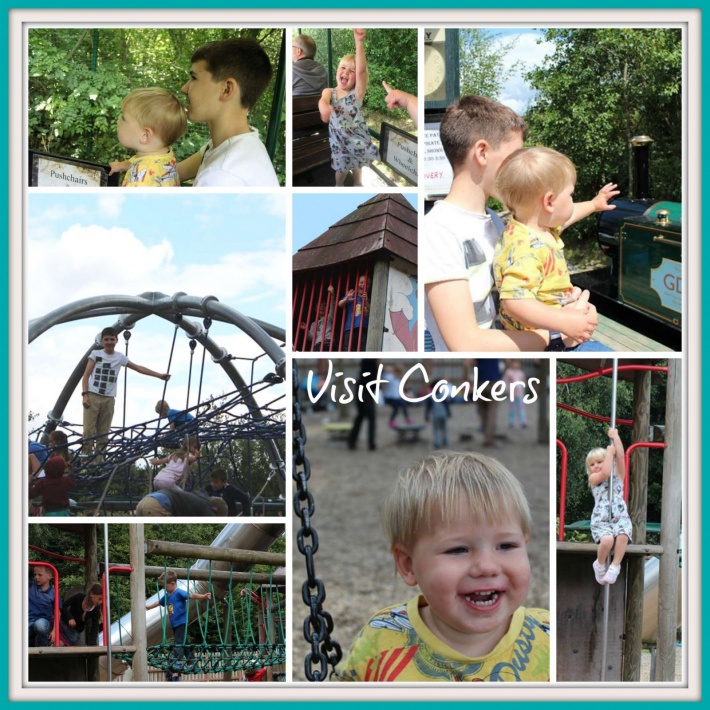 We were left to explore on our own for the rest of the afternoon and the boys were really keen to try the High and Low Ropes which need to be booked at Reception, so we caught the train back to the Discovery Centre to get our time slot. It was really busy so we couldn't get on until between 4pm-5pm so despite the good weather stayed inside to explore the Discovery Centre.
There are 100 indoor interactive exhibits in four seasonal zones. If you dare you can cross the chasm to reach the simulated tree top walk and make your way through a moving forest canopy at night to the mines and the caves beyond or experience the Enchanted Forest indoor play area which is full of adventure and discovery as you climb through the treetops and along rope walkways!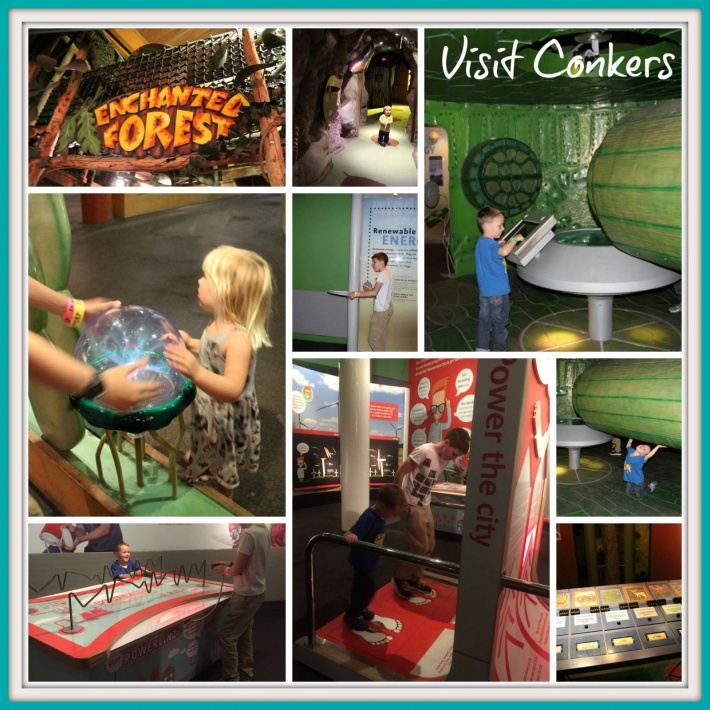 The centre was educational and fun, the kids were learning all about the world around them without realising it. Sebastian was most enamoured with the interactive forest floor and was charging around making all the leaves move out of the way.
By now it was finally time to head outside for the short walk to the Hi and Lo Ropes which opened this month. The plan was to do this and then follow Kian around the obstacle course, but we ran out of time.
The Hi Ropes Adventure has 15 aerial sections to complete – with climbing nets and high level walkways, all 30ft above ground. The Lo Ropes Course offers 10 different and exciting stage challenges and at 10ft above the ground it is perfect for younger climbers.
There is also a 30ft Climbing Wall, an amazing 40ft high Powerfan Descender and a fast and furious 110 metre Zip Wire. As these are pay extra activities we chose the Ropes and the Zip wire to do.
These courses were probably the only downside the day. We had a time slot, between 4 and 5pm, but I think that the slots should be narrowed down to 15 minute intervals as there was a lot of waiting around. Not great when you have a bored toddler in tow.
The Hi Ropes course was quieter and Kian got on quite quickly. He has been to Go Ape several times and done similar courses and found this very easy, speeding around in roughly 10 minutes. He would have gone quicker but had to wait for the people in front.
I thought that he would end the course by going down the zip wire but he was instructed to head back downstairs. Isaac was still queuing for the low ropes at this point.
There was a lot more waiting around before Isaac's group went in and despite being first in the queue, he got pushed to one-side by some older children, meaning he didn't get a harness. In fact there were so many children booked onto this session that were not enough harnesses to go around which meant more waiting. Thankfully Kian was waiting for the Zip Wire so was on hand to quash the tears and I have to give credit to the staff who did their best to cheer him up.
Finally Kian got called to the Zip Wire, but he was up top waiting a good 15 minutes before he got to whizz down and Isaac was still waiting.  All in all we waited an hour and a half for Isaac to finally get his turn.
He did brilliantly, chatting away to himself to encourage himself on. He did need a bit of guidance on the stepping stone like piece as he was almost doing the splits trying to reach his leg across, but did figure out how to swing closer together. By the time he got off it was 6.30pm and time to head to our hotel which was a short drive away.
Despite the length of time we waited at the Hi and Low Ropes we had an amazing time and it is somewhere I would love to visit again. If we lived closer I would certainly consider buying an annual pass as there is so much to do and we only got to see a fraction of it.