We look forward to Bournemouth Air Festival every year and this year's event was even more special as it was to be the last time we saw the mighty Vulcan Bomber fly through the skies over Bournemouth Bay.
If you have not heard of Bournemouth Air Festival before, it is a FREE 4 day event showcasing our fabulous armed forces with beach landings, the Royal Navy out to sea, The Army with some of their vehicles lined up to explore along the beach and of course lots of action in the air.
It is a fabulous interactive event that both kids and adults adore, all with the added bonus of being sat on the beach. It does get busy, especially at the weekends but if you get there early (around 11am) and secure you spot on the beach, it is a full day of fun! You can read my Top Tips for taking the Kids to Bournemouth Air Fest here.
Sadly the first day was rained off, but the rest of the weekend did not disappoint.
Sebastian is plane mad and we were very excited to see what his reaction would be this year and we were not disappointed. Pointing to the sky saying "Neow" at every opportunity.
This year there felt like there was less to see on the ground, with the big display missing from Bournemouth Pier, however the stalls along the promenade were better laid out and there was more space to walk and less of a bottle neck near the pier.
Isaac and Eliza loved clambering aboard tanks, testing out military weapons and getting dressed up whereas Sebby was happy watching the planes and playing in the sand. The beach assault was the best yet and did give us a mighty fright with some big explosions.
Of course the best bit of Bournemouth Air festival is the action in the air and this year did not disappoint with the Red Arrows displaying daily, the Black Cats performing aerial ballet with two helicopters, a mighty Chinook, the Blades, Sally B, Battle of Britain Memorial Flight and of course the power houses, the Eurofighter Typhoon and the Vulcan.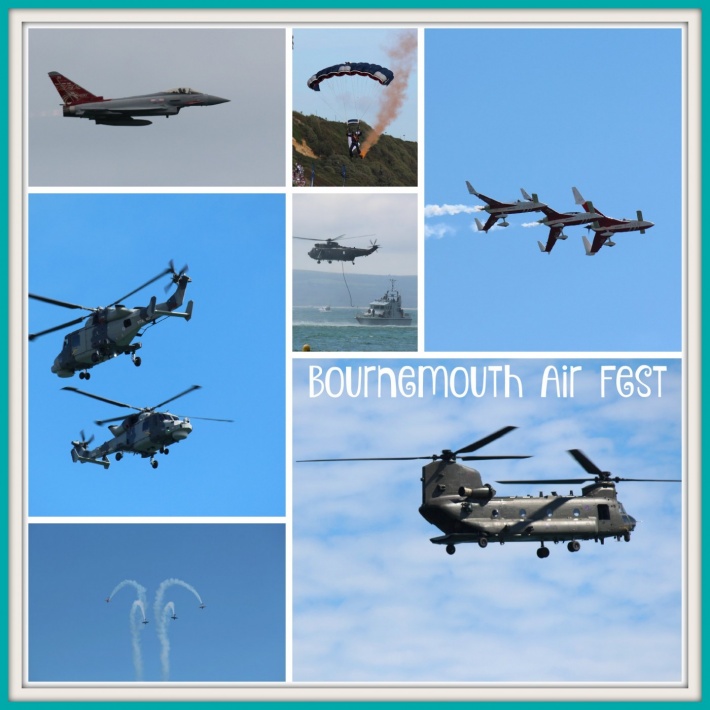 There were a few newbies displaying this year including the Mig, but some old favourites were missing, namely the Miss Demeanour Hunter jet and Wing Walkers.
I did manage to capture the Red Arrows display on camera, although it is a little shaky in places.
It was very bittersweet watching the final flight of The Vulcan and I may have shed a tear when it disappeared into the clouds on its final flight leaving just a shadow in its wake.
I am actually quite disappointed we will miss this event next year as we will be away on holiday as it runs from the 18th – 21st August 2016, but I am sure we will see lots of pictures when we get home