On our recent visit to the Seaview Holiday Village near Looe, we decided upon a visit to the city of Plymouth which is less than half an hour away.
We first visited Plymouth for a friend's wedding 9 years ago and fell in love with the city and in particular the National Marine Aquarium. Isaac was 2 on our last visit so didn't remember anything about it so we were keen to go back and see what had changed.
Set in a massive glass building on the Barbican, just a short walk from the Mayflower steps, you enter a fascination underwater world that starts with the largest native exhibition in the UK which explores the fish you've heard of and the many more mysterious animals that live on our doorstep.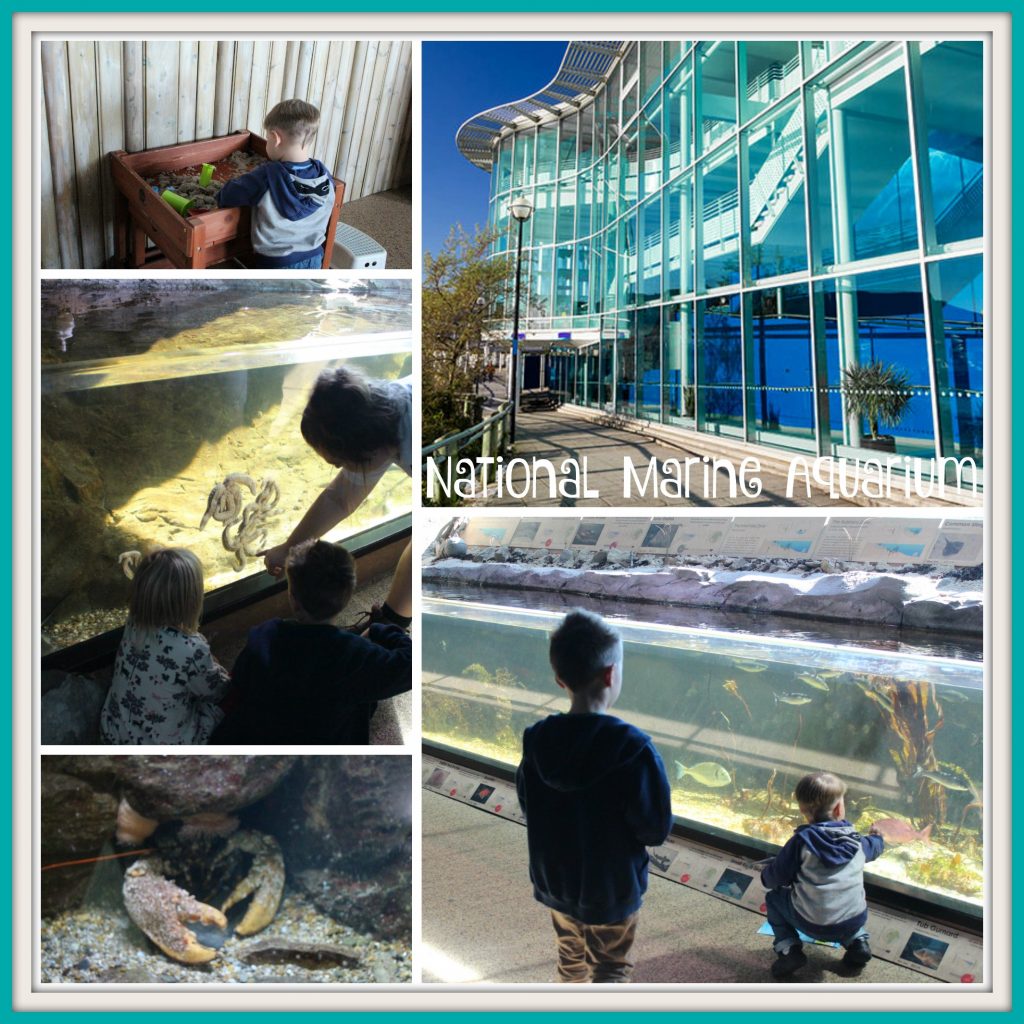 The kids were fascinated by all they could see in the 17 tanks and especially by the fact that all the creatures could be found locally. There were plenty of staff on hand who were happy to share their knowledge and explain how and where the creatures lived and even introduce us to some of their favourite residents, including Penny the giant lobster who is so huge he can barely walk!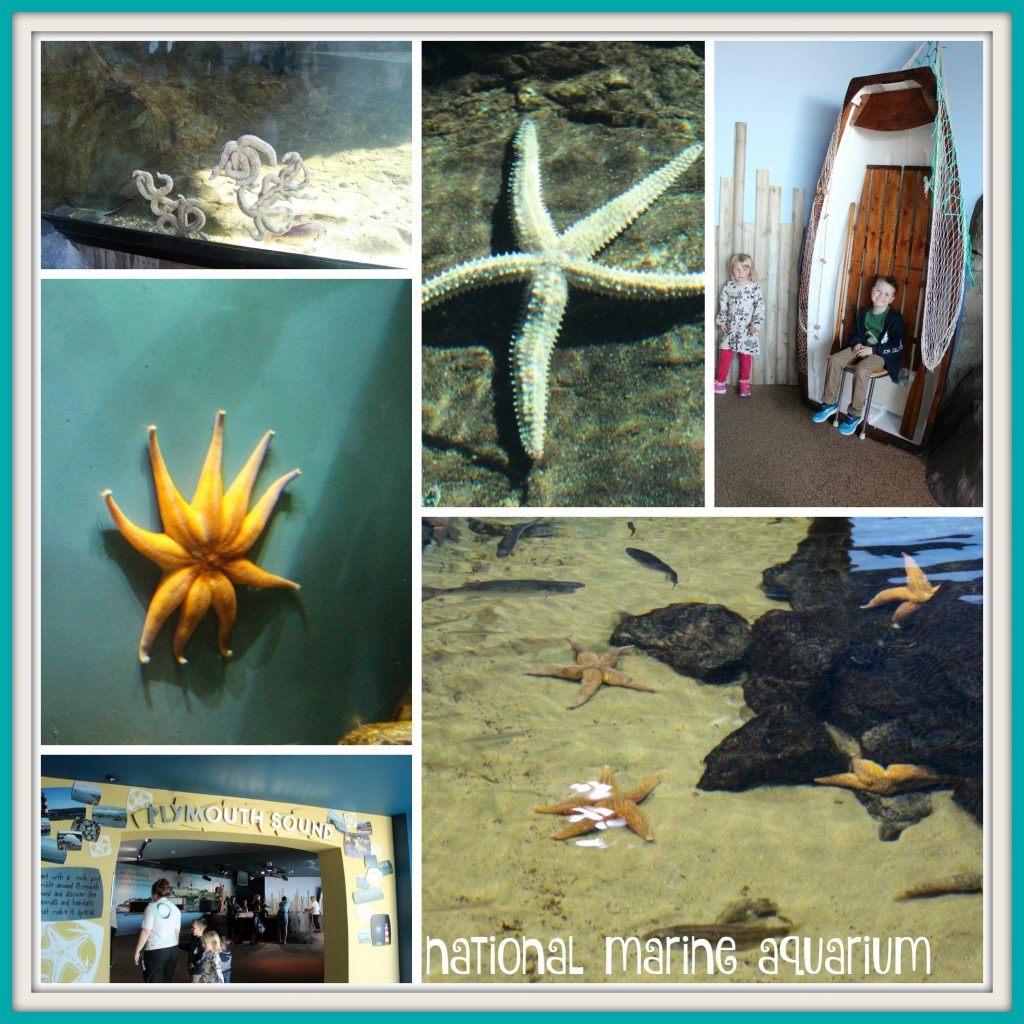 After you leave Plymouth Sound you get to experience what life is like 19km out to see in the Eddystone Reef exhibit, the largest native offering in Britain boasting shoaling mackerel, groups of bass and pollock, bullhuss sharks, 6 smoothhound sharks, friendly colourful cuckoo wrasse and many more. The tank is huge and it looks like a giant cinema screen and strangely relaxing as you watch the fish going about their business.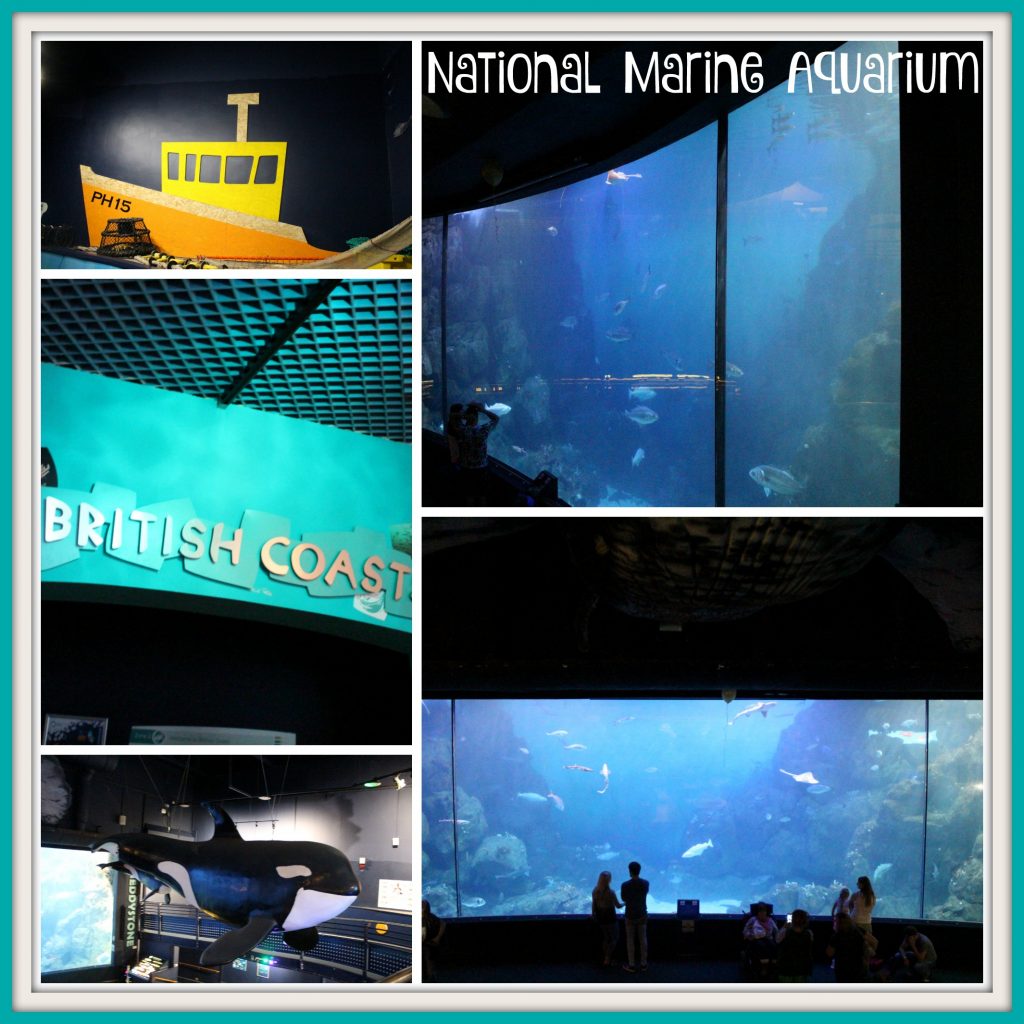 As you move further into the aquarium, you meet the ocean drifters. In these displays you find the moon jellyfish, stunning coloured white-spotted jellyfish and the rather curious upside-down jellyfish.
The next exhibit is perhaps the most impressive, the Atlantic Ocean tank which is home to large nurse sharks, sand tiger sharks and lemon sharks. It is the deepest tank in the UK, with 2.5million litres of water. You start your journey walking underneath the tank 10.8m down, where the nurse sharks love to lurk, with underwater displays also under your feet too – it was hard to know where to look first.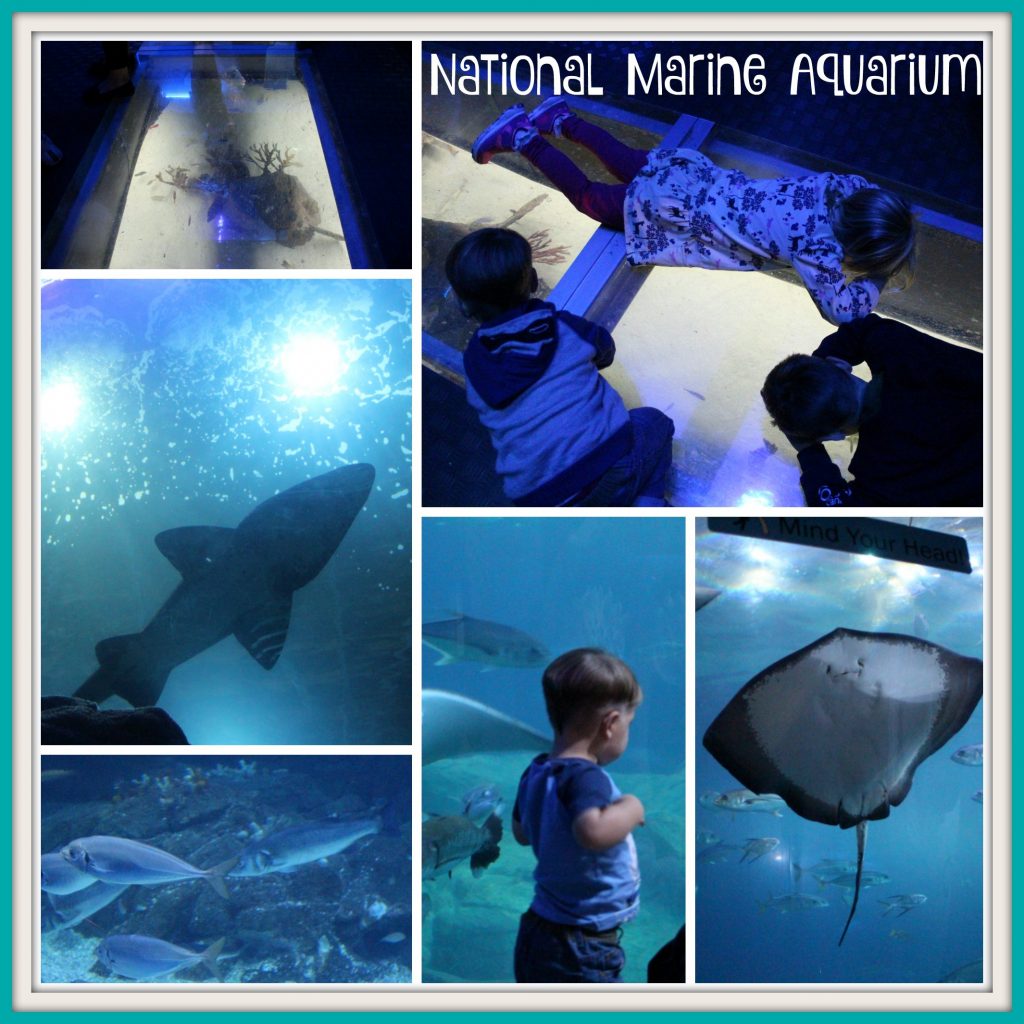 As you work your way through the exhibit, it opens itself up and you get to see a huge replica WWII Walrus Seaplane, circled by the rays, sharks and fish – it was very impressive. Again, their were plenty of staff on hand to answer the barrage of questions the kids had, as well as a talk with the jaws of a tiger shark.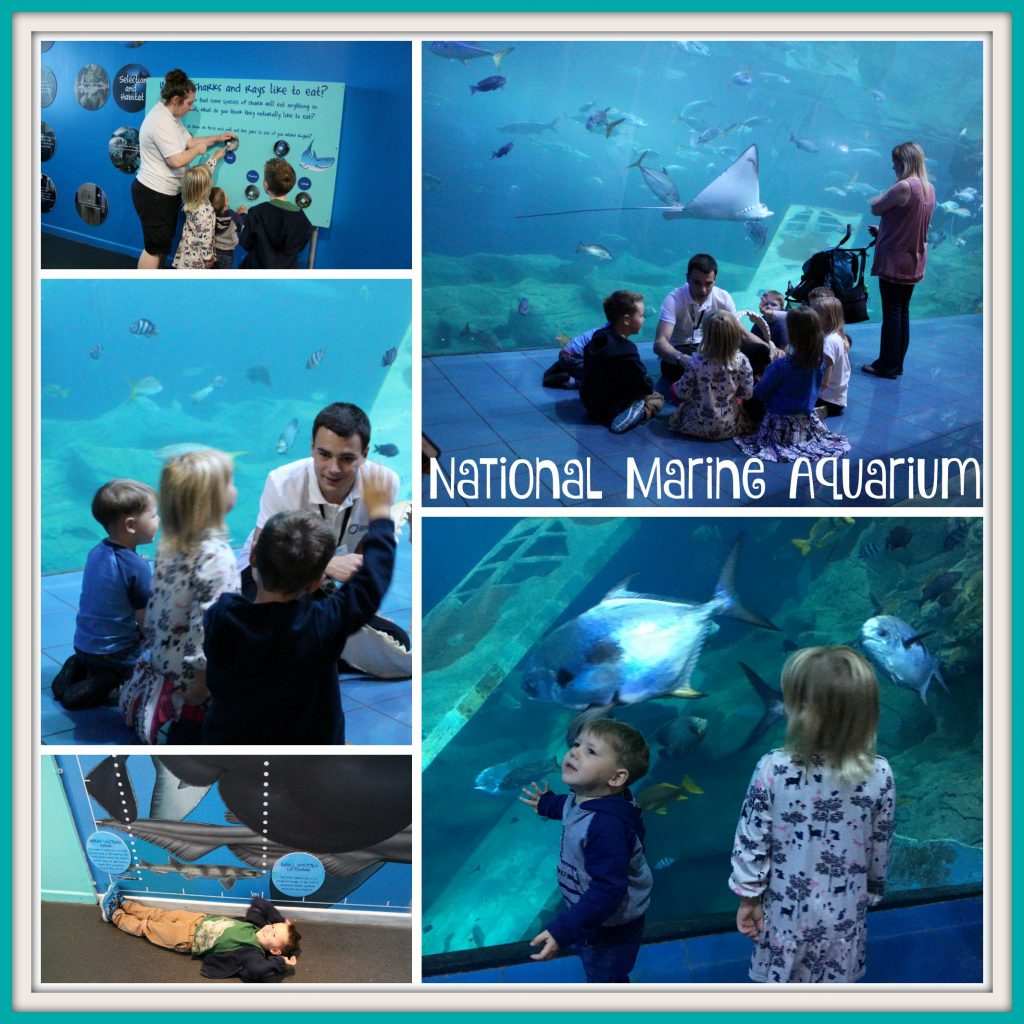 The building is packed full of things to see and do and there was one wall with artwork of different sea creatures that you could measure yourself against. Isaac was disappointed to only be as big as a barracuda, whereas I managed to be a ray. It was surprising how big some of the creatures could get.
The Biozone was next up, which showcases the incredible biodiversity in the oceans and the relationships between all living things. It is also the home of Nemo and Dory, much to Sebby's delight.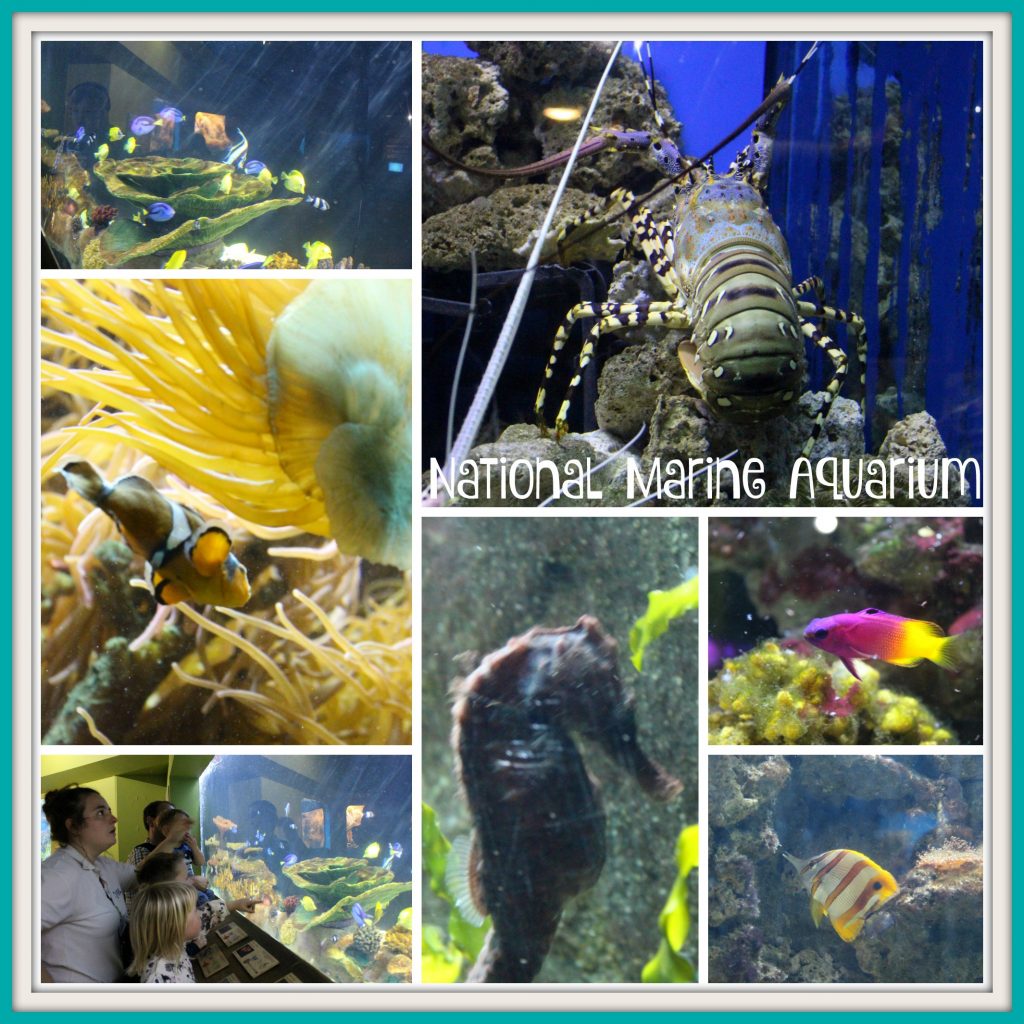 To finish your marine adventure off, the Great Barrier Reef tank is the final destination of the visit. Sadly, a week before our visit their famous turtle, Snorkel, passed away but the reef is home to over 70 species of fish so very impressive in itself.
Visitors to the National Marine Aquarium this October half term will be able to unleash their creative side with a week of art, drawing and wellbeing. 'Sketching for SEA-renity' will encourage visitors to take the time to enjoy the Aquarium's peaceful surroundings and mesmerizing exhibits.
Taking place from Saturday 22 – Sunday 30 October, children will receive a free sketchbook as part of their visit, enabling them to create and capture mindful memories, while Zentacles the Octopus and his friends will be on-hand to entertain the little ones and share fascinating facts about the sea and its many marine species.
For those that are hoping for even more bite from their visit, the National Marine Aquarium will also be hosting a special Sleeping with Sharks event on Friday 28 October and promises to be a terrifically terrifying treat for all – perfect for any parents looking for a new way to give the kids a fright this Halloween.
Sleeping with Sharks is an exciting way to see what happens in the underwater world at night. With the kings of the sea swimming silently overhead, their presence will fascinate any one brave enough to spend the night in their company. A combination of entertainment and education, the evening is geared at getting across a greater understanding of the marine environment and how we all have a part in helping to keep it safe.
For more information and to book tickets, visit www.national-aquarium.co.uk.
I would like to extend a big thank you to the National Marine Aquarium for their hospitality on the day, particularly Emily who was bombarded with questions from Isaac and Eliza and managed to answer everything they threw at her.
A family pass to the National Marine Aquarium starts from £41.40 and gives you entry to a whole year which is well worth it, especially if you are local to the area.
Disclaimer: We were guests of the National Marine Aquarium for the purpose of a review. All opinions are our own.