It has finally happened!
After getting on the orthordontist waiting list 2 years ago, Kian has finally had his braces fitted.
It wasn't the most pleasant experience for him, although I now know where Hasbro got their inspiration for the game "Speak Out" as he had to wear one as they attached the braces to his teeth.
Kian had a few days of pain initially but now things have settled down, although we do have another appointment in August to have them checked and tightened.
The biggest change has been in what he can and cannot eat. No fizzy drinks, small amounts of fruit juice and food has to be cut up much smaller. We discovered the hard way that a thin cut pizza is a no-no as the crust is too hard and crunchy for him to bite through as it broke two of his brackets.
Kian has fixed braces, which are attached to the front of his teeth. This increases the chances of food getting stuck in the brackets so keeping them clean is important.
He has been using UltraDEX Wire-free interdental brushes to clean the brackets. These brushes have a unique anti-bacterial coating for advanced interdental cleaning, which has been shown to inhibit the harmful bacteria that can lead to tooth decay, gum problems and plaque.
Made from rubber-like (latex-free) material, the soft, flexible brushes are ideal for braces, small gaps and around implants, crowns, fillings and bridges. They slide easily between teeth and gently massage gums, reaching the areas which brushing and rinsing alone cannot reach.
Alongside these he has been brushing his teeth as normal with his electric toothbrush and using UltraDEX Daily Oral Rinse combined with the UltraDEX Low-Abrasion toothpaste three times a day. With their advanced iQ+ ActiveOxi Technology they are clinically proven to instantly eliminate bad breath compounds for 12 hour and also inhibit harmful plaque bacteria.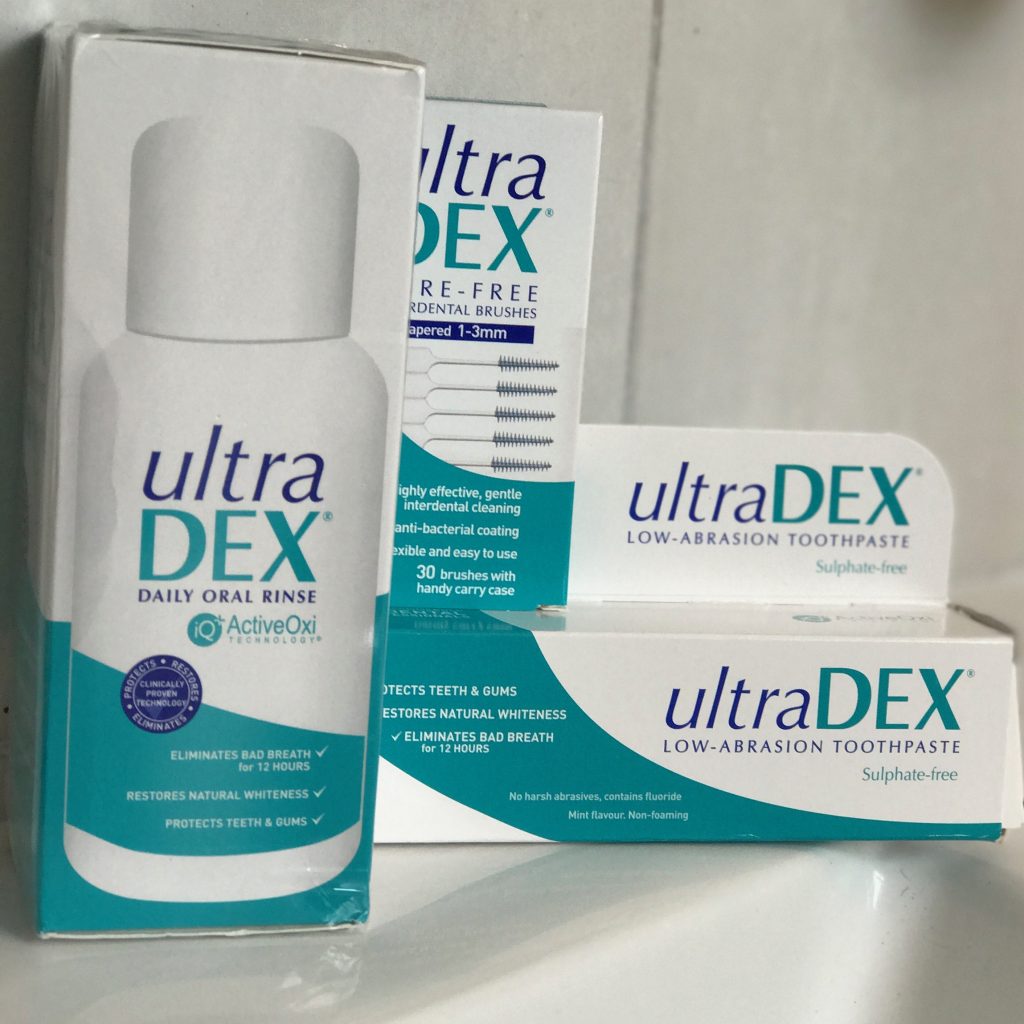 Kian is just at the beginning of his fixed brace adventure and will have them for the next 2 years. Hopefully with his improved dental routine he will have nice and straight, healthy teeth once he has finished.
Have you got experience of wearing braces?
Disclaimer: We were sent the Ultra Dex range to try for the purpose of a review. All thoughts and opinions are our own