Well what an adventure Camp Bestival 2018 was!
This was our 6th year at Camp Bestival, our first one being 2013 when Sebby was just 6 weeks old, and is now an annual event we look forward to every year.
Last year was our first wet Camp Bestival, enduring thick mud and torrential rain but this year our worries turned to how the kids would cope with the heatwave conditions.
Thursday
We arrived at Lulworth Castle to set up our tents on the hottest day of 2018 so far and were lucky to find our preferred camping spot still available. Setting up the tents was a bit of a challenge thanks to the dry, solid ground but we got there eventually.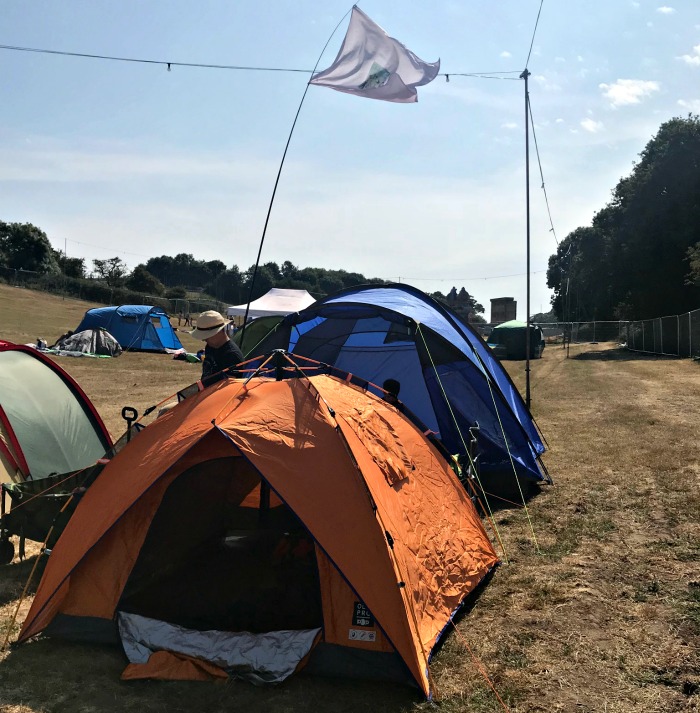 Once set up we inflated our camping mats and laid out the sleeping bags and headed off had for a look around the campsite and were pleased to see more food vendors than usual close by, before heading up to the main area to have a look around.
The first thing that struck us was that many of the things we were expecting to see had moved position, and I have to admit that it did throw us off track, but in most cases it did work. All the pay extra fairground rides were now positioned together by the castle and the relaxation area was away from the hustle and bustle at the back of the Dingly Dell.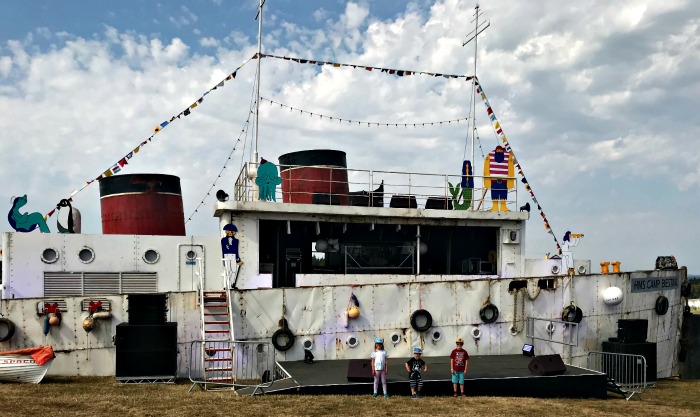 Thursday is traditionally a quiet day for setting up camp, but many of the eateries, fairground rides and bouncy castle were open and a fabulous trapeze act were wowing audiences with their tricks and flicks.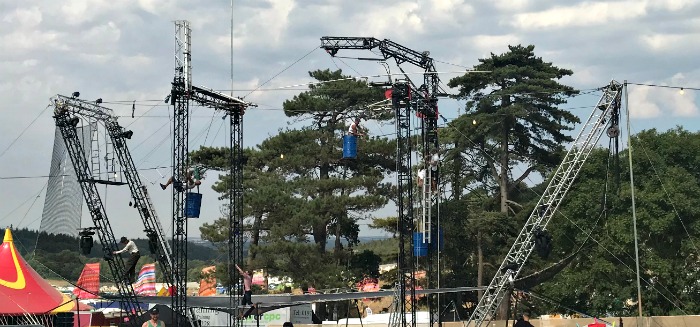 We stayed out enjoying the lovely weather and atmosphere until quite late before heading back to the tent, ready for an early start the next day.
Friday
It was an early start for us on the Friday as the kids were desperate to do the tree climbing with the Big Tree Climbing Company and it sells out very quickly so we were in the queue by 9am and made it onto a slot later in the day by the skin of our teeth. It was then out to the Castle Stage to see our first show of the day.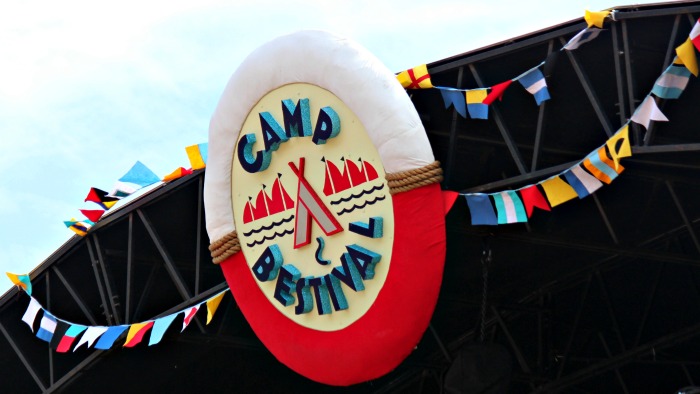 Sebastian is dinosaur mad so I knew he would love Dinosaur World Live and it didn't disappoint.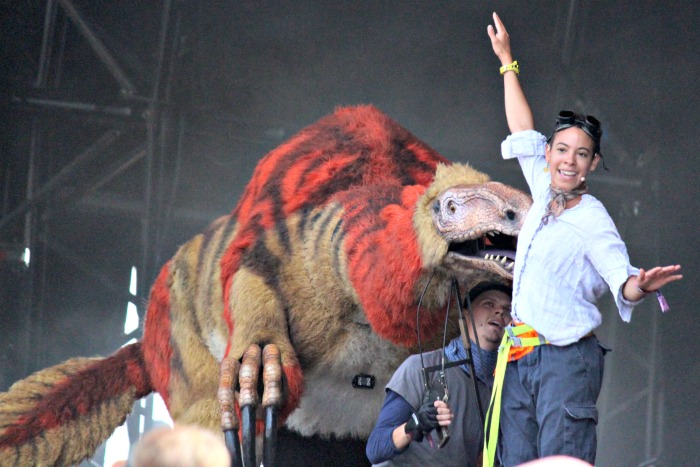 He made sure he got right to the front of the stage so he could see the host of impressive creatures, including his favourite flesh-eating giant, Titus the Tyrannosaurus Rex along with a Triceratops, Giraffatitan, Microraptor and Segnosaurus!
We then headed for the lower kids field where Eliza immediately radiated towards the L.O.L Surprise area and the boys sat and watched a couple of Science shows.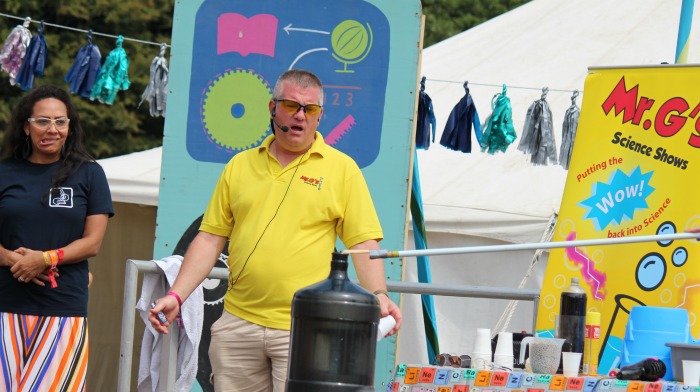 In the L.O.L Surprise area, Eliza got her face glittered, took part in a catwalk and buried herself in a ball pit to find a golden ball to win a magazine.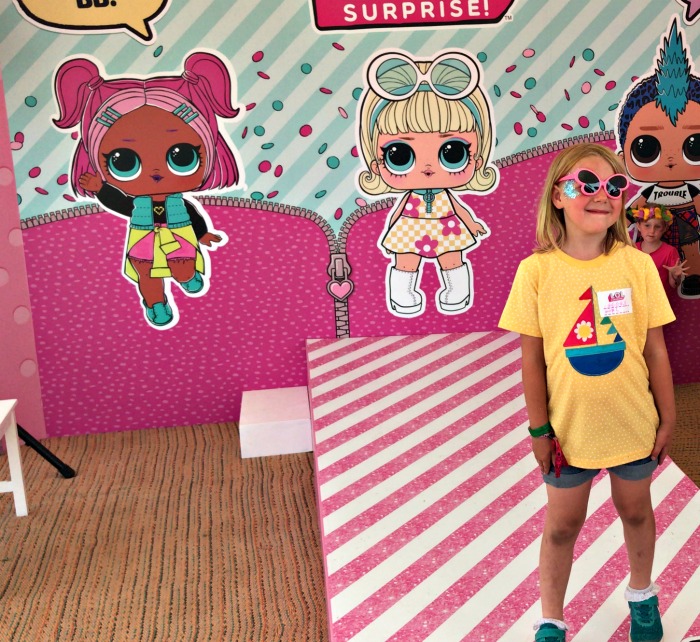 Next up were family favourites Andy and the Odd Socks who were rocking the Big Top with their child friendly songs and banter.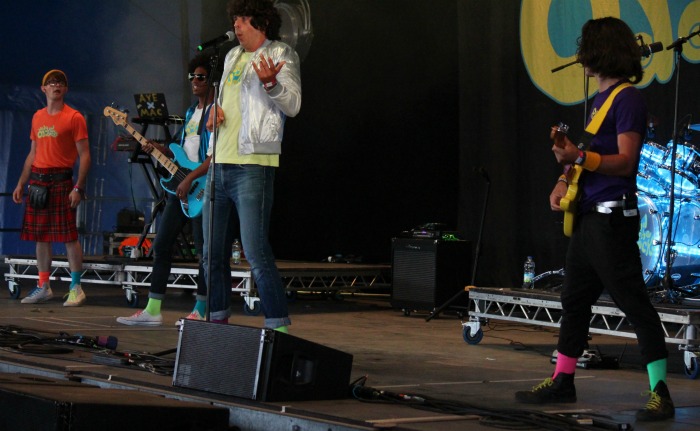 We then headed back to the Dingly Dell where we explored Lizzie's Way, a magical world of woodland discovery that is always one of our Camp Bestival highlights.
Lizzie's Way is a woodland trail where the kids can really let their imaginations run wild.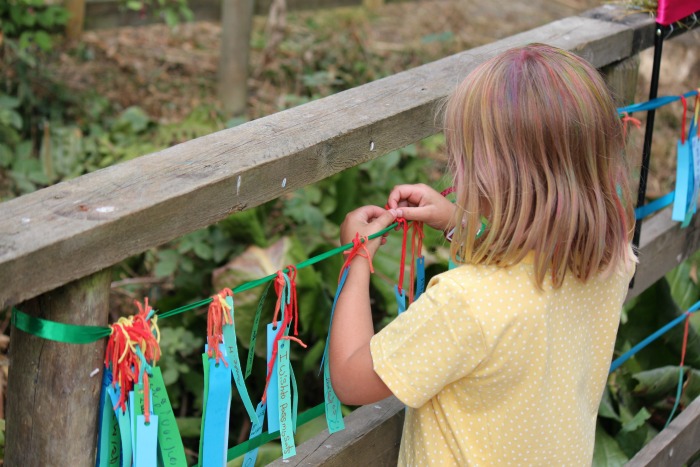 Whether it is to cook a tasty mud pie, makes a wish, perform in your own puppet show, create a magic potion to cast spells, or simply to find a quiet spot to read a book it is the perfect place to get away from the hustle and bustle of a busy festival.
There is even a place to take your own woodland snaps with a funky picture frame and some fun dressing up……..
or you could form your very own rock band!!
The kids would stay in Lizzie's Way all day given half a chance, but it was time for their tree climbing session.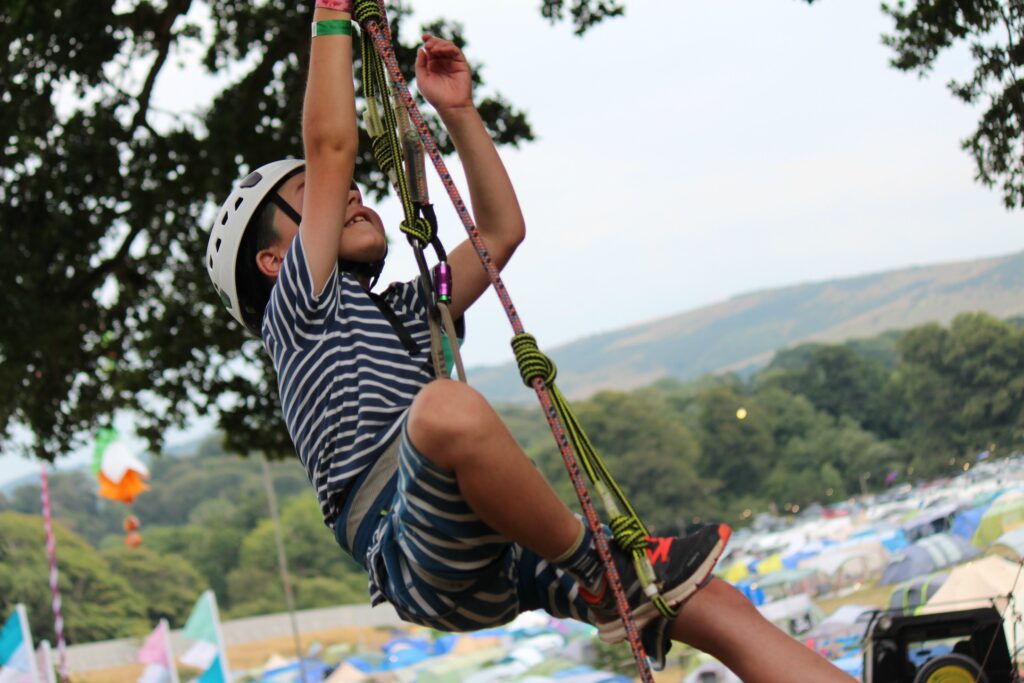 Isaac has done tree climbing a couple of times before so was off and scaling the tree straight away, making it up into the canopy in no time at all.
Eliza was a little more cautious but loved every second of her first tree climb.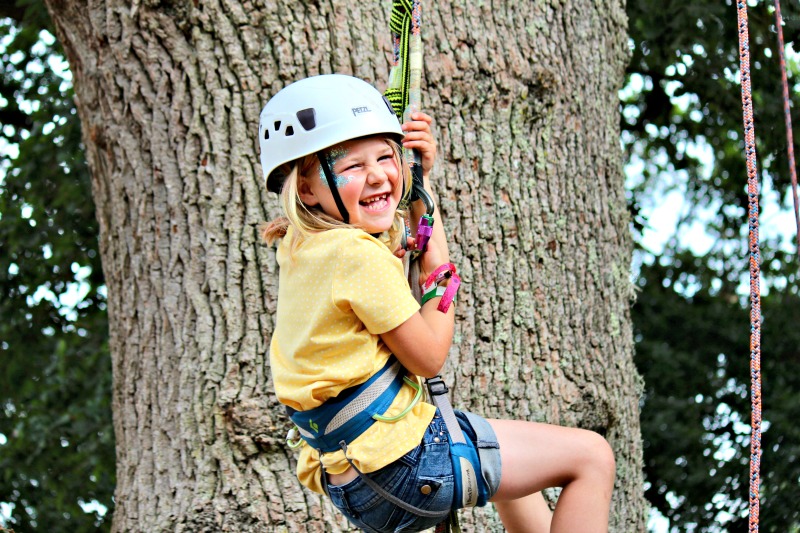 She wasn't that far behind her brother by the time it was time to come down again.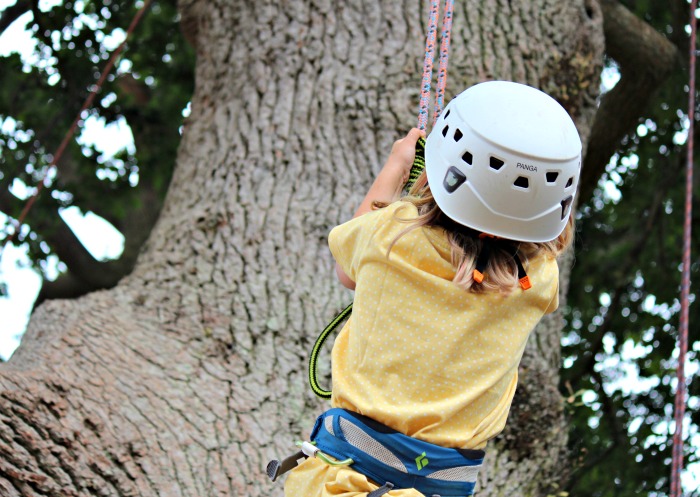 The great thing about Camp Bestival is that there is so much to do that you couldn't possibly fit it all into one weekend, but we were determined to give it a good try. Isaac spotted that ZSL London Zoo were here with their Gruesome Nature Live interactive musical show, so that was our next port of call. Featuring original songs we found out frightful facts about some truly grisly creatures, including who's got the largest, slimiest eyeball, and which species of animal can endure fire, ice and radiation and even survive in outer space.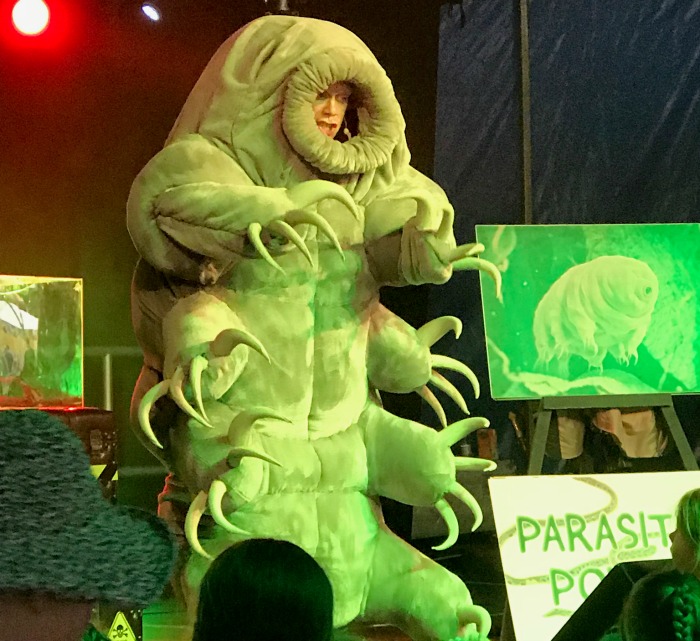 Of course there are areas for us adults to enjoy too!!
This years parade lived up to expectations too, with the drummers leading a whole host of sea creatures through the crowds.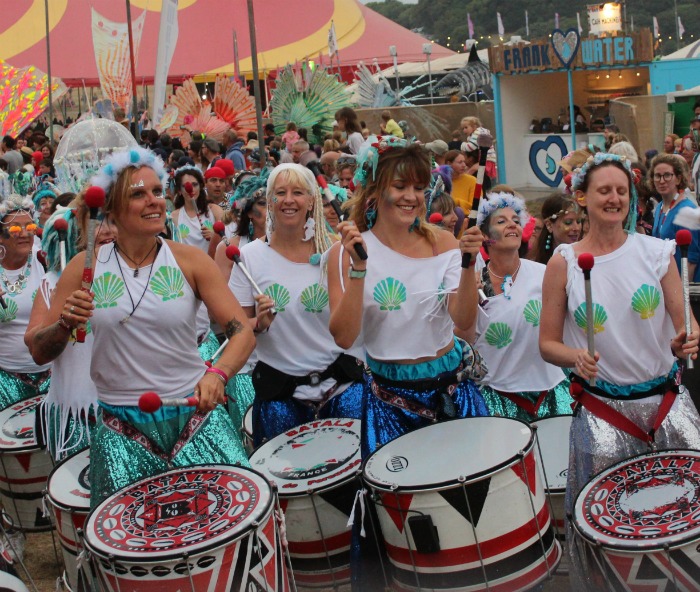 By now the kids were shattered so we retired back to the tent to put them to bed, with Hubby sneaking back out to go and watch Rick Astley. I didn't believe him when he said Mary Berry joined him on stage and was playing the drums, but it made headline news!!
Overnight the weather took a turn for the worse, but we got through the high winds and torrential rain and woke to a beautiful sunrise, ready for day 3 to begin.
Saturday
Saturday was another early start as Eliza wanted to take part in the L.O.L Surprise World Record attempt at the largest ever simultaneous unboxing.
Dorset Cereals were providing complimentary 'Breakfast on the Slow' in their marquee, complete with games for the kids and a brilliant musician who sang very relaxing versions of some of our favourite pop hits.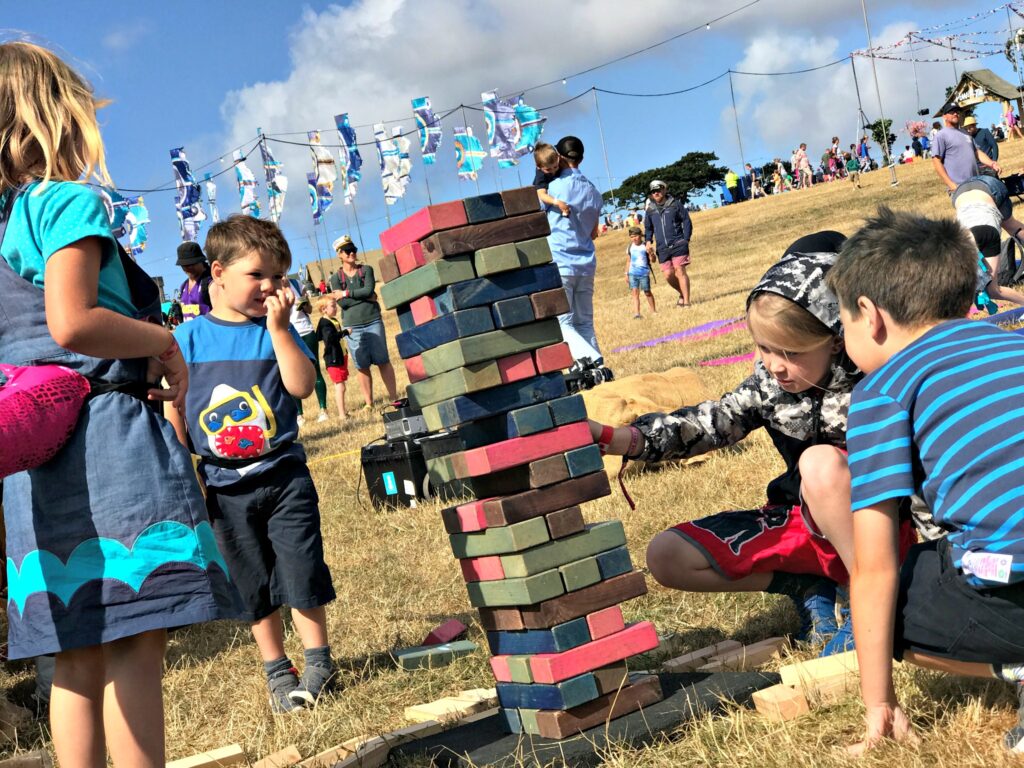 We met up with Laura and family from Tired Mummy of Two and all headed over to the Lower Kids Field to see what was on offer today.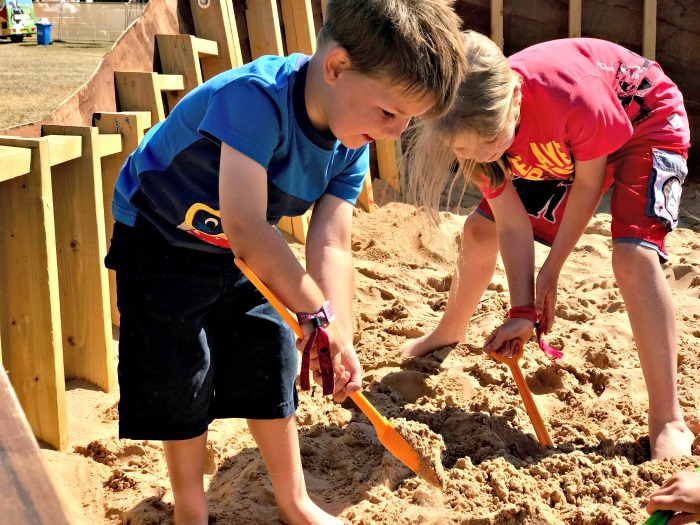 The kids spent ages relaxing in the sandpit before heading to the Family Travellers tent to colour in their own t-shirts and make treasure chests.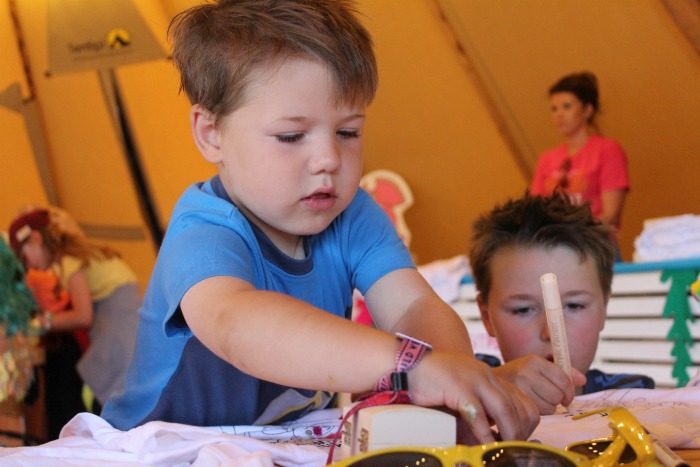 Saturday is the day of the acts the kids wanted to see, so we had to make sure we headed back to the mainstage to get a good spot and managed to bump into someone very special!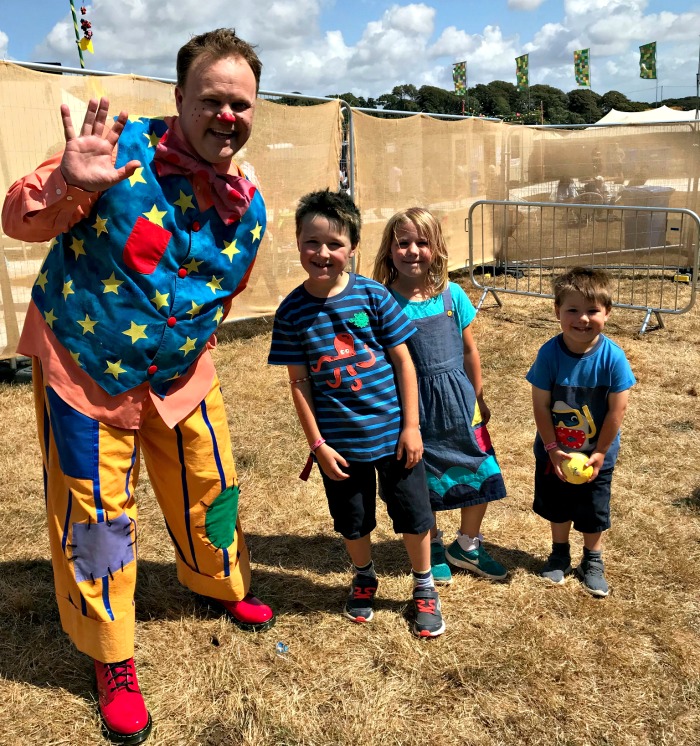 Both Mr Tumble and Dick 'n' Dom play almost identical sets every year but the kids don't care, they spent the whole time singing, laughing and dancing. We were on Dick's team this year, which is always an interesting affair as the kids cheer him on!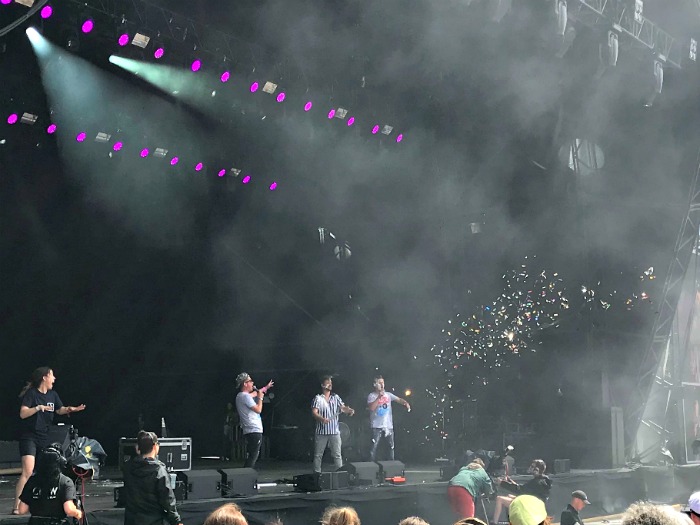 With it being so windy, the huge inflatable ball game that Dick 'n' Dom play didn't go quite to plan as the wind took them both off in the same direction which caused much hysterics both on and off the stage. Even Andy Day's heroic launch at the ball refused to keep it in play.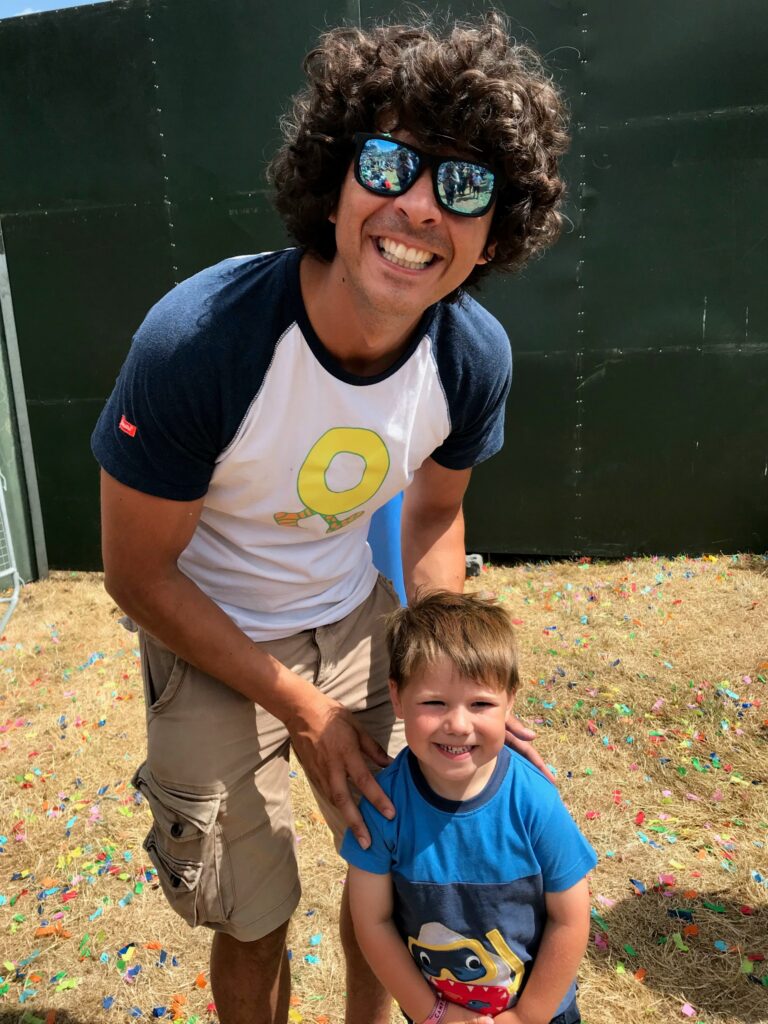 Poor Barney Harwood, who was the ref this year, had a tough job trying to keep order.
We also managed to get our annual Dick 'n' Dom picture too.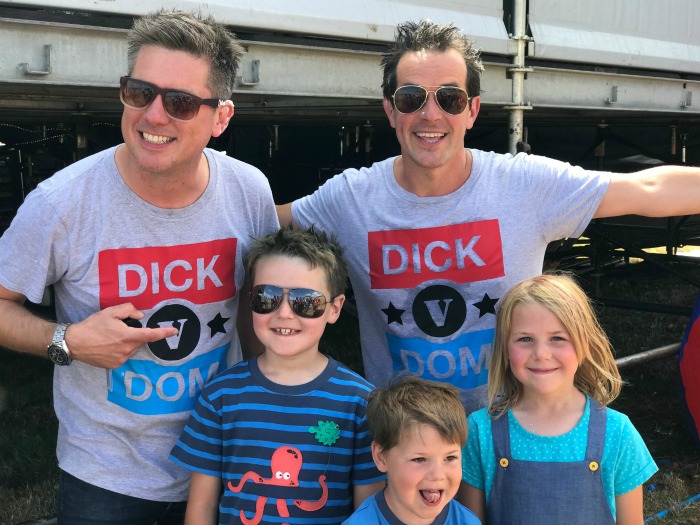 After both shows we headed to Bollywood for a bloggers meet up and some drinks. We arrived just in time as we got to shelter from a huge rain shower and got caught up in a brilliant choir flash mob.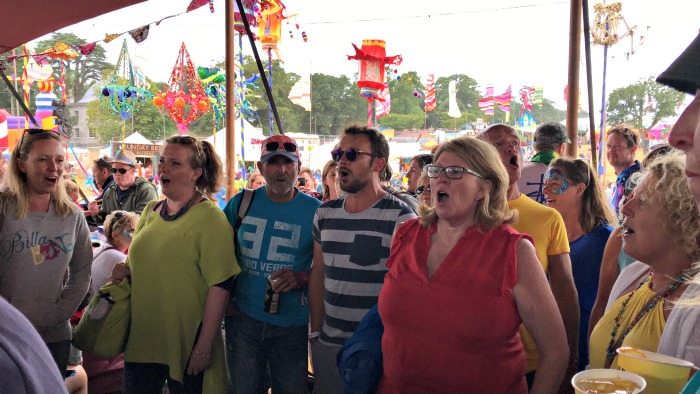 Hubby wanted to go off and watch Stereo MC's and Jesus Jones but the kids were not keen, so we headed into Lizzie's Way again.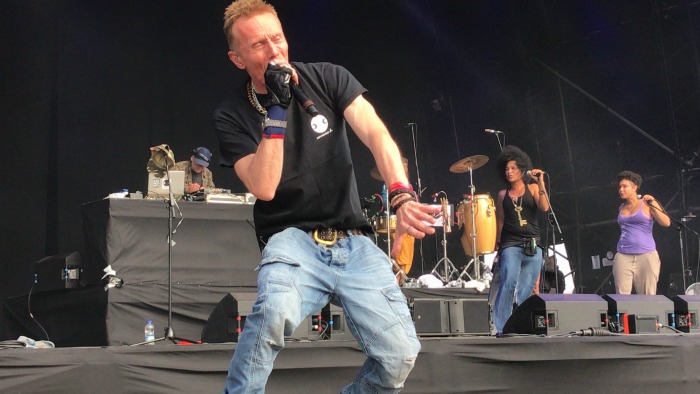 This time we saw Lizzie in person and with her help, the kids were soon cooking up a huge wedding feast.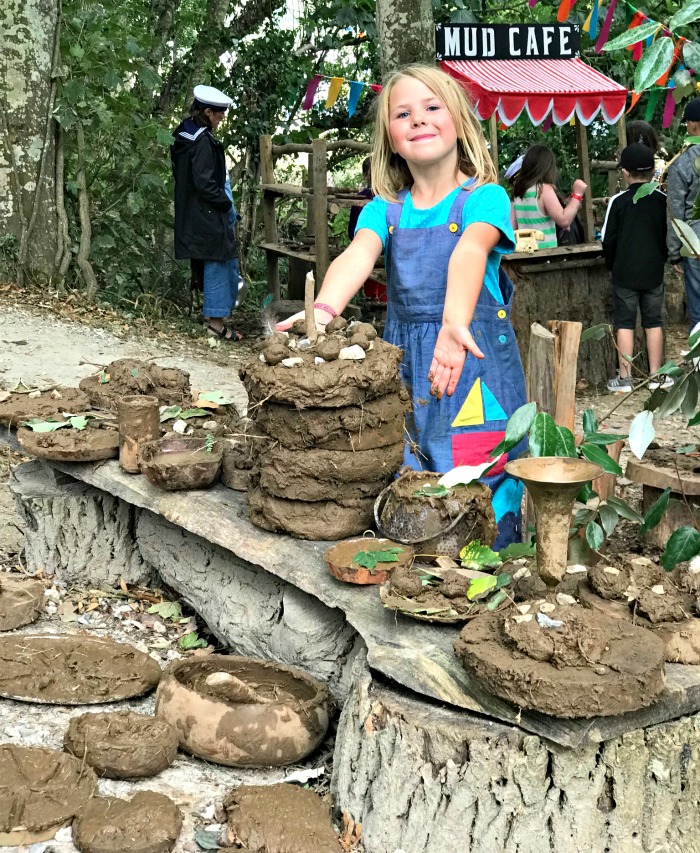 Whilst Hubby was rocking out with Jesus Jones, we headed back to the tent to check on it as the wind was really starting to whip up.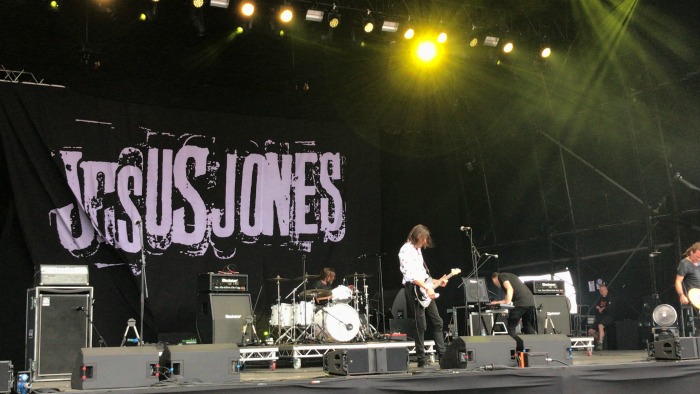 Sadly for us it had partially collapsed, so with the help from Laura I decided to pack up, which is rather tricky in high winds and we nearly took to the skies ourselves as one point as we attempted to take the tent down.
We had every intention of heading back on Sunday as we were really looking forward to seeing Simple Minds and Shed 7, but it turns out we made the right decision to head home as the weather was so bad on Sunday that they could not re-open the site.
Thank you Camp Bestival for an amazing three days – we cannot wait for next year!!