At the age of almost 11, Isaac isn't the biggest fan of Christmas days out where it is all about visiting Santa, so we have been on the look out for the perfect day out for all ages to enjoy.
When we heard Santa and his elves were heading to Winchester Science Centre and Planetarium with pantomime favourite Jack and the Beanstalk, I knew the kids were going to love it as the experience unites the magic of Christmas with the excitement of science.
The experience comprises two main events, an hour-long Santa and science experience and a 30-minute Reindeer Round-up in Space planetarium show.
We arrived at Winchester Science Centre in time for opening and found lots of exciting new exhibits and some old favourites to try.
There was also an Elf Workstation set up on the top floor where the kids could indulge in some science and crafting.
They got make snow globes, snowflakes and Santa's sleigh.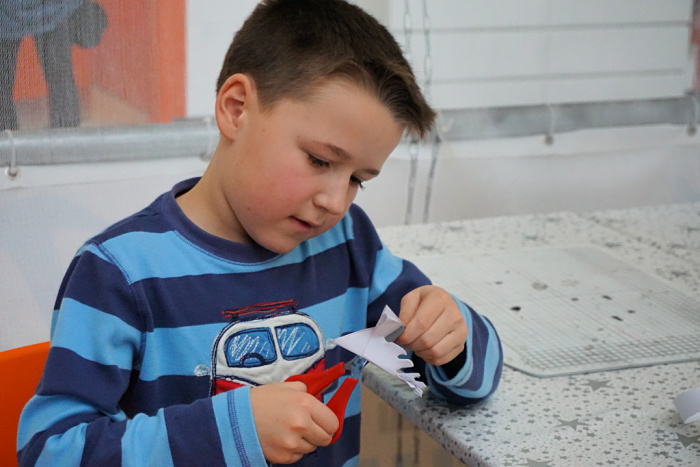 Each activity had a different level of difficulty, with the sleigh and snow globes the easier of the two.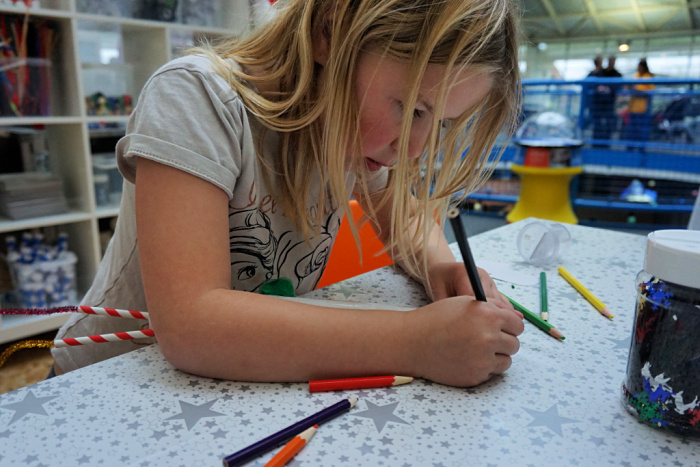 With the sleigh, we had to make sure it could fly using an air pump before decorating it, which was lots of fun.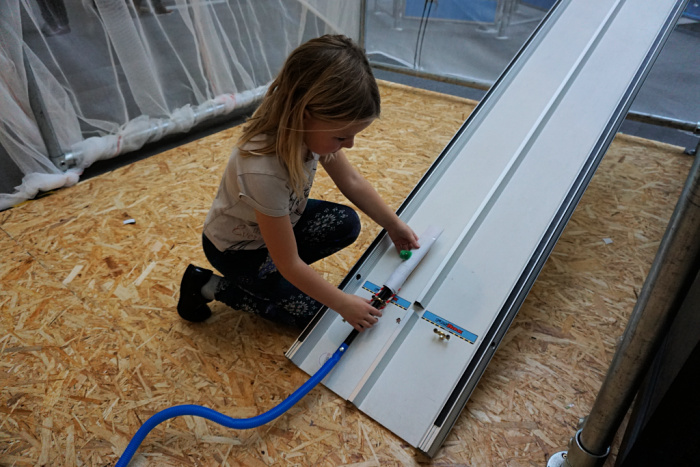 It was then time to take our creations away and head off to the Planetarium to see Reindeer Round-up in Space.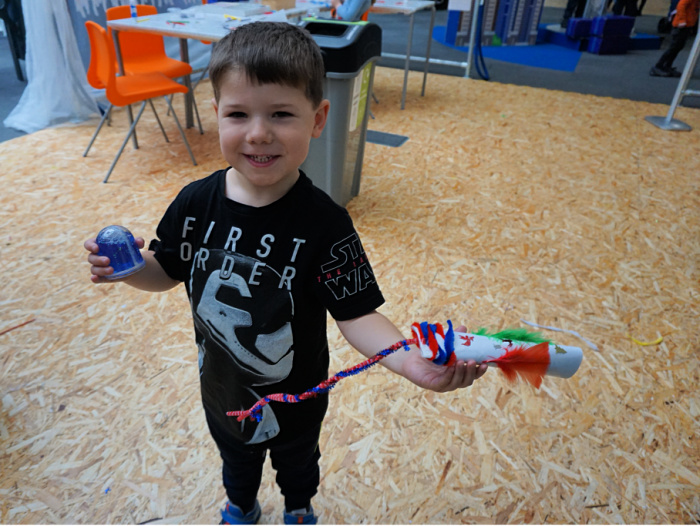 The 30 minute show is a fun presenter-led planetarium show starring Widow Twanky who accidentally sends some of Santa's reindeer and the audience on a journey into space. Expect lots of pantomime jokes and a bit of science as you travel through the Solar System in search of Rudolph and his furry friends to help save Christmas.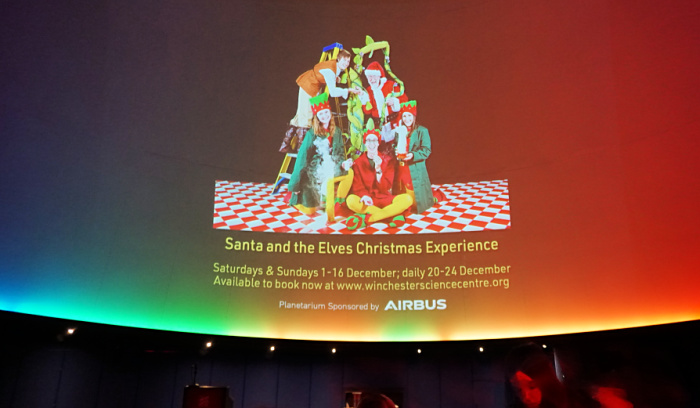 The shows are nicely spaced out, so you can enjoy the museum whilst you are waiting for the next one and we were pleasantly surprised to find out that downstairs has had a space-themed make-over, into Explorer:Space.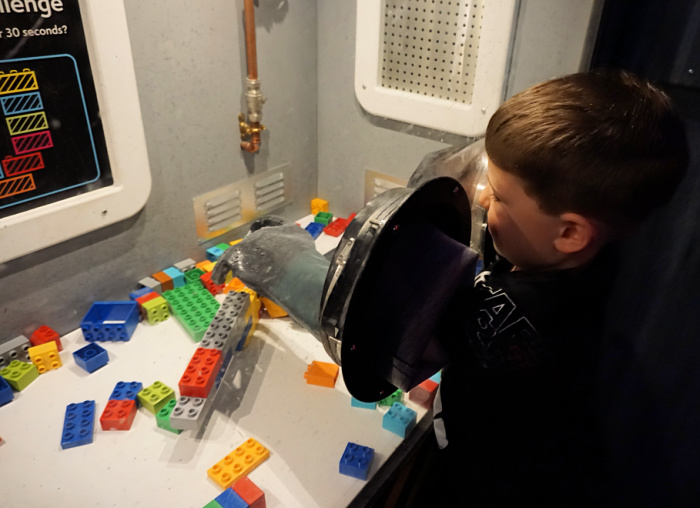 Explorer:Space takes visitors on an epic journey through the Solar System, which encompasses 20 fantastic modular exhibits, covering everything from meteorites to stardust, robots to coding, and atmospheric pressure to human space flight!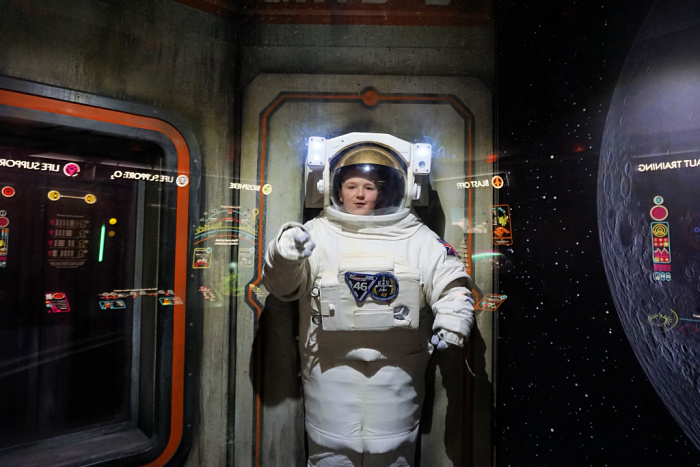 It was then time for the live science show, inspired by and featuring Jack and the Beanstalk and an elf called Inquisitive!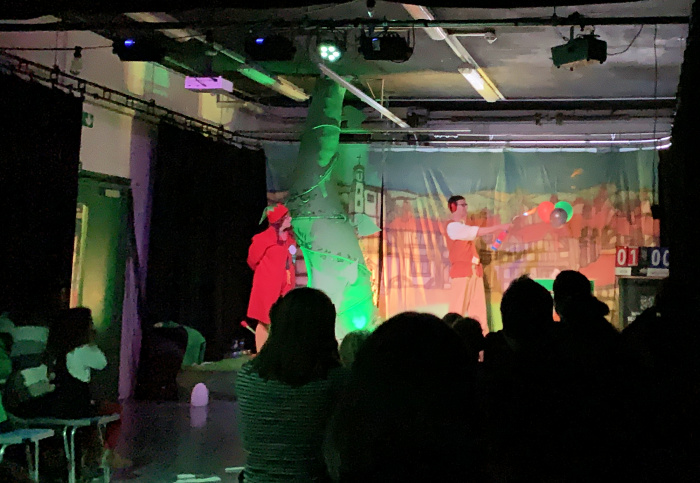 The show investigates different forces as we tried to help Jack reach the very top of his beanstalk, by "giving science a try". It was fun and fast paced and aimed perfectly at the young audience, with plenty of fun bangs and dry ice effects as we worked out the best way to get us up the beanstalk to find the golden eggs.
From the show, we then entered an elf-led workshop where we got to open a present there and then, which we could then start decorating and building.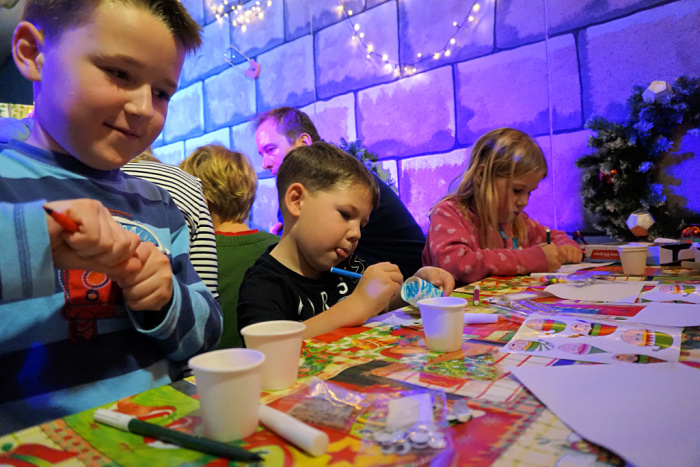 Whilst we were busy working on our Elf Grass, Father Christmas appeared and every child was given the chance to sit in the giant's chair, chat and have a photo with him as well as being given a wrapped gift to take away.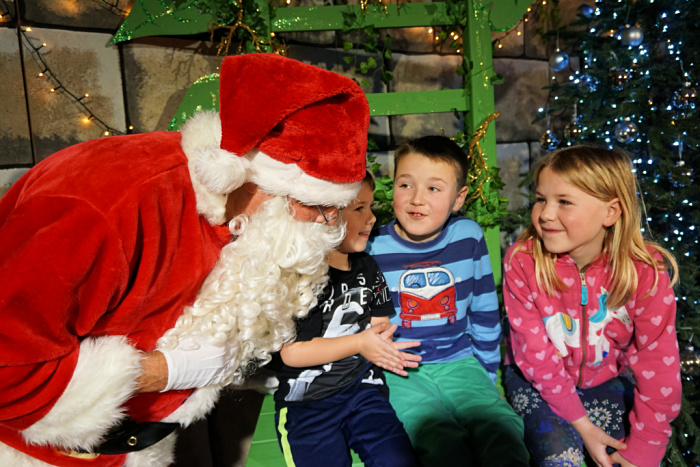 We had a brilliant day at Winchester Science Centre, it really does make for a memorable day out which captures children's imagination and sparks their curiosity in science.
For younger visitors, they have a Storytime with Santa experience where they can join Santa and Magnificent, Santa's Master Elf, for a Christmas story read by Santa himself and a live science demonstration from Magnificent. This fun and relaxed group experience lasts approximately 45 minutes and includes a gift for children.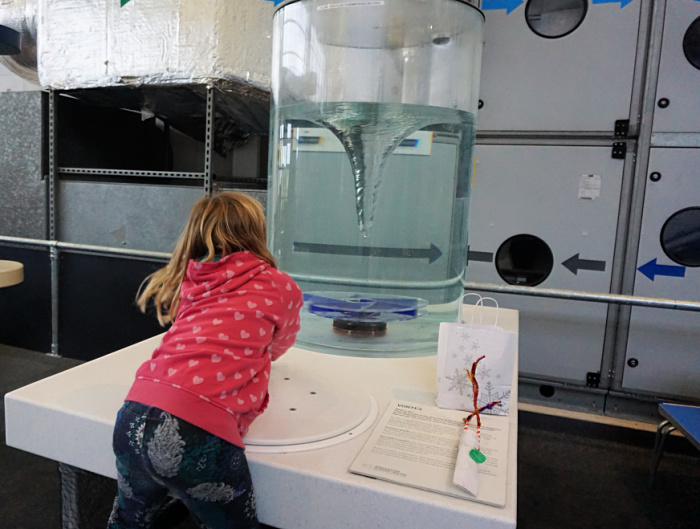 Throughout December, visitors can also experience their favourite Christmas films in the exciting setting of the planetarium. Winchester Science Centre's Kids' Christmas Cinema programme includes the likes of Elf, The Polar Express, The Muppet Christmas Carol and Arthur Christmas. The festive film screenings can be enjoyed for as little as £2 per person with General Admission; film-only tickets cost £5.
Santa and the Elves Christmas Experience sessions run at 10:30, 12:00, 13:30, 15:00 and 16:30 on Saturdays and Sundays from 1-16 December and daily from 20-24 December. Tickets are £14 per person and must be purchased alongside General Admission; book online at least three days in advance and save 25% on admission. Annual Pass holders save 10%. The Santa and the Elves Christmas Experience is a fundraising event for Winchester Science Centre and Planetarium, registered charity № 294582.
Storytime with Santa sessions take place on 7 and 14 December at 10:30 and 11:30. Tickets are £7.50 per person and must be purchased alongside General Admission; Annual Pass holders save 10%. Storytime with Santa is a fundraising event for Winchester Science Centre and Planetarium, registered charity № 294582.
To find out more about Christmas events and book tickets visit: www.winchestersciencecentre.org
Disclaimer: We were invited along to visit Winchester Science Centre for the purpose of a review. All thoughts and opinions are our own.