Eliza loves dolls and with two new babies in the family, doll play is back at the forefront of her mind.
We were sent the Elli Smiles Doll from Zapf Creation to review, who can build up a real connection to her doll parents. Eliza is a back fan of her Luvabella dolls thanks to their facial reactions and noises, but Elli Smiles can drink, talk, gurgle and wee.
Elli also has the ability to recognise mum when they wear a special necklace, reacting with an adorable smile or calling out Mama.
In the box:
Elli Smiles 43cm function doll
a dress
a pair of leggings
a hat
a pair of fabric shoes
a potty
a nappy
a bottle
a dummy
an identifying necklace
instruction manual
You will also need three LR6/AA batteries (not included) and a 1 x CR2032 for the necklace (included).
Getting Started
Once you have popped the batteries in your Elli Smiles doll and her necklace, make sure you switch her on. Press the little smiley face on the necklace and it connects to Elli Smiles when she is switched on. To switch it off again, simply hold the smiley face down for around 3 seconds.
Elli Smiles is a soft baby doll with a weighted bottom so she can sit down. When her parents play with her, Elli is happy and smiles! When she is sad Elli cries, but can be soothed quickly with a variety of different activities. When she sucks on her dummy, Elli makes real mouth movements and when she drinks water from her bottle, she makes sounds and even burps.
If you put water in her bottle, she will also go to the potty and wet her nappy.
When it's time for bed Elli needs looking after just like a real baby. Sing her a song or rock her gently and she closes her eyes, drifting off to sleep. However, lift her up or make too much noise around her and Elli will wake up again.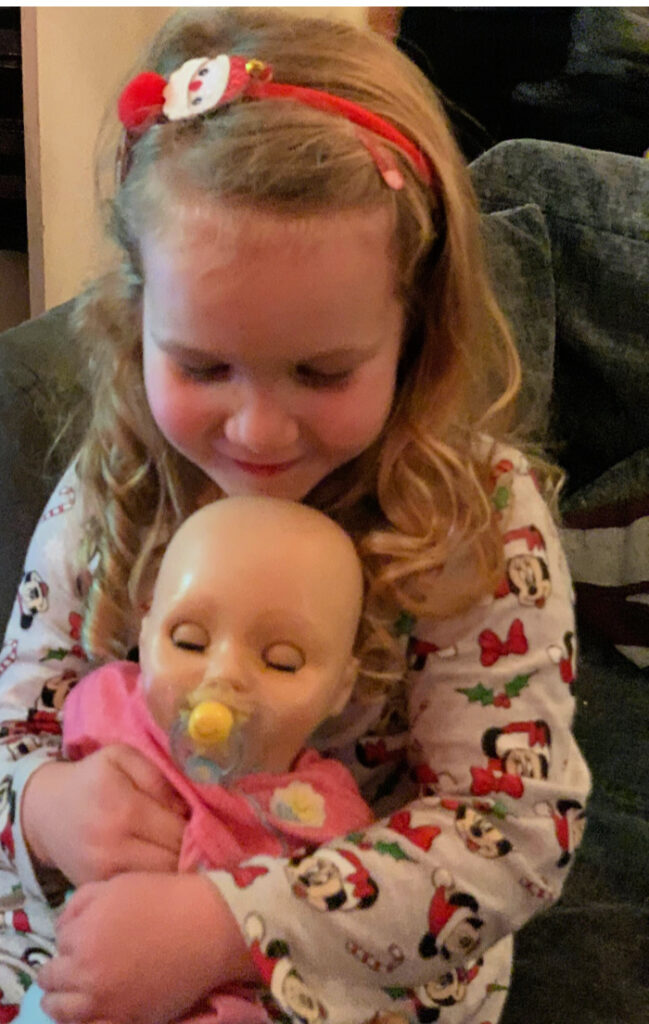 Ellie Smiles is aimed at children aged 3 and over and is much lighter and more cuddly than Luvabella. At almost 9, Eliza lost interest very quickly as she knew that it was the necklace that was making the doll interact with her, but younger members of the family adored her and quickly adopted her and took her home with them.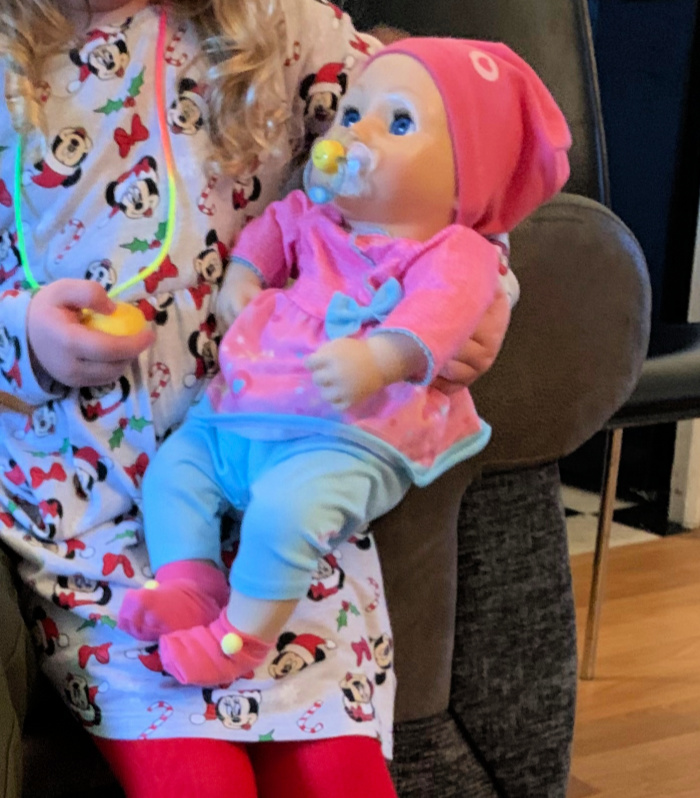 Elli Smiles is available at Smyths Toy Shop and has an RRP of £39.99.
Disclaimer: We were sent Elli Smiles to review. All thoughts and opinions are our own