After the excitement of ending a week with a birthday and Sebby turning 7, we started the week with another birthday and Father's Day.
It has been another frustrating week for us. Living in Bournemouth we are used to tourist season, but nothing like on a scale of what we have seen in the last few days.
Over half a million people descended on our little town, much of which is still closed because of the COVID19 pandemic and used our beach as a toilet / rubbish tip. I don't want Boris to shut down beaches, but I do think they should limit travel to within your own postcode. Lets hope there is no spike in cases.
Here is our week………
Sunday 21st June
It's my birthday!!!
Not impressed I have to share it with Father's Day, but used to it now. We shared celebrations, with me cooking breakfast and my husband cooking dinner. We made use of our National Trust passes with a pre-booked visit to Corfe Castle and the kids just had to go the stepping-stone way.
Corfe Castle is one of our favourite local places to visit and although the kids didn't get to dress up or do the activity trail, they enjoyed exploring all the nooks and crannies that only a ruined castle would have.
There are certain spots where they always stop for a photo, like the leaning wall – I must a picture from each year, so really must find them and make a collage to see how much the kids have grown.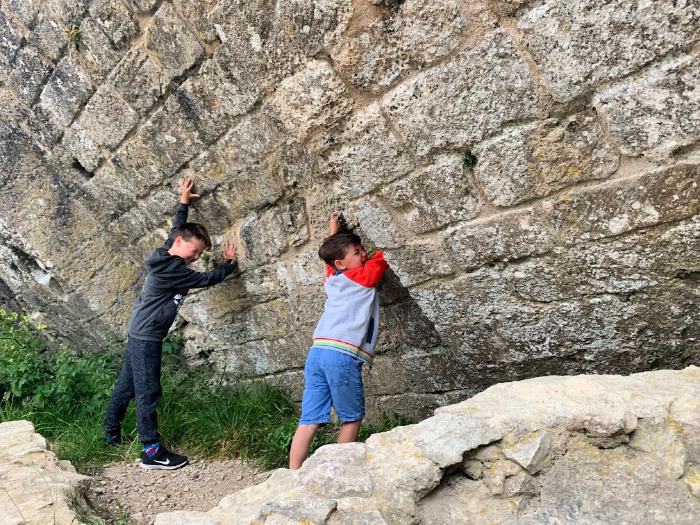 Every time I see it I do wonder how it is still standing, just look at the angle its at!!
I have always wanted to climb the hill that overlooks the castle which you can see in the picture below, so we decided today was the day.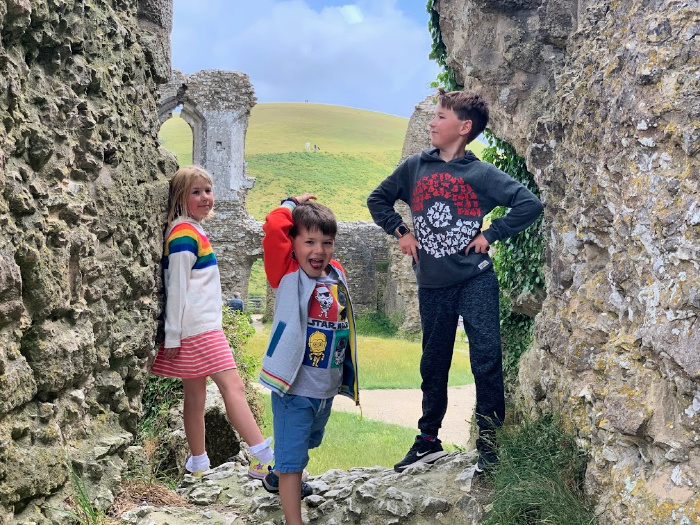 It is really quite steep and was very windy, but was well worth it and Sebby, with his new 7 year old legs ran all the way to the top, where the views stretched over Corfe Castle, the village and all the way across Poole Harbour.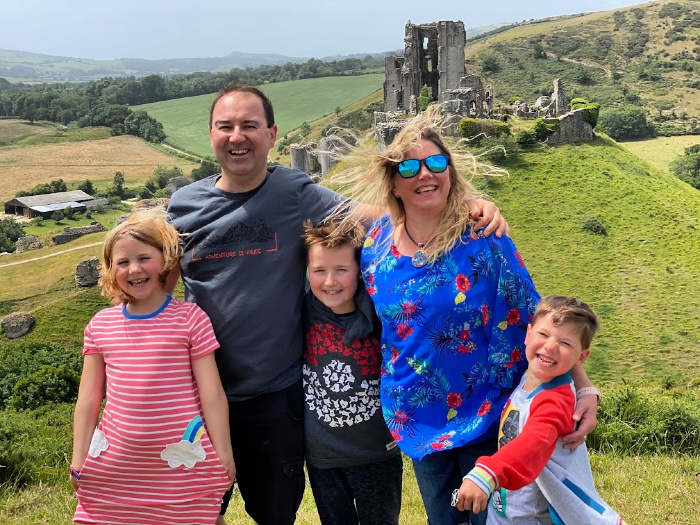 From there we jumped in the car to Swanage where I treated the kids to Fortes ice cream. If you ever visit, it is a must as all freshly made locally.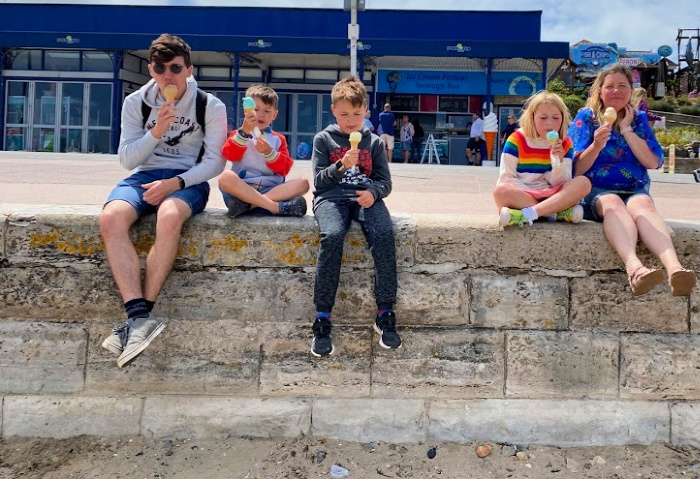 There was a bit of excitement on the way home as we witnessed a sailing boat hit the Sandbanks Ferry and get rescued by the local RNLI and get towed to safety.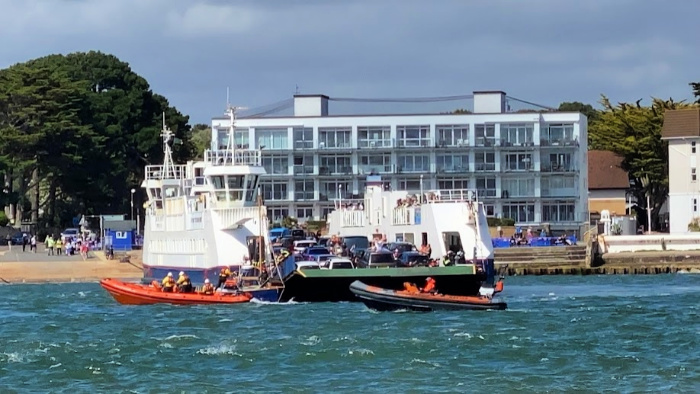 Monday 22nd June
Eliza and Sebby were both in school today and the weather was predicted to be a scorcher. We have been itching to take our paddleboards out for a spin, so headed to the River Stour by Canford School to launch them.
It is normally just my husband and I with the kids, but we found it so much easier having Kian to help us pump them up and carry them to the waters edge.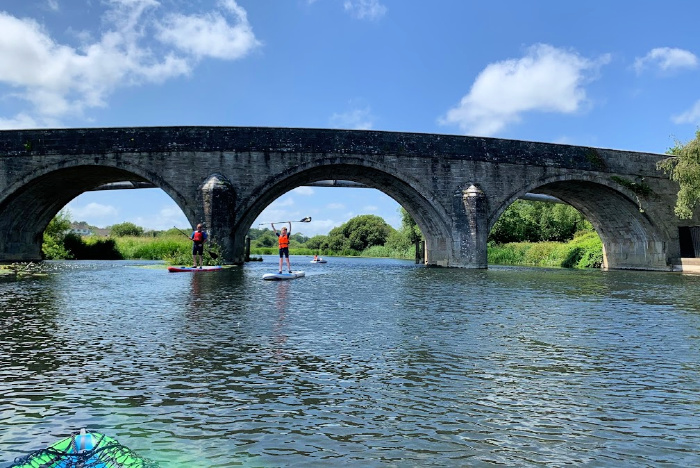 We paddled all the way from the school to the old Wimborne Bridge and back which works out about 2.5 miles there and back. We spotted all sorts of wildlife from dragonflies to swans and even a snake swimming across the river.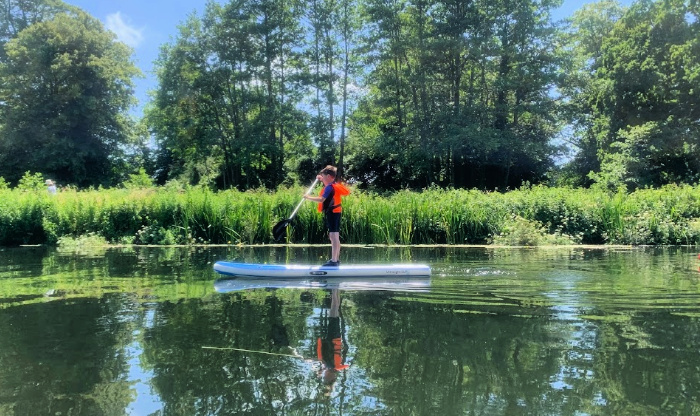 Both Isaac and my husband managed to fall in, both whilst showing off – luckily the water wasn't too cold! We were home in time to pick the kids up from school, before I headed into work for the evening. Not sure what happened to Sebby, he definitely didn't go in looking like this?!?!?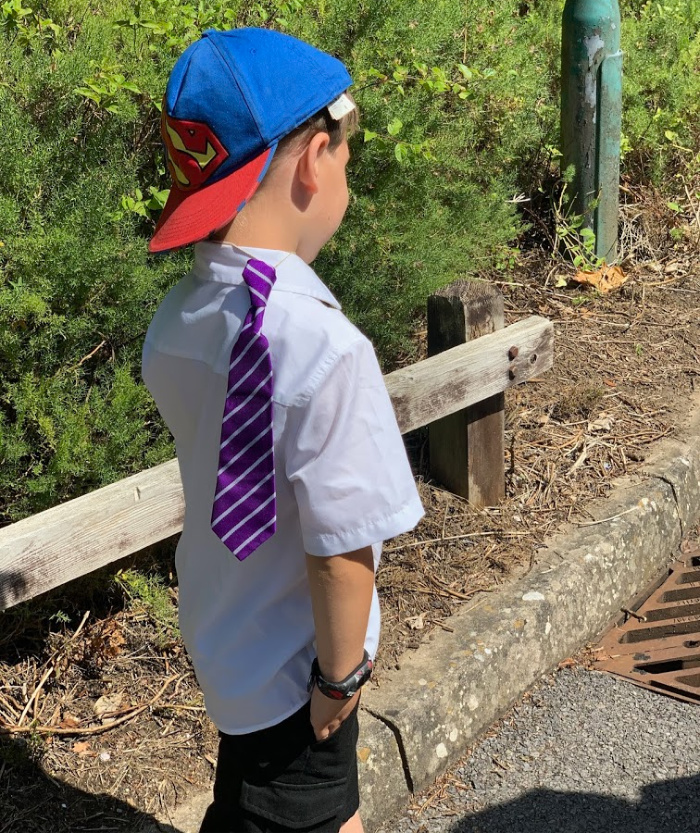 Tuesday 23rd June
A pre-school work day for me today and my husband did some overtime too. In the evening, we left Kian babysitting whilst we headed out to the poppy field at Badbury Rings to take some photo's.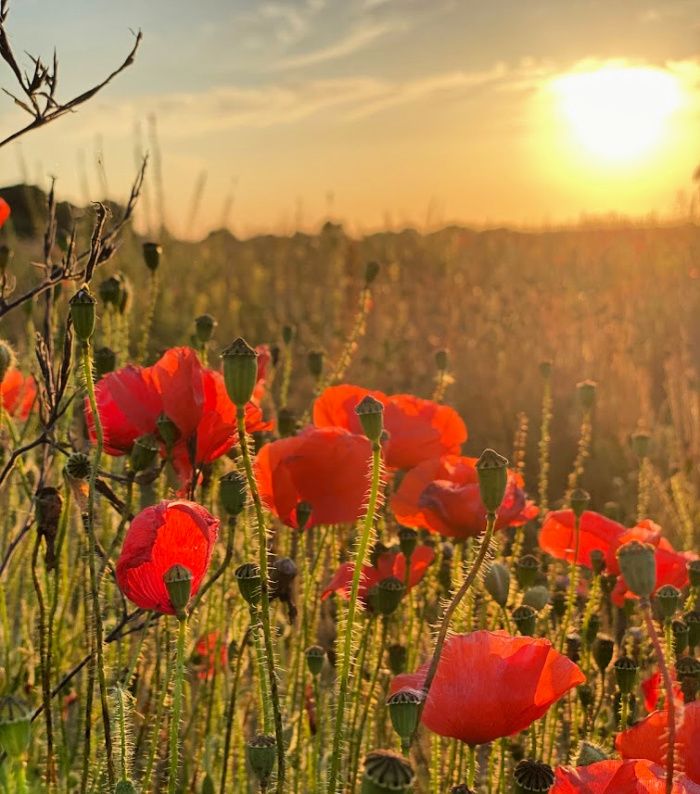 We were a little disappointed to find it wasn't looking a vibrant as it did last year, but have since discovered that the best time to go is July and early in the morning, rather than the evening.
It almost ended in disaster when my husband lost communication with his drone and we had to go searching for it. Then, after we watched the sunset from Badbury Rings, the May Bugs came out in force and were literally flying into people as they made a dash to their cars – I even got one caught in my hair, much to my husbands amusement as I screeched at him to get it out!!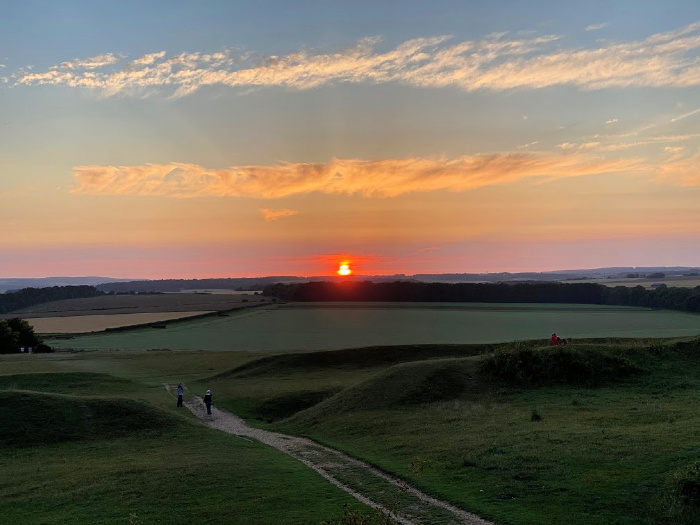 Wednesday 24th June
Yet another birthday today. Callan turned 23, but sadly is back at work after furlough, so we didn't get to see him other than on facetime. Abbey came round with Lilah and we went for a very hot, socially distanced walk to the Sang where I treated us all to an ice cream.
We have been itching to see if the swans cygnets had hatched and today we got our first glimpse as Mum led them around the pond.
I was asked to go into work early as it seems the world and its wife had decided to head to Bournemouth because of the beautiful weather. It was an interesting shift to say the least, with lots of families and groups trying to stock up with supplies, meaning we were very busy until we closed.
Thursday 25th June
Another full day at work for both my husband and I. The weather was sweltering and BCP Council and the hospitals declared a major incident due to the sheer number of people that had descended on the town, more than come to our popular air festival in August. The roads were gridlocked, people were literally dumping cars wherever they could, using people's gardens as toilets and leaving all their rubbish behind. I love where we live but it infuriates me when people just don't seem to care……..we pay our council tax to help keep the beaches and town clean but it was treated with utter disrespect.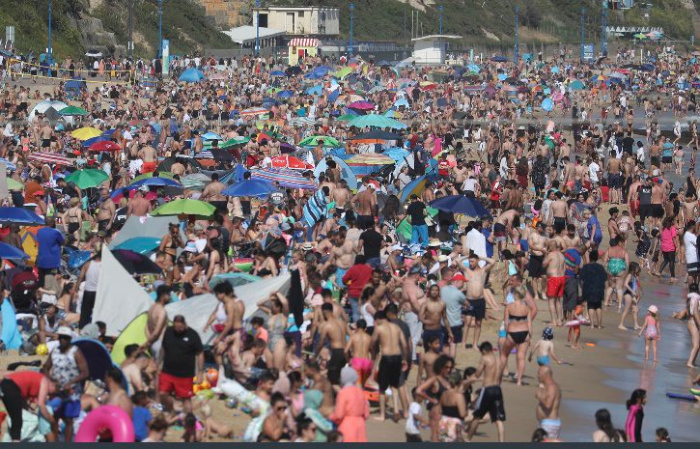 As the nearest supermarket to the beach, we were busy all day with most customers being understanding and polite, but a few were most unpleasant to deal with.
Friday 26th June
The influx of visitors has meant I picked up more overtime and it was another busy day. The kids enjoyed their half day at school and my husband has news that he is starting a new job, on 6th July. It is not quite what he was doing before, but it is a stepping stone and a regular income. Tesco were brilliant and even gave him a card and voucher to thank him for all his help.
Saturday 27th June
Another work day for me, but on the early rather than a late shift, so it means that I get to enjoy a proper meal this evening. I had planned on taking the kids for a walk, but I am shattered and its a bit drizzly today, so I have just chilled on the sofa, whilst they have been playing online with their friends.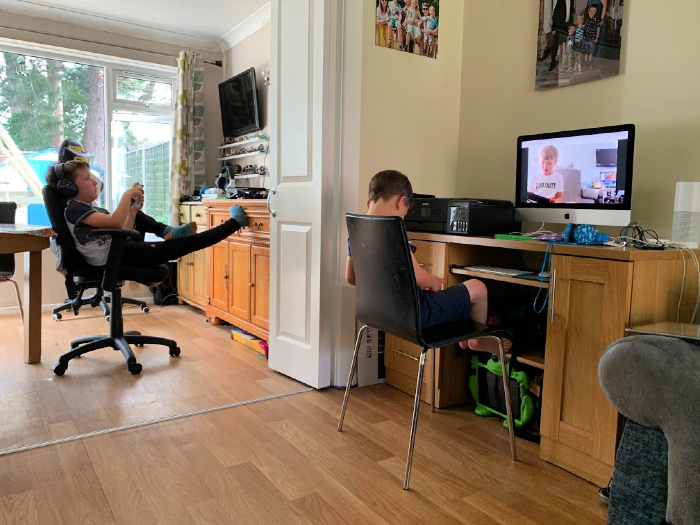 How has your week been?
You are invited to the Inlinkz link party!