It has been a busy couple of weeks, mostly thanks to being back at work and ferrying the kids to various clubs and activities.
We had storm Ciaran hit, which fizzled out almost as soon as it started here. The kids were most disappointed that they didn't get a day off school.
Here is our week:
Sunday 29th October
With the weather showing no improvement, we settled for a chilled day at home and our first home cooked roast dinner of the season.
Monday 30th October
Back to work after a week off and I was frustrated to find that the council still haven't fixed the street light outside our house. It is horrible walking to the car in pitch black and I took a photo to show how dark it was – sadly my phone seems to brighten everything.
Tuesday 31st October
Halloween and Sebby and Eliza were excited to go out trick & treating, whilst Isaac manned the front door.
Sadly we had torrential rain all evening, so we didn't get many trick or treaters to the door and the kids didn't last more than an hour and came home soaked.
Wednesday 1st November
It is my Dad's birthday this week, so I popped to see him in the New Forest, despite being thwarted by road closures and roadworks at every turn.
My obsession with post box toppers continues – I really need to learn how to knit so I can start making them myself.
The kids headed to see SIX with school tonight and I had to pick them up at the start of storm Ciaran. It wasn't too bad at home, but it was very windy by the coast.
Thursday 2nd November
Storm Ciaran seemed to bypass us, so the kids had school as normal. I have been nagging the kids to tidy their bedrooms for what feels like forever and I finally gave up and did it myself.
All their wardrobes and drawers have been sorted and lots of outgrown clothing has now been listed on Vinted.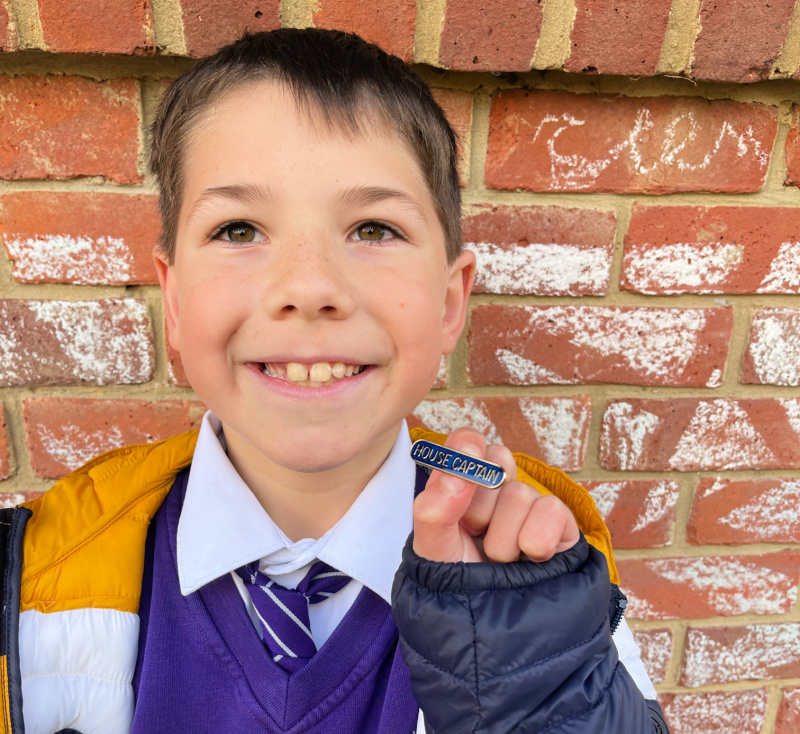 I picked Sebby up from school as normal, but he had a surprise………he is House Captain for this year!!
In the evening, it was my turn to watch SIX The Musical and it was brilliant. If you get a chance to go, do it – you won't be disappointed.
Friday 3rd November
Now that Halloween is over, it was time to decorate the shop for Christmas.
For the last two years, we have had cardboard Christmas trees at work and this year is no exception. This year it has definitely been simplified and was much easier to put up.
Saturday 4th November
I worked a 12 hour shift today and thankfully work was surprisingly quiet for a Saturday, so wasn't too painful, but I was shattered when I got home.
Willow has been sleeping a lot recently, so I was pleasantly surprised to see her awake when I got home.
Sunday 5th November
A work day for me, to try and get some extra money to help with Christmas and it was an uneventful one.
I was pleased to see that the local knitters have been hard at work and we finally have a post box topper on our local letter box.
Monday 6th November
Lilah has asked for a bike for her birthday and we were lucky enough to be offered one to review from Very, but the review is due before her birthday. Luckily my neighbour has a daughter the same age, so we pretended it was her bike to see if it was the right size.
She took to it well, although did worry when we got to a hill, but fingers crossed she will off and pedalling soon.
Tuesday 7th November
My husband and I have been itching to try breakfast at Aunt Fanny's Farm Shop and Cafe after it was recommended to us and we finally visited today.
It is in a gorgeous, rural location just outside Wimborne and is an instagrammers dream. The food was amazing too – definitely one of the best breakfasts we have had recently.
Wednesday 8th November
The Christmas review items are arriving thick and fast. Mine are too old for most of it now, so Lilah is my reviewer and the toys are then donated to the preschool where I work, for all the kids to enjoy.
They all adore this dentist play set which even comes with a retainer and braces!
Thursday 9th November
I headed over to see my Mum today and despite not needing to go shopping, she insisted we went and saw her post box topper. I think hers definitely wins!
She has been having some issues with her energy company since her partner died, but after getting the ombudsman involved a couple of weeks ago, things finally seem to be moving in the right direction.
Friday 10th November
We have been patiently waiting to upgrade our phones and have finally done it. Isaac and Eliza have our hand-me-downs and Sebby, after losing his in the summer, has Isaac's old phone. I tried to get a picture of their silly faces as they set up face ID, but managed to miss it.
Saturday 11th November
Sebby had a Kids on Quadz birthday party a couple of years ago and it has set off a bit of a trend. He was invited to his friend's party today and thoroughly enjoyed his time splashing through the very big puddles.
I am so glad that I packed a change of clothes as he was filthy by the time they finished.
How was your week?