For the first time ever this year we have a real Christmas Tree at home inspired by our Christmas holiday at Coombe Mill.
One of the reasons we had never had a real Christmas tree was because we had no means of getting one home, especially with a car full of children.  Now you can take the hassle out of getting your real Christmas tree home and order online with Pines and Needles who offer a complete range of Christmas Tree Services, including delivery, installation, decoration, removal and recycling country-wide.
We ordered a 6ft Nordmann Fir Christmas Tree and a medium Water-Holding Stand to keep it hydrated which helps stop the needles dropping and also received a FREE Mini Christmas TreeTuffnell. We could choose the day we wanted it delivered and my one grumble in the whole process was that we received an ambiguous 9am-5pm window. I would have appreciated a rough timeslot so I didn't have to wait in all day.
Thankfully the tree arrived mid-morning, well packaged to stop it making a mess. We opened it up in the garden before taking it through the house to its chosen position which saved a lot of mess.
I couldn't be more happy with our choice. The Nordmann fir has a glossy green colour and big needles which are lovely and soft, making it suitable for those with young children like us. It is however slightly more expensive than the Norway spruce, which has that classic rich, fresh Christmas fragrance and a very structured pyramid shape, but it does have a pine smell to it which fills the room with Christmas cheer.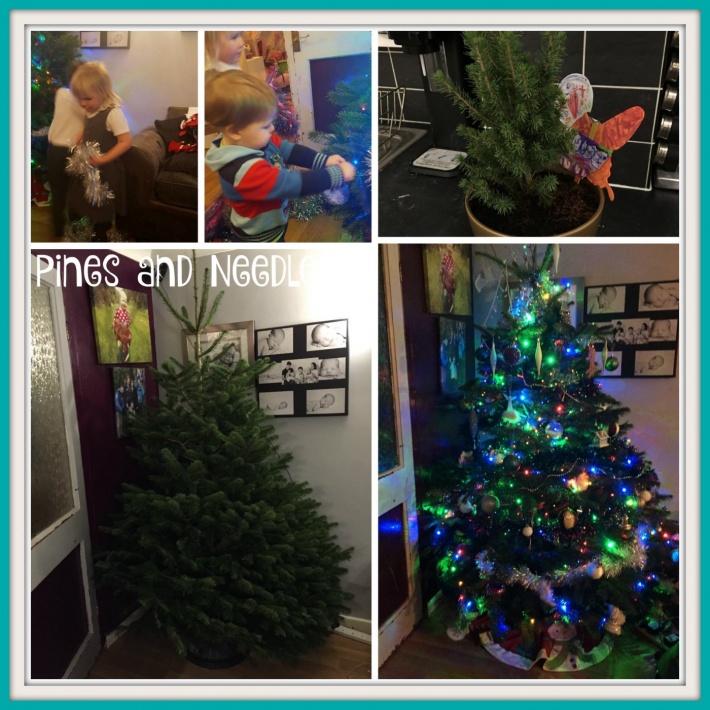 Of course the children couldn't wait to get decorating to it, so I let them loose with the decorations. I may have rearranged some of the baubles when they went to bed, but they didn't do a bad job at all.
By buying the medium Water-Holding Stand it means that we will need to water the tree about once a week and I have disguised the wires from the lights with a beautiful, embroidered tree skirt with an applique design and three fabric ties which makes it easier to attach from GLTC.
Pines and Needles have offered my readers a fabulous £10 discount on any online Christmas Tree sale using CM10 plus you will also receive a free mini tree , holly and mistletoe.
Disclaimer: We received a free Christmas tree and stand for the purpose of a review. All opinions are our own.