We have been fans of Diversity since they won Britain's Got Talent back in 2009 and always follow what they are doing next. In fact I really wanted to take part in their Secret Street Crew TV show but sadly that has ended now.
Now you can get to see Britain's favourite dance troupe to all of Butlins seaside resorts in 2016, with a brand new live show and exclusive Dance Academy and we lucky enough to see them this weekend on a Butlins Diversity Break.
Our first port of call was the Reds Bar where Isaac and Eliza were to take part in one of their Street Dance Academies. As we lined up to get in, the Red Coats took the kids name, issued them with a badge and allocated them to a group. All the younger children were group A and the older ones group B.
To keep the kids entertained before Diversity came on, the Red Coats had them practising cheering along. The room was set up like two dance studios with two sets of mirrors for the kids to see themselves in. I fully expected just a few members of Diversity to come on stage and was really surprised to see all our favourites arrive stage to whoops and cheers from everyone in the room.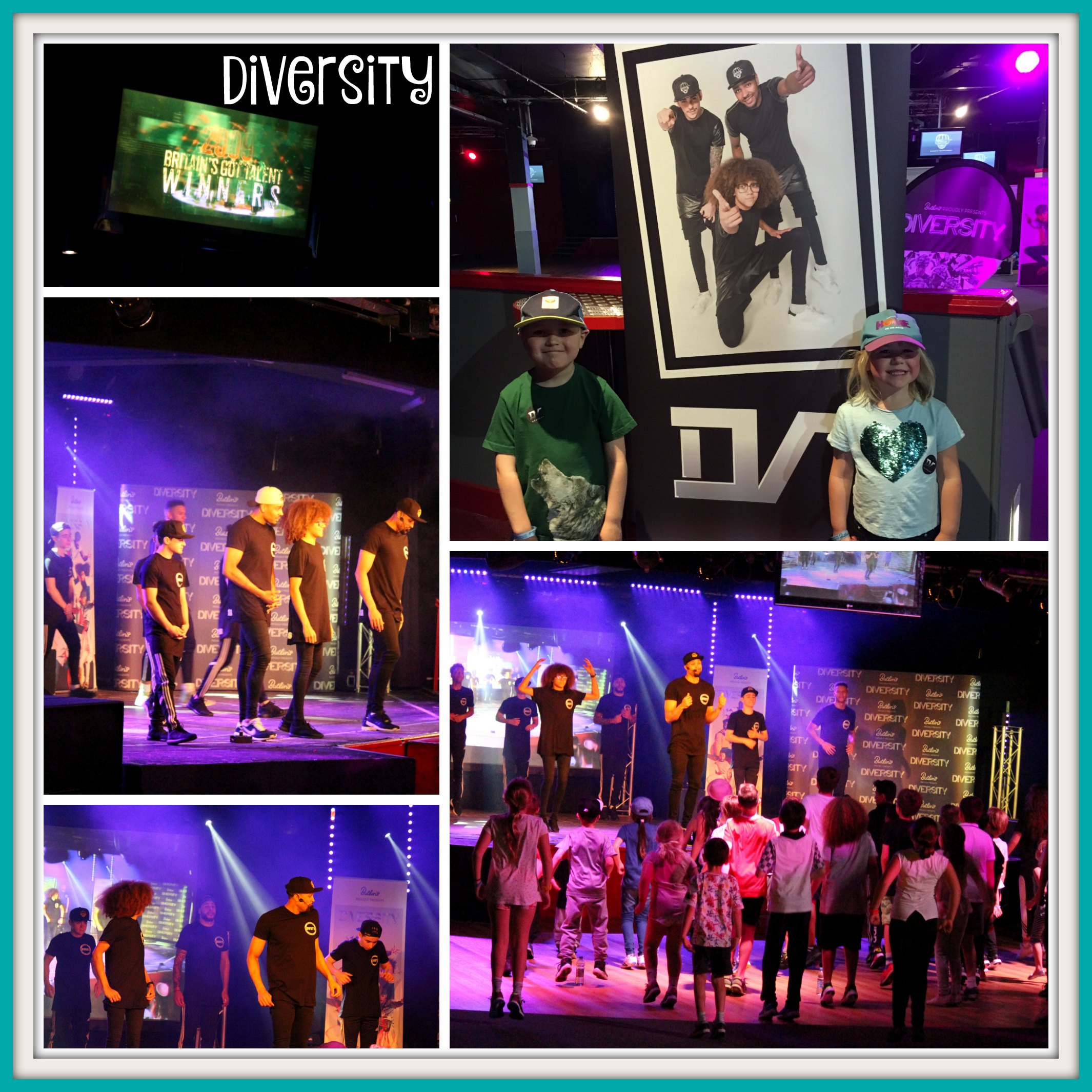 They got to work straight away on warming all the kids up together, along to some great music. I think there were a fair few of us mum's joining in too as the music was infectious. The warm up lasted about 15 minutes before the groups were split with Perri leading the younger team A and Jordan the older Team B.
The Academies are all about giving budding dance stars of the future a once in a lifetime opportunity to meet Diversity, be coached personally by them and experience a face to face street dance master class like no other and it didn't disappoint. There were three members of the group per team and they encouraged all the kids with clear but fun direction. The routines, choreographed by Ashley Banjo, were challenging but not too difficult, even for younger team members like Eliza as they were broken down into bitesize chunks.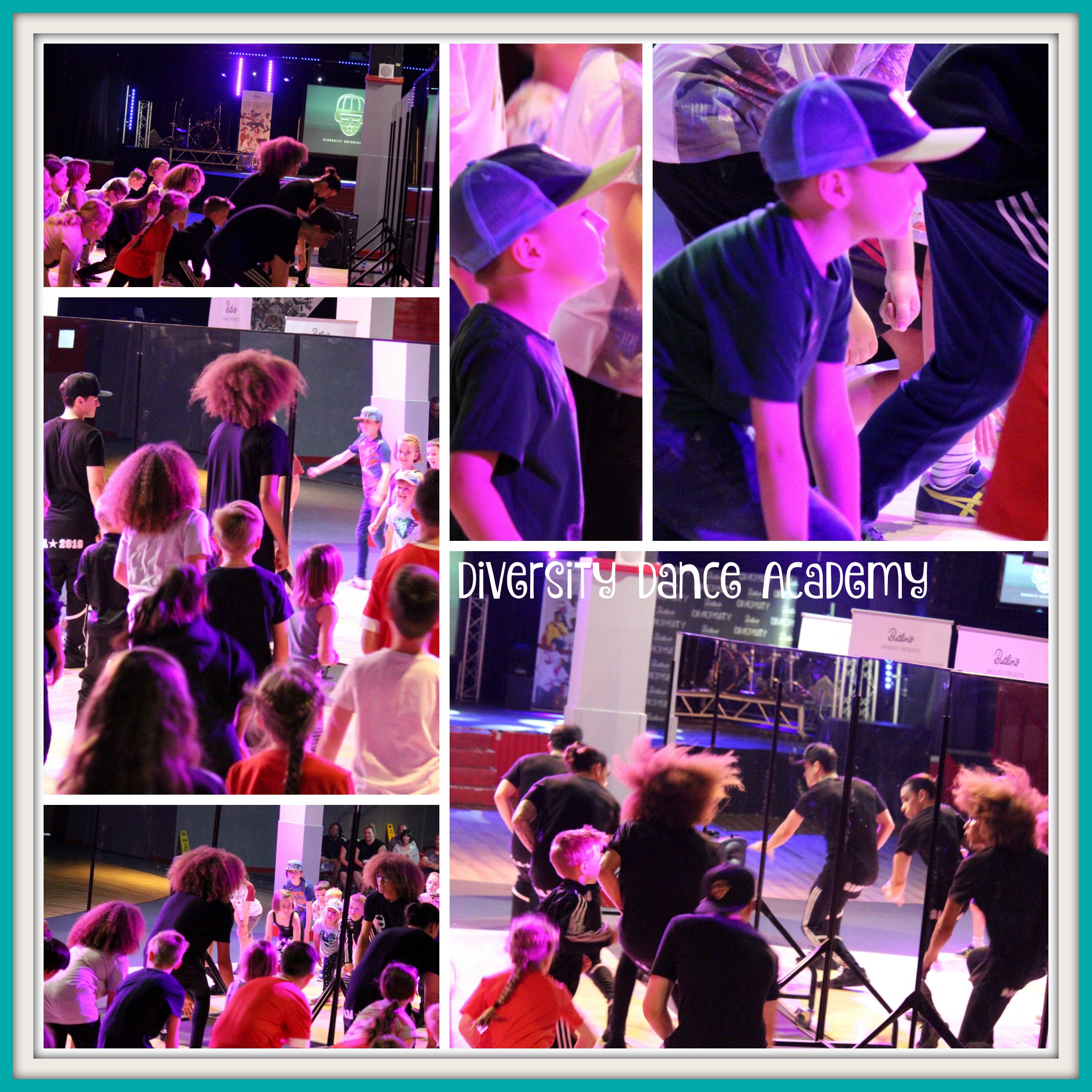 There was plenty of seating for us parents to sit around and watch everything that was going on and when it was time for the kids to perform their routines we were asked to come to the front and watch each group perform their routine.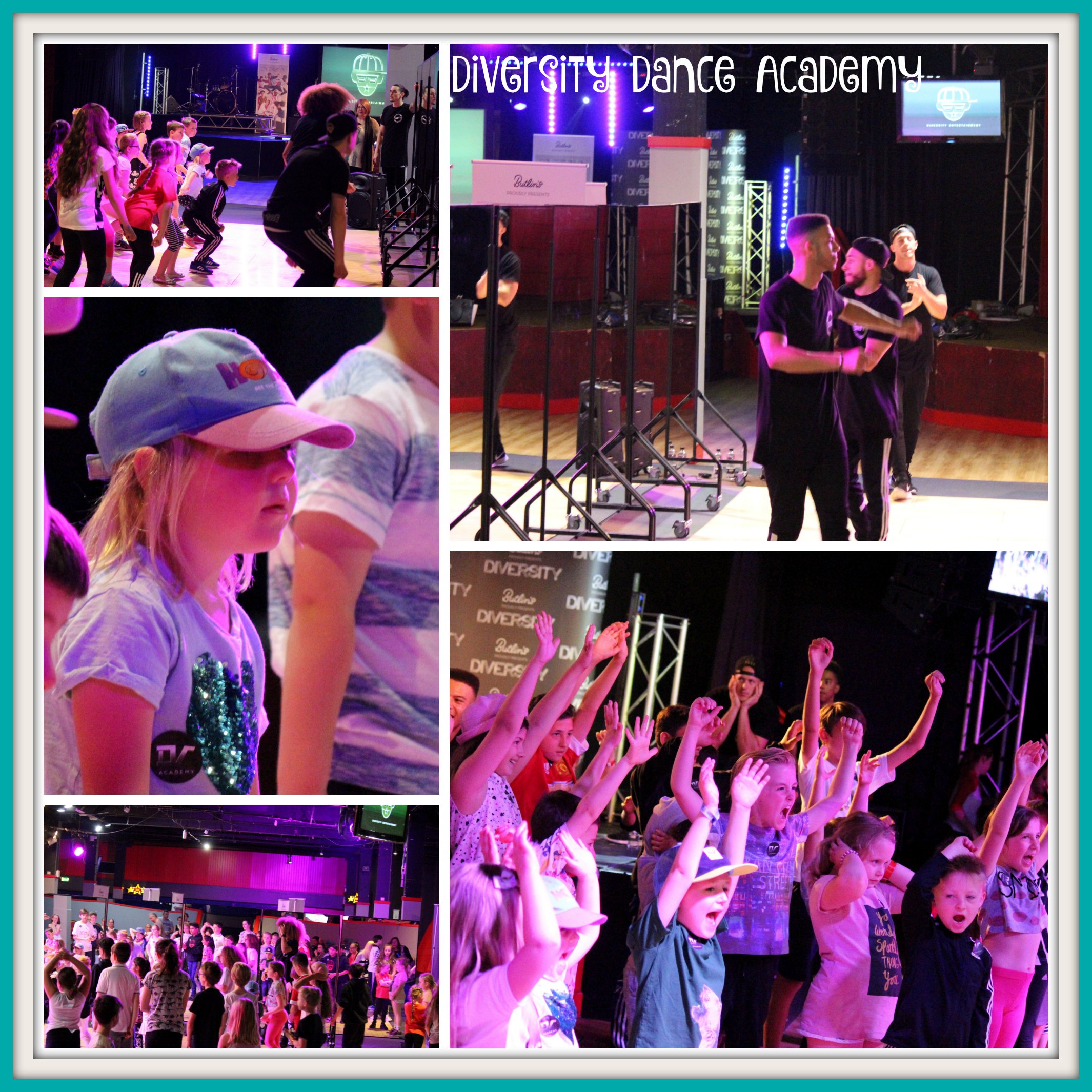 For learning a brand new routine and performing it in just an hour they all did brilliantly. The music was made even louder as they were joined by Kieran Gaffney, also of BGT fame, on the drums. Every child was given a certificate of achievement and got the chance to pose for a photo with Diversity themselves.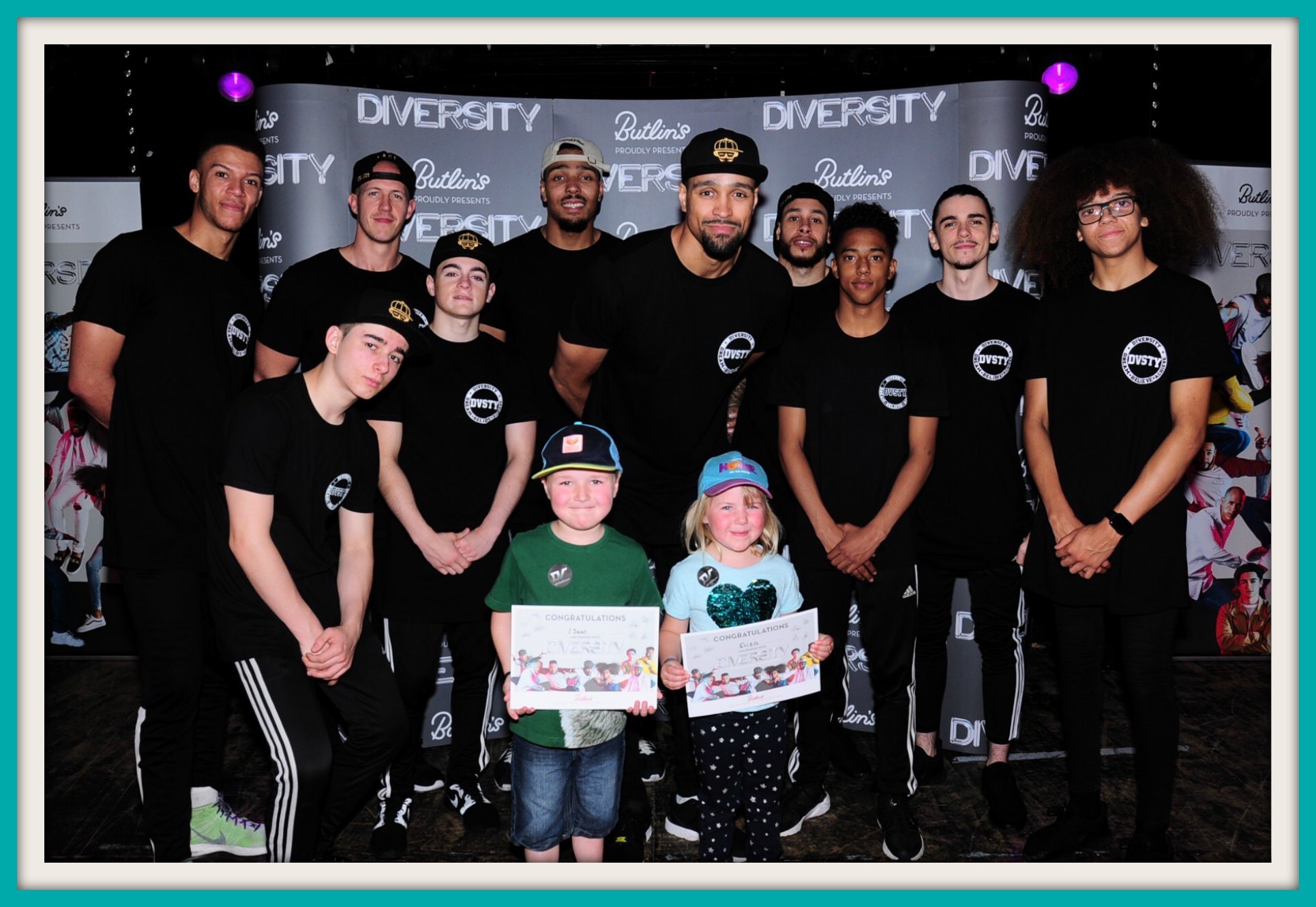 The Dance Academy lasts around 90 minutes you must be aged 5 and over to take part. It costs £30 per person but is worth every penny, especially if you have dance fans in the house.
The Diversity treat didn't stop their though as they also performed a live show that evening that allowed us to see them perform up close. I was expecting an hour of dance, but they got the audience involved with some fun games and even grabbed some poor Dad's on stage for the ultimate dance off.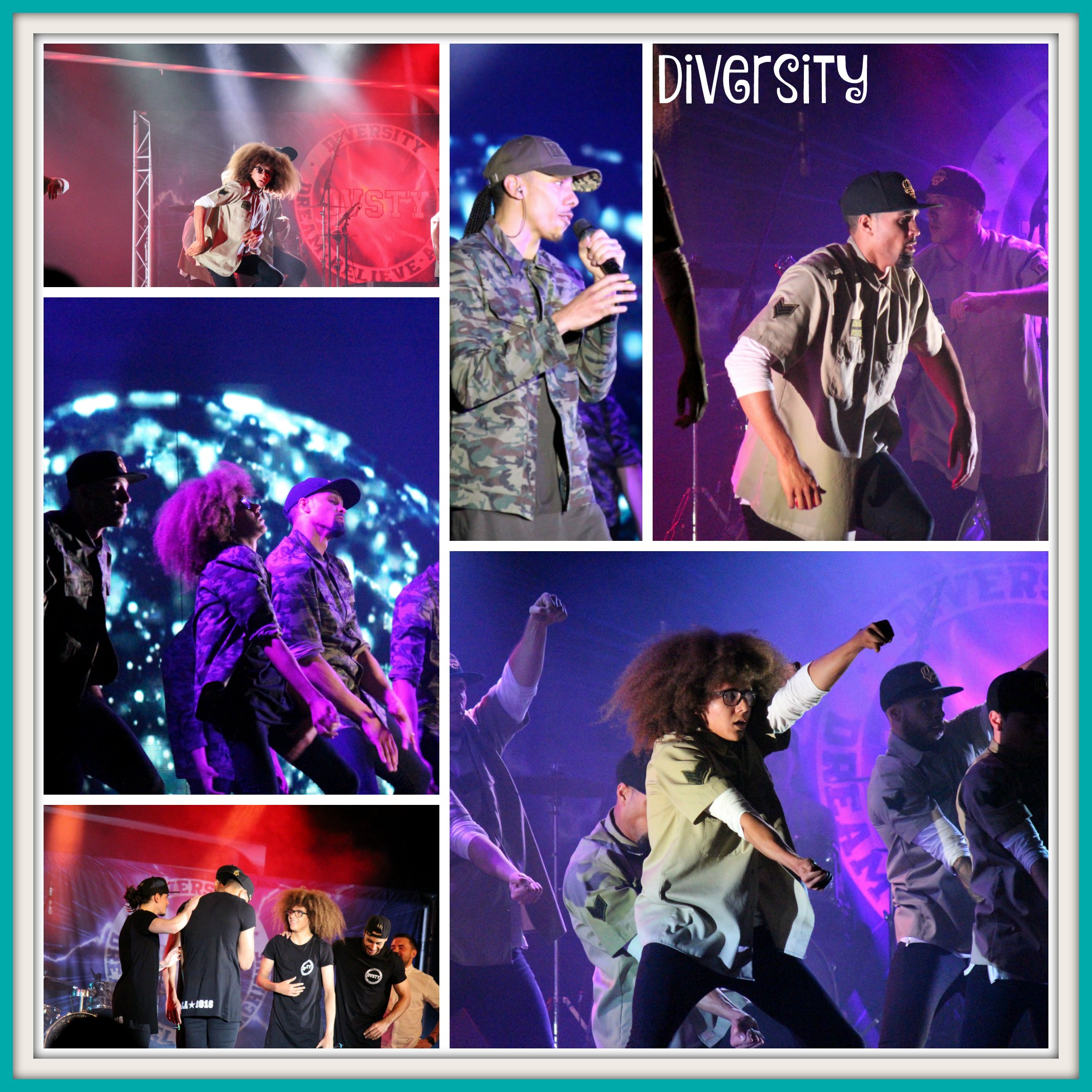 We were introduced to some new members of the team and were treated to costume changes, pyrotechnics and even a perfectly timed dance routine complete with lights in their costume. It was well worth the hour long queue to get inside!
We were on Team Jordan for the evening, but sadly we lost out after leading most of the way, thanks to a game of Rock, Paper, Scissors with Jordan and Perri for the decider.
Diversity breaks are on selected School Holidays and Term Time Weekend breaks at all Butlins venues, and it is advisable that you book early to avoid disappointment.
Disclaimer: We are Butlins Ambassadors and were guests of Butlins for the purpose of a review. All thoughts and opinions are our own.