Isaac turned 6 last week and wants to do everything his big brother's can do, which made choosing his birthday party a bit of a challenge as he is too little for most things he wanted to try.
We go to Lemur Landings Soft Play centre regularly and Eliza had a Create a Bear party there earlier in the year for her birthday.  Much as Isaac enjoyed it, it wasn't really something him and his friends would want to do, but then I found out that they were launching Phaser parties.
It is a fabulous idea – Isaac and his friends get to be just like their big brothers with the excitement of laser tag, yet it is set in a comfortable and safe soft play environment, unlike the dark and scary alternatives.
We arrived, very excited, just before 6pm and welcomed his friends one by one.  All together there were 12 boys and 4 girls itching to get started.  Lemur Landings closes at 6pm so we had the venue to ourselves.  To allow the transformation to take place the kids are given their food first, which I wish I had known prior to the event, as containing over-excited children who just want to run around and play is quite a challenge and there was a little sulking going on at one point.
Whilst the kids were tucking into their freshly cooked, homemade nuggets and pizza the playframe was converted into a spaceship with the help of blinds, rope lights and UV lights.  It was easy to see this was going to be awesome!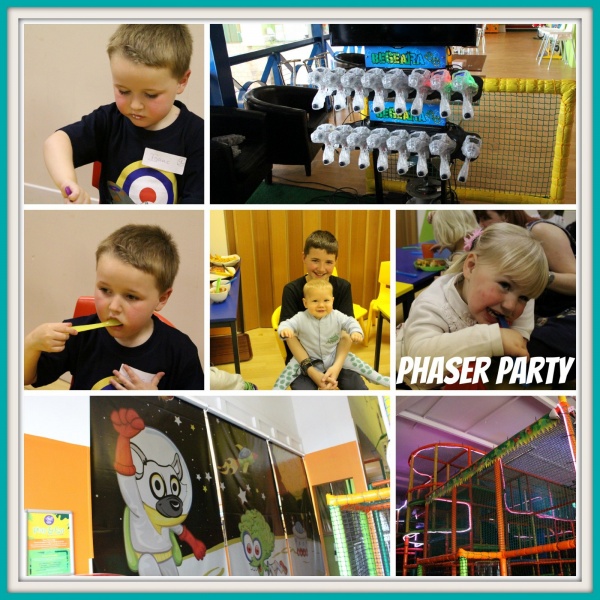 Once the kids had finished eating, it was time for a brief training session.  There is no heavy equipment to wear, they simply have to aim for each others phaser guns and shoot – the one with the most points win!
The guns all had their own name and glowed various neon colours so it was easy to keep score.  I have to admit that Isaac had a bit of a wobble and didn't want to do it……….for all of a minute.  As soon as they were timed in, they were off!
With neon lights glowing, a disco ball sparkling and music blaring they were off.  They ran, they chased, they shot each other and they giggled……….the giggling was infectious and then they discovered the slide thanks to Kian.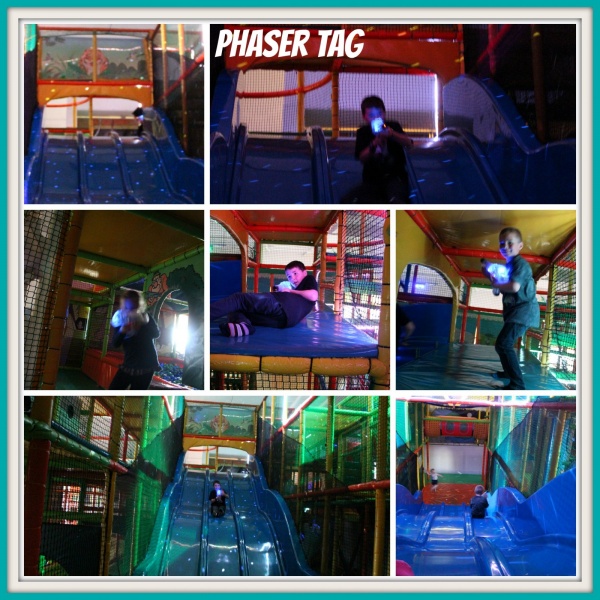 There was a mirror ball above the slide which made it literally sparkle and it soon became a challenge to try and shot each other whilst whizzing down it.  I am not sure how long the first game lasted, but it was soon time to re-group, get their scores and await instructions for the next game.
This time is was Red vs Blue and all the guns showed their respective colour.  The team with the most points won…….. and off they went.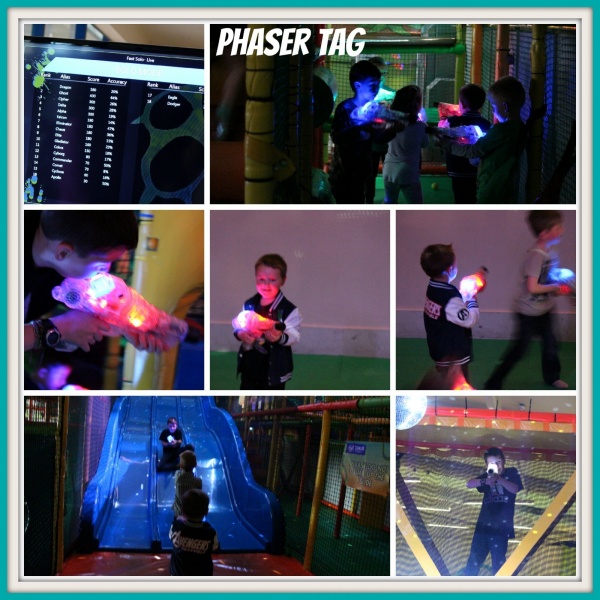 All in all there were 6 different games they played, each as fun as the other.  My favourite had to be the Vampire game – hubby was busy with Sebastian so an unsuspecting Dad was volunteered to be the vampire.  His gun glowed red and he had to be chased by the kids – if he shot them and their guns turned red then they became vampires and had to switch sides.  It was so much fun  to watch!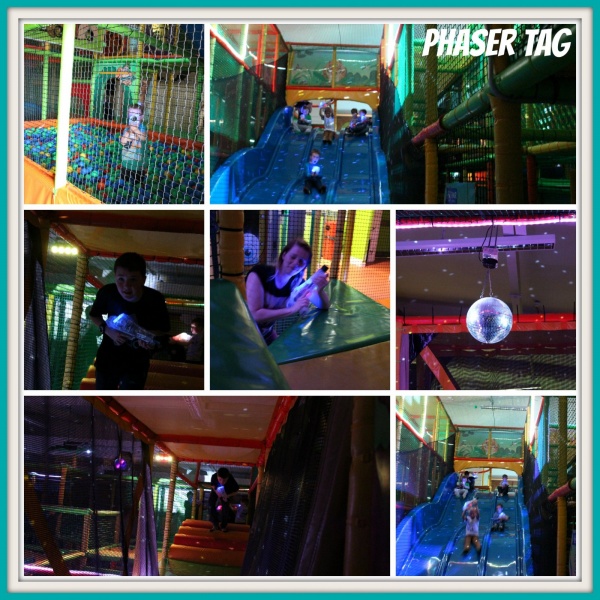 We had a brief stop to sing Happy Birthday to Isaac before one last game.
A few of the adults in the party took a turn too and big thanks to Kat from Lemur Landings who made herself a target for the kids too.
To Pete, Kat, Ellie and the team – Isaac rated his birthday party 10/10!
You don't have to have a party to play Phaser Tag at Lemur Landings, they will be running sessions open to the public from May 2014.  Visit their website or facebook page for more details – we might see you there!