LolliBop, the big bash for little people, is one of the highlights of our year.
We first went in August 2012, when it was held in Regents Park, London and then went back for the move to Queen Elizabeth Park in 2013.
This year it moved again to Hatfield House in Hertforshire and in my opinion it was the best LolliBop yet!
We set off from Bournemouth at 7.15am and arrived at Hatfield House at 9.15am, ready to get parked and into the venue at 10am when it opened.  The parking was set in a huge field and I was impressed that they didn't try to pack you in like sardines.  It was well organised and the staff understood that you needed to room to manoeuvre and get small people out of car seats, buggy's out the boot etc.
The signage for the main entrance could have been better, as people who had not printed their Parents are Superheroes packs, seemed to be milling around confused as to which way to go but the staff soon realised and came out to point people in the right direction.
Once inside everything was free, with the exception of food and merchandise.  You were handed the performance list as you got in and there were several free face painting tents dotted around the venue.
Isaac and Kian enjoy the CBeebies show Swashbuckle and we knew they were opening the Lollipalladium, so that was our first visit of the day, stopping for a brief photocall with the Lolli Bear.  This year they have provided tiered seating inside so the little ones at the back can see which had its pro's and cons.  For the first show of the day it was fine as everyone got in, but later in the day the draw of the CBeebies stars was huge and the queues were massive, meaning not everyone could get inside.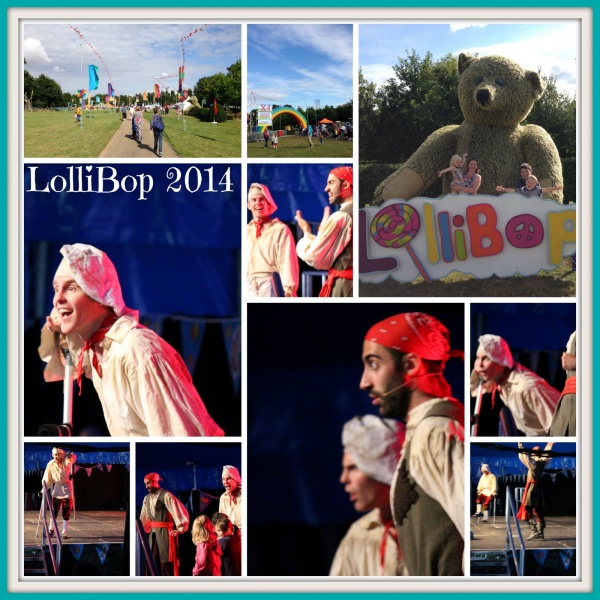 Cook and Line from Swashbuckle had the kids laughing, singing and dancing before finishing with a resounding performance of "What shall we do with the Drunken Sailor" and then the Pirate Promise from Swashbuckle itself. When the show finished everyone was ushered out, to ensure that people in the queue wanting to see the next show would be able to get in.  If you wanted to see the next show, you simply joined the queue to re-enter the LolliPalladium which I thought was fair.
I spotted the River Island design tent, but the lure of the Nintendo stand diverted the kids, so we headed there next.  We were given leaflets with challenges on and once we had completed all the challenges we would get a prize each.  Their was something for everyone, with games to play on the 3DS, find the Pokeball in a huge ball pit, finding characters hidden around the zone and even a battle zone where Kian battled a pro with his own 3DS (and won).  They came away, each having completed all the challenges (I did think we were going to lose Eliza in the ball pit) clutching their wins – Pokemon cards and a book which Kian was especially happy with.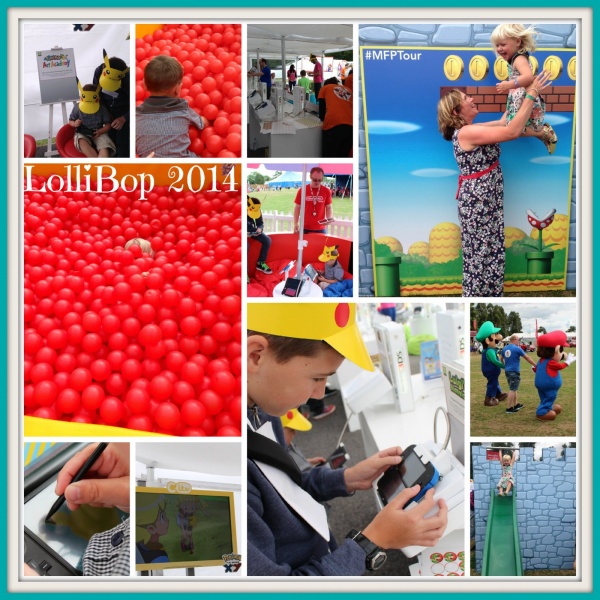 Next up was the River Island Design tent.  We missed this last year due to the queues, so it was good to get in and out early.  They had lots of lovely River Island kids clothes on display which you could drool over whilst waiting to go into the design studio.
We waited around 10 minutes, were given our t-shirts and headed inside.  You could use pens, stamps, stencils or just draw your t-shirts freehand and there were plenty of staff on hand to help if needed.  Kian was off to a flying start with his, whereas Isaac and Eliza needed a bit more help.  Isaac drew a picture of Pikachu on his t-shirt and I wrote his favourite joke around it, whilst Eliza went crazy with the stampers!
Once their t-shirts were finished they got the opportunity to model them on the catwalk and have professional pictures taken.  Sadly Kian didn't want his done, but Isaac and Eliza look adorable!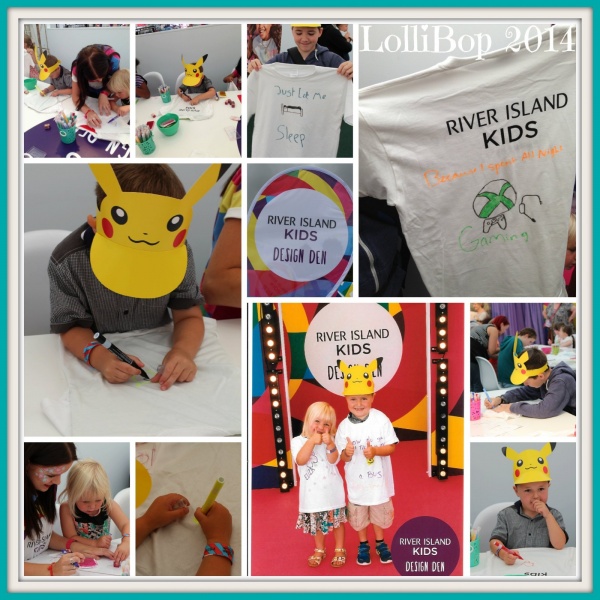 We then had a look around some other areas including the National Geographic and Kia tents, before heading to the kids disco.  They were offering meet and greets with the acts and I thought Isaac and Eliza would want to meet Mr Bloom and Andy Day again, but no – all they wanted to do was dance and get their faces painted (which was free all over the site).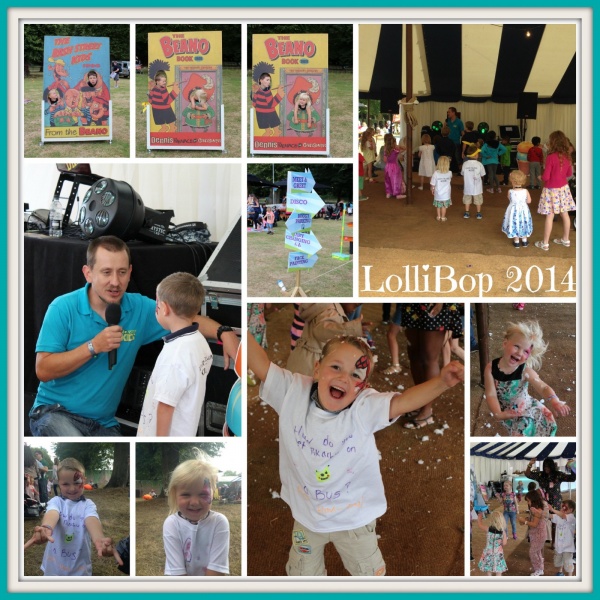 Once we finally managed to tear them away, we headed out in the opposite direction, bumping into Hagrid on the way.  We stopped at the VitaCoco beach to try out the coconut shy before splitting up.  Eliza and I headed for Baby Annabelle whilst Kian, Isaac and Hubby went to try out the new Skylanders Trap Team, who we had seen at Camp Bestival a couple of weeks earlier.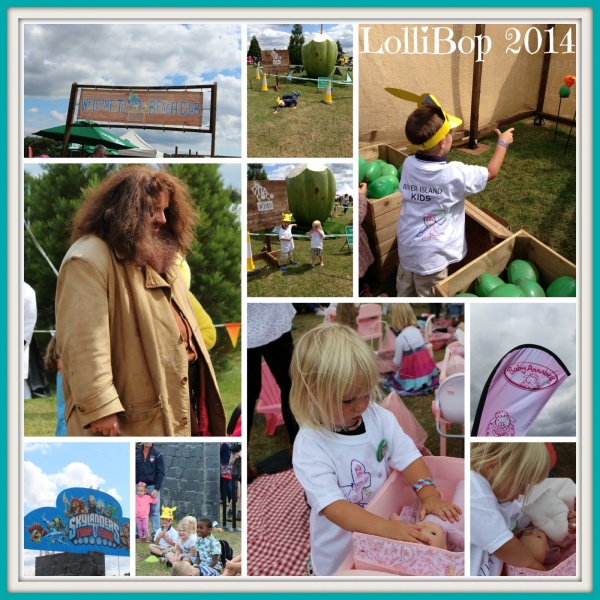 Next door to Skylanders Trap Team was the Disco shed, where they were having organised pillow fights alongside party dance tunes.  It looked like so much fun we just had to join in and I haven't laughed so much in ages!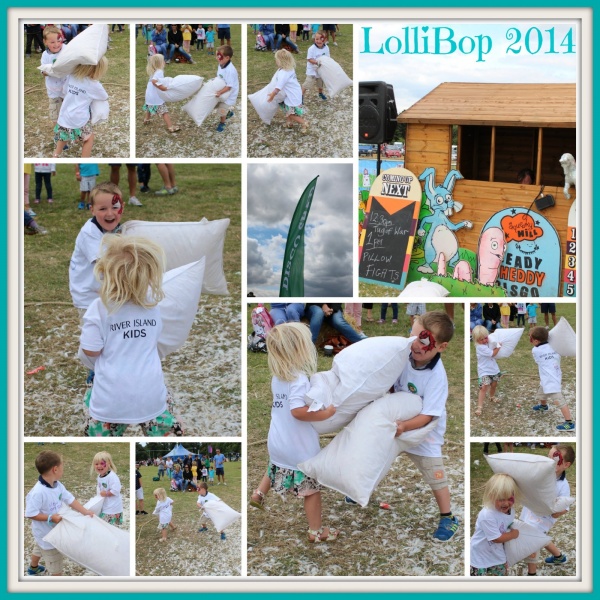 After we had plucked the feathers from our hair, we headed over to the Southbank Centre to see what was happening.  There was wool bracelet making, dressing up, den building, an Alternative Summer Fete and a Pirate area craft area.  Isaac wanted to do the pirate activity so we hovered around as it started in 5 minutes.  Sadly we didn't realise there were limited numbers  and being little he got shoved to the back by some older children and missed out.  We were told to come back in half an hour, but by that time we were at the main stage watching  Ruthless Roman's from Horrible Histories.
Kian and Isaac enjoyed seeing Julius Caesar's battle to be emperor with the terrible tactics of the Roman army, and Queen Boadicea using odd techniques to save Britain.  We also met sword-slaying Spartacus before the fab Alex Winters came out to compere between the acts.
One of our highlights of LolliBop alongside Justin Fletcher is always Dick n Dom, who Kian adores, as they get the whole audience involved in the antics with zany races of inflatables to the back of the crowd and a catchy version of Nellie the Elephant.  Sadly they were not here this year and were instead replaced by Sam and Mark from CBBC.  I had hoped that they would have a similar act, but sadly they just weren't entertaining for us and we felt that a stage versions of their quiz show Copycats just didn't work.  Isaac spotted a Polar Bear heading from behind backstage and went to meet it instead.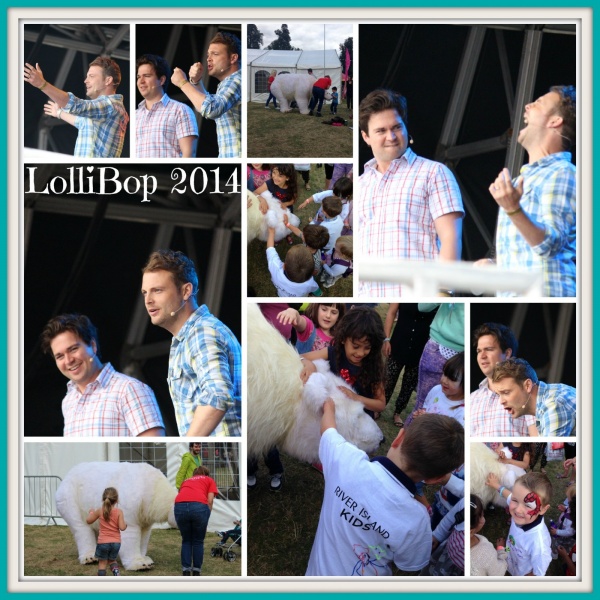 Thankfully Alex saved the day with a fabulous dance off on the stage once their act had finished and got the crowd pumping again, ready for Justin Fletcher.
There were complaints last year that the people at the back couldn't see the stage as kids were on top of their parents shoulders from the front but this year Alex insisted that adults had to sit down for the performance, which worked brilliantly…………. and on came Justin!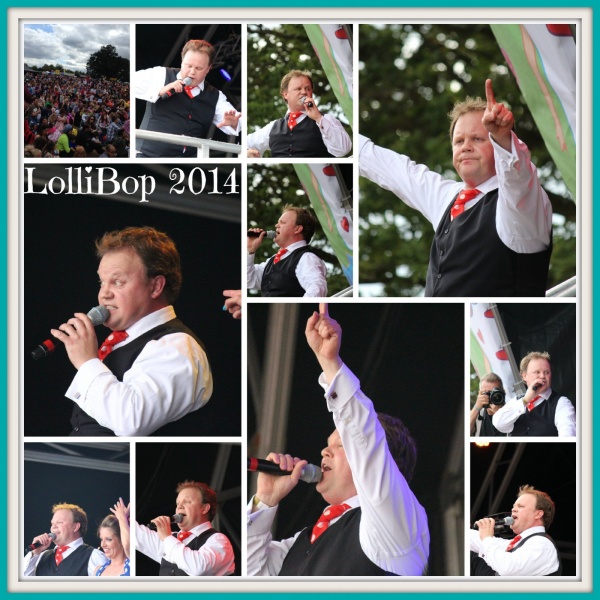 With the exception of a couple of songs, the set was identical to the one we saw at Camp Bestival, but the kids didn't care and the whole arena was literally bouncing along to Music Man, Heads Shoulders Knees and Toes,  the Hokey Cokey, Hands Up and more, interspersed with impressions and a couple of plugs for his new shows.  Once he had finished he came down to the mosh pit area and was high fiving everyone – hubby and Isaac managed to get in too!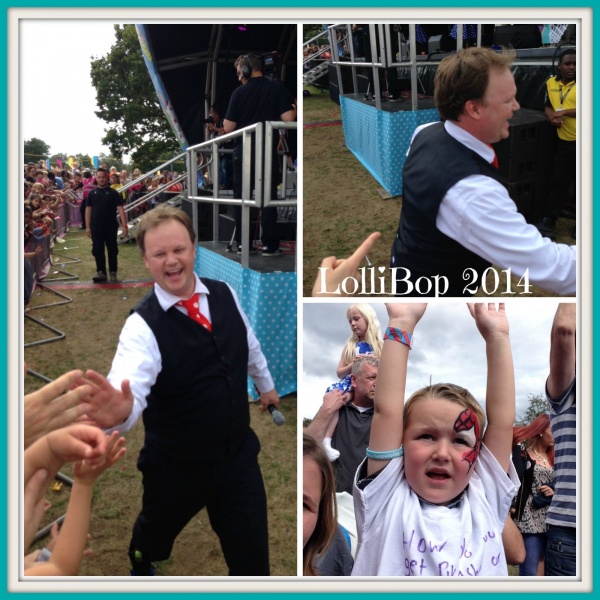 Because of the huge queues at the Lollipalladium, the LolliBop team decided to move Mr Bloom to the main stage as it was clear that all the mums kids were desperate to see Mr Bloom and his veggies.  I was worried that having such a large audience would spoil his show, but everyone was lapping it up.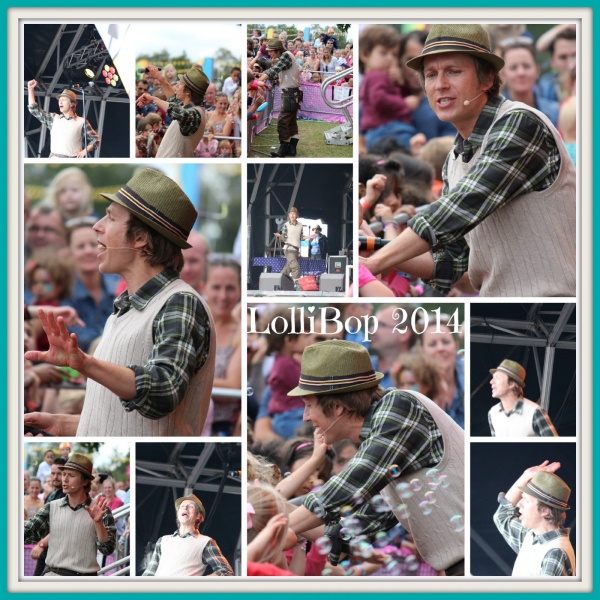 The last two years we have been the Lollipalladium was the perfect size for the CBeebies presenters shows, but as their popularity has increased I think in future these shows should be held on the main stage.
By now tummies were rumbling, so we headed off to find some food.  There were plenty of food stalls for every palette and even a baby microwave cave where you could warm baby food.  Hubby and I went for a delicious Jerk Chicken Wrap, whilst the kids were happy with a burger and chips, alongside Haribo and Pom Bear crisps which were being handed out to everyone in the Meadows.
It was really peaceful in the Meadows and the children could explore little huts and colour in decorations for the trees, whilst the adults had a breather and ate.  There was plenty of picnic tables or green areas where you could sit and rest, which was a welcome change from the last couple of years.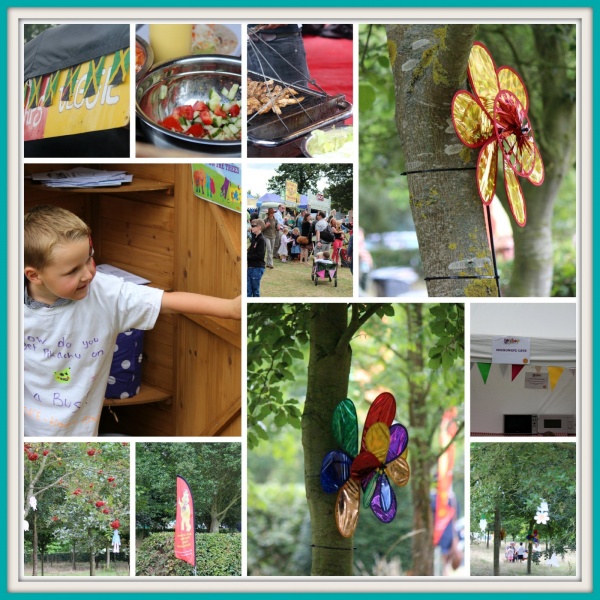 On our to do list were two shows that sadly we didn't get to see – Chris & Pui's mini roadshow and Andy Day's Live Show, but as mentioned we didn't get in as it was packed.  The Bear Grylls area was disappointing too, but I think that may be beacuse we have done some Bushcrafting sessions locally which were much more in-depth.  Although Kian is too old for the event, we found it more heavily based on younger children this year and there was far less for older kids to do, unlike previous years.  However all-in-all it was a fantastic, fun packed day from beginning to end and we did get to meet Chris and Pui too, who patiently let both Isaac and Eliza tell them their jokes and also won some sweeties for our fab dancing from CBeebies Alex too – who also led an impressive conga line through a very excited crowd!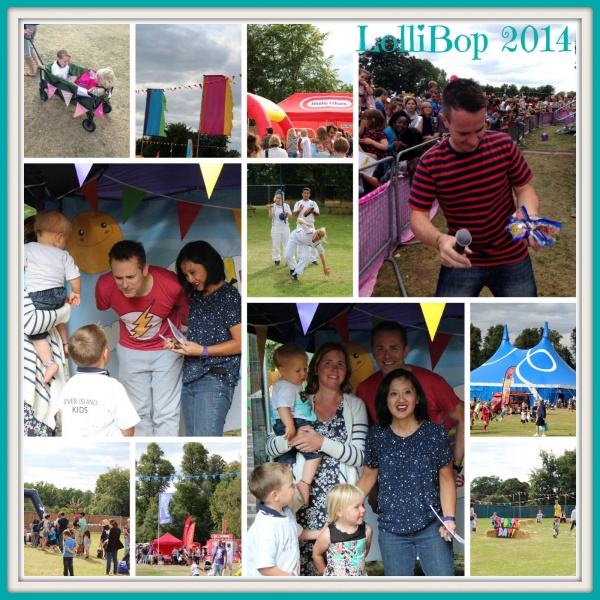 It may not have been perfect, but LolliBop 2014 was a blast, plus we got out without a fuss and were home within two hours too!
If you want to see what others thought of the day, head over to the LolliBop Linkup here!
Disclaimer:  I am a LolliBop Ambassador and tickets were provided for my family and I.  All opinions are my own.