Bournemouth Air Festival is an event we look forward to every year.  I have already posted about Days 1 & 2 where the weather was a bit hit and miss.  Day 3 was slightly better weather wise, but the Sunday was just perfect.
The weather was clear, sunny and warm and having see people set up their huge gazebos' on the beach we decided to take our beach hut, arriving early to set it up so it wouldn't be in anyone's way.
The beach was lovely and quiet so the kids had plenty of room to play, but it wasn't long before it started to fill up.  It wasn't quite as busy as it had been on the Saturday though and we didn't feel packed in!
The day started with the Red Devils Parachuting in, followed by the Red Arrows, the Beach Landings and the Blades display team.  The Red Arrows were again displaying as an 8 because Red 3 was still with his wife who had not yet delivered their baby and we found out later that they had a baby boy!
After the excitement of the air acrobatics, it was the turn of something far more gentle, however the whole crowd applauded as the Battle of Britain Memorial flight took their turn whilst the kids played in the sea. There is something magical about the hum of the spitfire engine as it flies past. The Black Cats then followed with stunning tricks that you wouldn't have though possible with a helicopter.
The Vulcan had performed on the Saturday and just after its appearance they announced it would return today, so we were really looking forward to seeing it roar in again.  Power Hour is always the most exciting, so the kids donned their headphones and we waited for the fun to begin!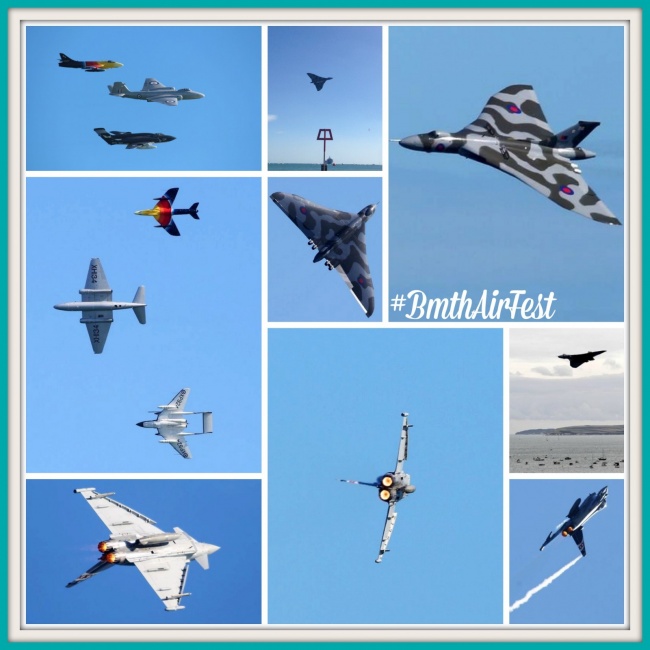 The planes didn't disappoint  – The Vulcan crept in quietly and let rip as it started to climb above the Pier, whereas the Typhoon roared in and made its presence felt from the very beginning.
There was also a very special flypast from the colourful Hunter jet Miss Demeanor, the Canberra and the Sea Vixen and the finale was a gun salute from the Royal Navy ships as they left at 5.30pm.
A combination of good weather, great company and some fantastic action in the air, on the sea and even on land made this our best day at the Air Festival so far!!
Bournemouth Air Festival is a free event held annually between Bournemouth and Boscombe Piers with lots of entertainment on hand for all ages.  We will see you between 20th-23rd August 2015!!