Last Christmas we were lucky enough to win a Christmas stay at Coombe Mill and stayed in the most beautiful Scandanvian Lodge called Heligan.  It was warm, cosy and felt really Christmassy, however, when choosing where to stay in for this year we couldn't stay in one of the Lodges as they were too small.
We had seen Tree Roots being built on our visit last year and I had watched it take shape on the Coombe Mill blog throughout the year.  It was the perfect size for the whole family to stay and when the kids heard it came complete with a Hot Tub they were sold.
Seeing the completed building in the flesh for the first time was met with a "WOW!" from everyone.  As there were 9 of us staying plus Christmas presents we took 3 cars, my large 7 seater Citroen, Hubby's Peugeot and Abbey's Seat and there was plenty of parking for all three cars out the front of the cottage so there was no traipsing miles with lots of suitcases.
Inside had the same reaction.  You entered into a large hallway, with a utlilty / cloakroom and toilet on the right hand side which was perfect for putting muddy boots into without having to bring them further into the house.
Slightly farther up the hall on the left is a large sitting room and directly opposite is a playroom which is packed full of toys and giant beanbags to sit on. Both rooms have televisions with freeview so there were no arguments over which programs to watch.
At the end of the hall is my favourite room of the house – the kitchen / diner / family room.  With two sofa's, a humongous dining room table, breakfast and modern kitchen and two large bi-fold doors which opened up onto the patio with table and a Hot Tub, this is what I wish my own home looked like.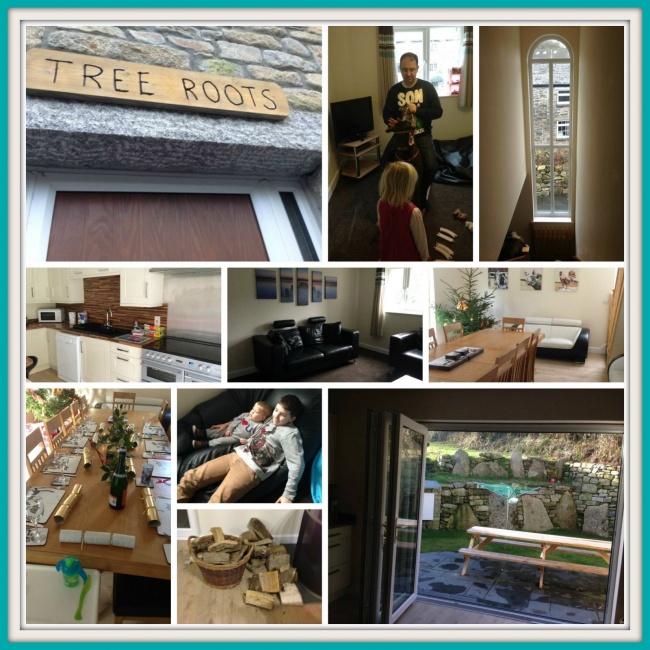 The stairs were properly gated top and bottom with lockable gates, to prevent Sebastian from clambering up and down the stairs unsupervised, framed by the most beautiful floor to ceiling window.  From the large landing there were 5 doors to choose from – two large main bedroom with huge Super King beds and en-suites with walk in showers. A main bathroom with a bath and walk in shower plus two further bedrooms which could sleep a further six people.
The whole house has underfloor heating, but we switched it off as the log burner warmed the whole house with no effort at all.  The water tanks are heated with Solar panels and being winter we did have to boost that, but there were 9 of us!
We didn't use the garden to its full potential as the weather was a little hit and miss, however, the hot tub was used daily by everyone and it was so relaxing.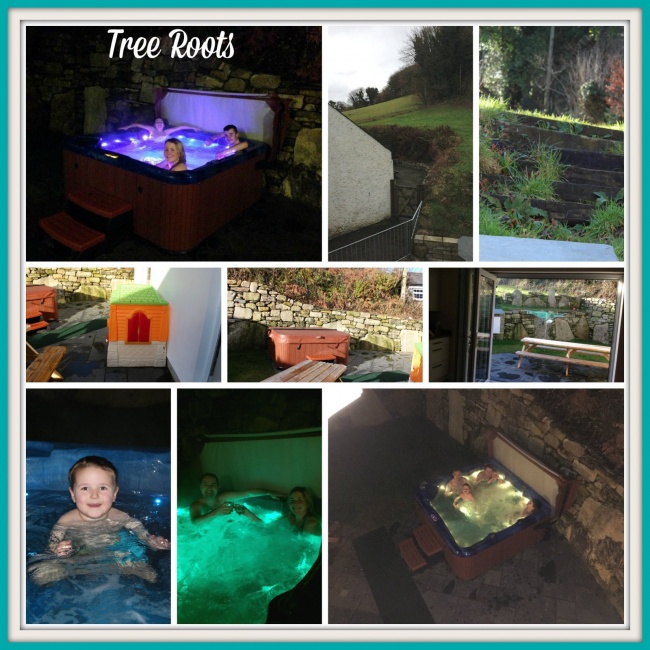 Tree Roots may not have the Christmassy feel of a Scandinavian Lodge but it is a real home from home. The kitchen was well equipped with all the essentials; a range cooker, fridge/freezer, dishwasher, baking equipment, kettle, toaster, cookware etc; the Utility Room had an all important washing machine, tumble drier and clothesline and of course that all important real Christmas Tree with decorations was also waiting for us to dress it.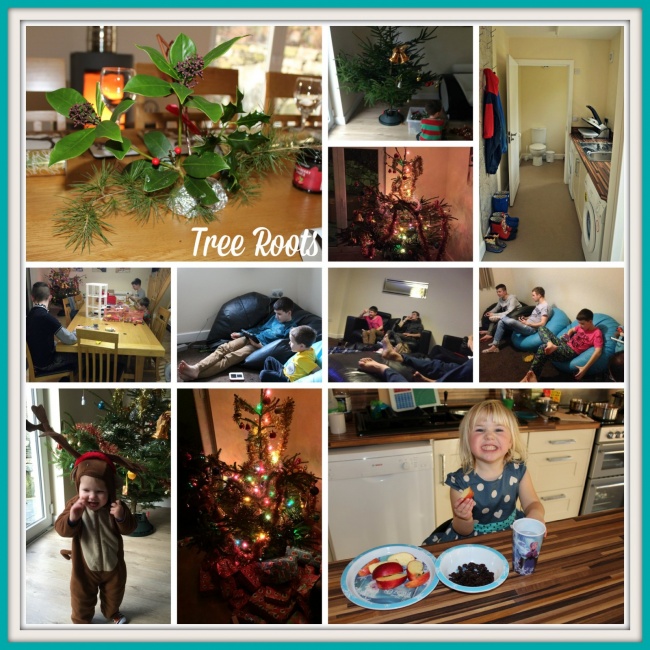 If you have a large family, or want to holiday with friends / relatives then I can highly recommend the accommodation that Tree Roots offers as there are plenty of rooms to escape to, a great wifi signal (that's very important if you have teens) and there is also all the activities that the farm have to offer.
The teens loved the gym whereas the little ones were happy exploring the farm, enjoying the soft play area and play parks.  The organised feed run every morning saw my children grow in confidence everyday and who doesn't love a ride on a miniature train?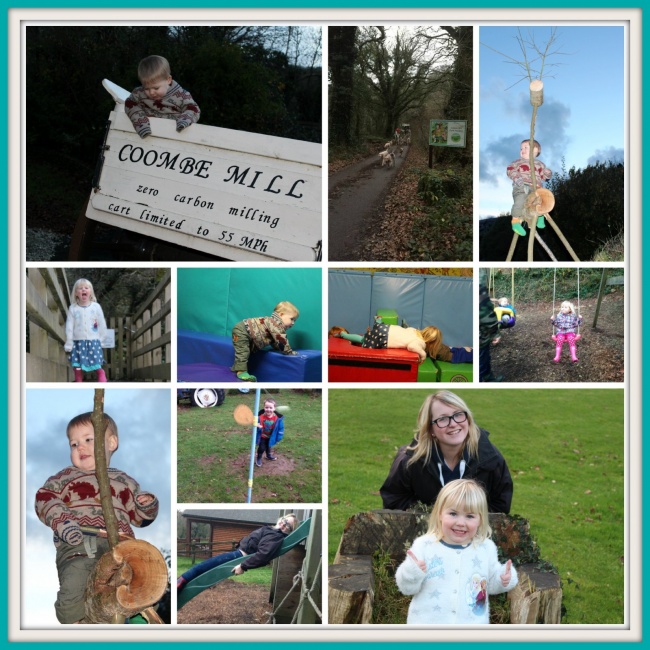 Coombe Mill is also an excellent base for exploring all that Cornwall has to offer and we took the chance to visit the Eden Project and Port Isaac during our stay.
See the train go past Tree Roots (20 seconds in):
This is happening #coombemillxmas