Yesterday we were invited to sail with Santa around Poole Harbour with City Cruises Poole.
I have to admit we were slightly concerned about our boat trip as the weather was, quite frankly, awful with driving rain and force 6 gales, but although we didn't get to see the beauty of Poole Harbour it didn't matter as the kids were more interested in what was going on inside the boat.
We were greeted by Dr Balloonman who put the kids at ease straight away, with the promise of fun and games but first we headed downstairs to enjoy a soft drink and cookie for the kids whilst us adults enjoyed a mince pie and a glass of mulled wine.
The boat was bobbing up and down whilst moored on the side of the quay but as soon as it left it felt a lot calmer. Dr Balloonman called the kids back upstairs and had them playing party games whilst working his balloon magic. They were not ordinary balloon animals – these were amazing creations!!
Eliza managed to win the Snowman Balloon with some great dancing and he also crafted the most amazing reindeer. The next balloon was a magic wand which he gave to my niece Mollie who waved it around to summon Santa onto the boat.
The children lined up patiently to speak to Santa and each got a present suitable for their age, which they were all very excited about.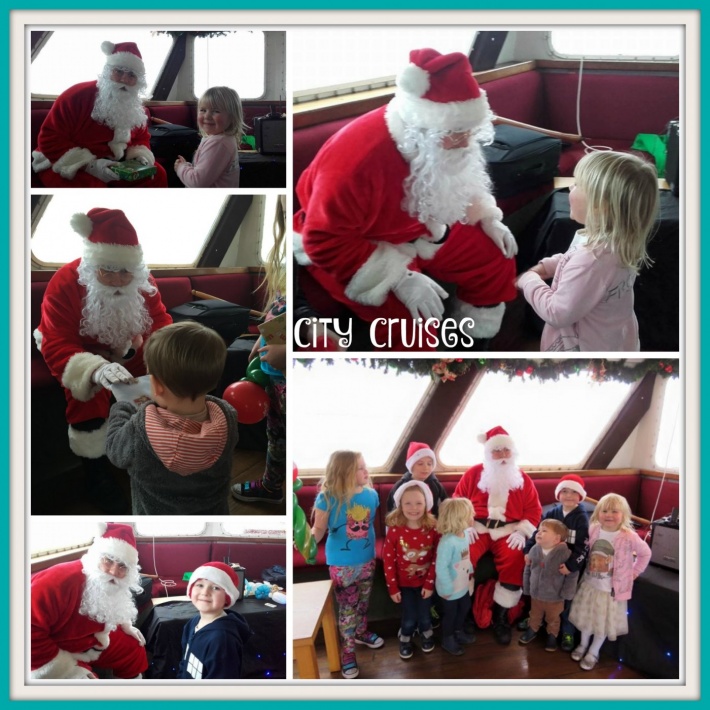 After Santa left Dr Balloonman made sure that every child got a balloon animal of their choice and the kids also got a choice of amazing glitter tattoos.
We all had a brilliant time onboard the Solent Scene and there is still a chance to get out on the water as these Santa Cruises are running three times a day until 24th Deecmber.
Book now and enjoy a Santa cruise – Christmas with a difference.
Prices are £13.50 for children and adults aged 3 and above which is very reasonable as you get an hour out on the water, food, drink and entertainment. On a nice clear day, the views would have been spectacular!
Disclaimer: We were offered a complimentary cruise for the purpose of a review. All thoughts are our own.