As the evenings are getting darker and the colder weather is approaching, it is a great time to add a few cosy touches to your house or apartment. Winter is a fun season to decorate for and making your space warmer for the colder months doesn't have to be expensive. There are lots of easy, cheap and cheerful DIY projects and ideas that can add warmth to the atmosphere on those long dark evenings.
DIY Prep
Before embarking on any do-it-yourself work, be sure to have everything you need to hand. A great place to start is by ensuring you have the essential DIY tools. These will make life much easier as you decorate or upcycle a piece of furniture. A drill, hammer and nails, and a tape measure, in particular, are extremely useful for household decorations and repairs.
If you are repairing broken household items or small pieces of furniture, it may be possible to use an epoxy glue. This is much quicker and easier than using a hammer and nails, for example. Have a look here for products and more information about glue. There are glues available for various types of materials including wood, metal and plastic, and they can make repairs simple to do, as well as long-lasting.
Easy Winter Decor Ideas
There are lots of interior designing tips available online. Some of the best ones for winter include repainting your living room or bedroom in a dark colour to add a sense of warmth. If you don't want to paint an entire room in one colour, choosing a signature wall is an easy way to revamp a room and add character.
Revamping and upcycling an old piece of furniture is also a great project for winter – it gives you a goal to work towards, plus, you will give the piece a new lease of life. We recommend treating and repainting old wooden items in chalk paint for a unique look. Finish with a coat of wax for that chic, polished look.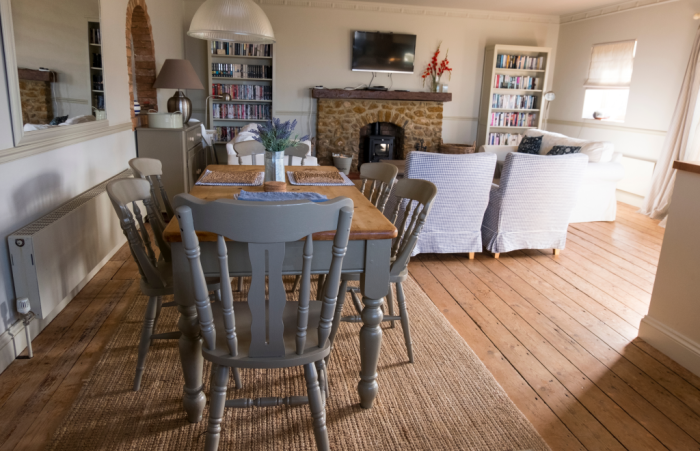 Other quick and easy decor ideas for winter include the following:
Add cosy textiles such as rugs, blankets, throws and cushions to your living room to create a warm and inviting space.
Items made from wood and wool are soft and have a lot of warmth. Opt for these to add a welcoming touch to any room in your home.
Lighting is crucial for creating a warm ambience on dark evenings and low-lighting is perfect for creating a cosy environment. Choose floor lamps and table lamps with low-brightness bulbs for a truly relaxed vibe.
Candles are a very easy way to warm up any room. Use them on the dinner table or on a coffee table as you chill out while watching your favourite movie.
Scented candles and incense are an easy, inexpensive way to add uplifting aromas to your home. Choose relaxing scents such as lavender, bergamot and rose for a rich scent in the winter months.
If you are lucky enough to have a fireplace, be sure to light it up when the temperatures plummet.
Seasonal Moments
Lastly, embrace the seasonal moments throughout winter and use them as inspiration for interior design and decor. DIY winter decorations are easy to make and winter moments are a lot of fun to decorate for. Go for autumnal shades of yellow and chestnut-brown, pumpkin candle holders for Halloween and festive fairy lights against branches of holly for Christmas. These will all add a touch of warmth to any space in your house or apartment, while also celebrating special winter moments.