As we near the end of 2015 I thought it was time to look back at our year.
Like everyone we have had some ups and downs as life has tried its best to throw some curve balls at us, but mostly it has been a bloomin brilliant year with adventures both at home and abroad.
January
Looking back to January reminded me of the horrendous weather we had, with big storms literally washing away some of our favourite beaches and flooding all around us. It didn't stop us getting out and about where we could and we enjoyed a fun trip to the beach where we jumped off the ridges caused by the storms at Branksome Chine, explored Durlston Country Park with friends, scooted around Christchurch Quay and even took to the ice in Bournemouth Gardens.
January is also Eliza's birthday month and she was over the moon that Anna and Elsa took a trip from Arandell to visit her and her friends at her Princess party and we also enjoyed a trip to the Mayflower to see Gok Wan in Cinderella.
February
At the beginning of 2015 we vowed to explore our home county of Dorset more throughly and February was the month this really got going with visits to Durdle Door and Lulworth Cove, West Bay and Hengistbury Head. We also found a new play trail to explore locally at Pinecliff and enjoyed a couple of days out at Moors Valley but by far my favourite memory from February was Sebastian's first look at snow.
I am so glad I got them dressed at 7am in the morning to get outside and play in it as it had all disappeared by lunchtime!
March
Looking back at March, hubby and I got a rare night out for Abbey's boyfriend, Paul,  30th birthday. Eliza was invited to a Princess Ball and got to meet some of her favourite Princesses and we also saw Basil Brush on stage and got to meet him afterwards. My favourite memory though was visiting Warner Bros. Studio Tour and seeing the kids doing some wand training before hopping aboard the Hogwarts Express.
March was also the month that we were chosen as Konfidence swimologists and I have a fab picture of Sebastian swimming underwater. Kian got to reenact his favourite Call of Duty game at iCombat whilst the younger ones enjoyed a phaser party at Lemur Landings.
April
Well, having looked through my photo's from April I can only describe it as a manic, but brilliant month. We headed to Devon for a weekend break and were lucky enough to visit Paignton Zoo, Diggerland and The Golden Hind whilst we were there. It was also the month of the Easter Egg Hunt and we completed them at Kingston Lacey, Studland and Golden Cap, where we climbed to the highest point in Dorset.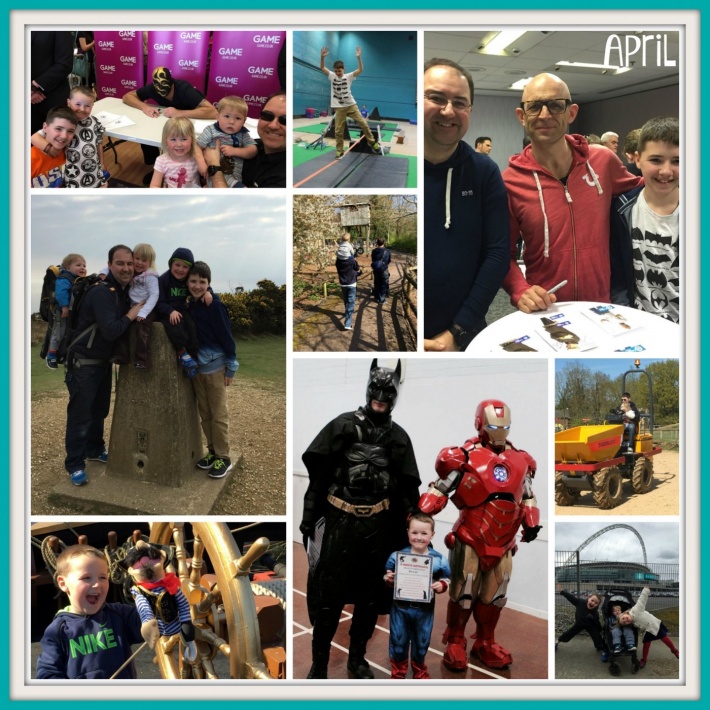 April saw us visit Wembley Arena twice – once for Mr Tumble's Circus and the second time for Disney On Ice and then the NEC in Birmingham for the Gadget Show Live. We also saw the start of Isaac's obsession with WWE when he got to meet Goldust and then see the stars perform at the BIC. Finally it was also the month of Isaac's 7th birthday and he enjoyed a Super Hero party where Batman and Iron Man came to join in the fun.
May
It is always hard to pick a favourite month of the year, but for me it has to be May. Back in December 2014 we won at holiday with Mark Warner and during May half term we flew out to MW Sea Garden in Turkey for the kids first sunshine holiday abroad and had an amazing time with Hubby, Kian and I learning to scuba dive and the little ones learning to sail and windsurf amongst other things.
It wasn't all about our holiday though, we had a lovely visit to Avon Heath Country Park where I took one of my favourite photo's of the year. Had oodles of fun at Dorset Knob Throw and the Spring Tide Festival, learned loads at Lyme Regis Fossil Festival and the New Forest Spring Fair and even climbed not one, but two tall ships in Poole Harbour.
June
The month of June is birthday month in our house with Abbey, Sebastian, Callan and I all celebrating at various times of the month. This year for Sebby's 2nd birthday we headed off to In the Night Garden Live to celebrate and for Callan's 18th we headed to Sussex for a meal with family and friends. Abbey was away in Disneyland Paris for hers but we all met up on my birthday and headed for Mudeford for a spot of rather unsuccessful crabbing.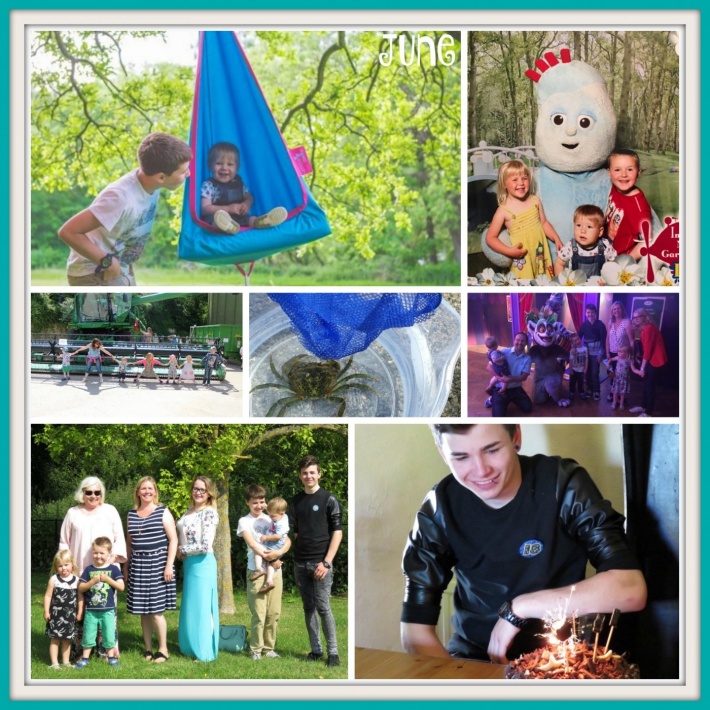 This month we also look advantage of Open Farm Sunday and visited a local farm. We were also invited to be models for Field Candy in a remote Dorset field where the kids were positively encouraged to run wild and were also lucky enough to be invited to the opening of Shrek's Adventure in London which was amazing.
July
July started off with a Thomas the Tank Engine theme with a visit to Thomas Land and then a trip to London to the premier of the new Thomas film, Sodor's Legends of the Lost Treasure. We then continued the away from home theme with a weekend visit to Leicestershire where we got to explore Conkers and the National Space Centre before coming home and heading for the Historic Dockyard in Portsmouth.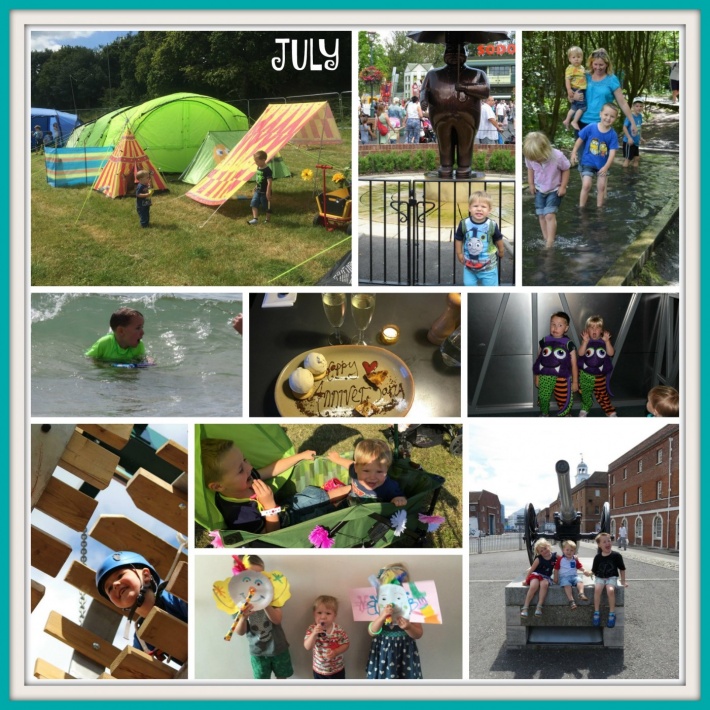 Hubby and I celebrated our 10th wedding anniversary with a meal at our favourite restaurant Urban Reef and we had a brief practise run for Camp Bestival at Big Fish, Little Fish in Exeter, before heading to Lulworth in Dorset for the main event itself.
August
Our August began still at Camp Bestival which I have to say was the best one yet and we were over the moon meet both Justin Fletcher and Dick n Dom. It was also a very busy month with 4 days at Bournemouth Air Festival, a couple of weekends away including one in Essex for a wedding and another in Cardiff for a visit to the Doctor Who Experience followed by At-Bristol and a pantomime aboard The Matthew.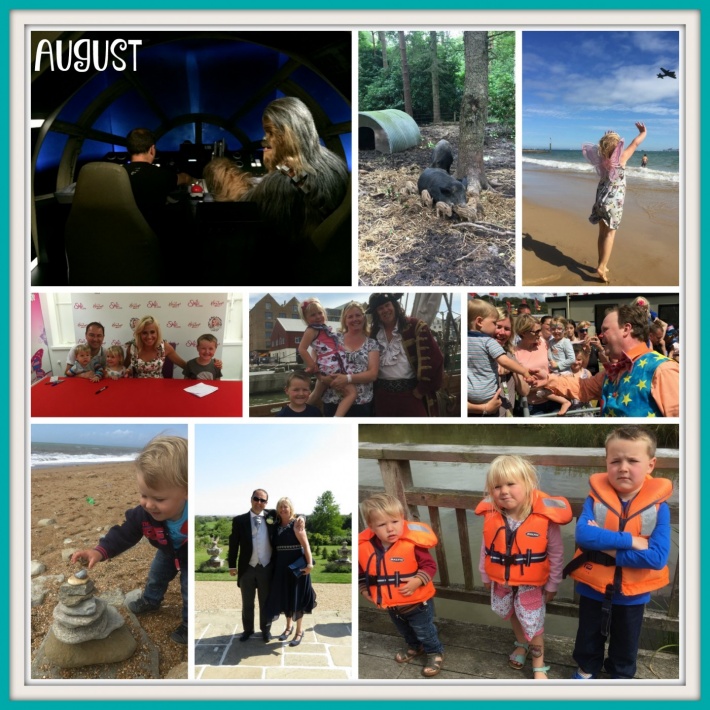 We also headed back to our favourite beach, Burton Bradstock, for beach school and some tree climbing, travelled to Sussex to the Wild Fowl Trust, Hampshire to the New Forest Wildlife Park and to London to meet Pixie Lott who was launching her own Steffi Love Doll and to see the new Star Wars exhibit at Madam Tussauds. Closer to home we also attended our very first Comic Con in Bournemouth.
September
Heading back to school did nothing to stop our adventures and at the beginning of September we had a weekend break at Trevella Park in Cornwall where we visited Lands End, Cornwall Gold, Springfields and Pirates Quest.
During the week the kids were at school but weekends were busy. I managed the 5k obstacle course Be Gung Ho with my niece thanks to Alex Winters whilst hubby and Kian headed to Wales to throw themselves off a mountain attached to zip lines at Zip World. We also squeezed in the Watercress Line trains in Hampshire, Legoland Windsor, a visit to Drusillas Park in East Sussex and a trip to Stamford Bridge where we watched Chelsea beat Arsenal.
October
October saw months of work finally come to fruition with Blog On coming to Winchester. It is amazing to see just how much work goes into organising these things. We also enjoyed a weekend trip to London to see friends and took the kids to MCM Comic Con and a visit to the O2, which Kian and Hubby climbed whilst we headed across town to Kidzania where the kids to run a city.
We got hit by a long bout of illness this month but did get out and get some fresh air at Badbury Rings and the beach.
November
We started November with a trip to Chessington for Howl'O'Ween and then had some fun on the slopes at the Snow Centre in Hemel Hempstead.  This was quite possibly Isaac's favourite month as not only did he get to see his WWE faves at the Genting Arena but I also took him to the Doctor Who Festival in London's ExCel and he got to meet Missy followed by a visit to LaplandUK and a meeting with the real Father Christmas.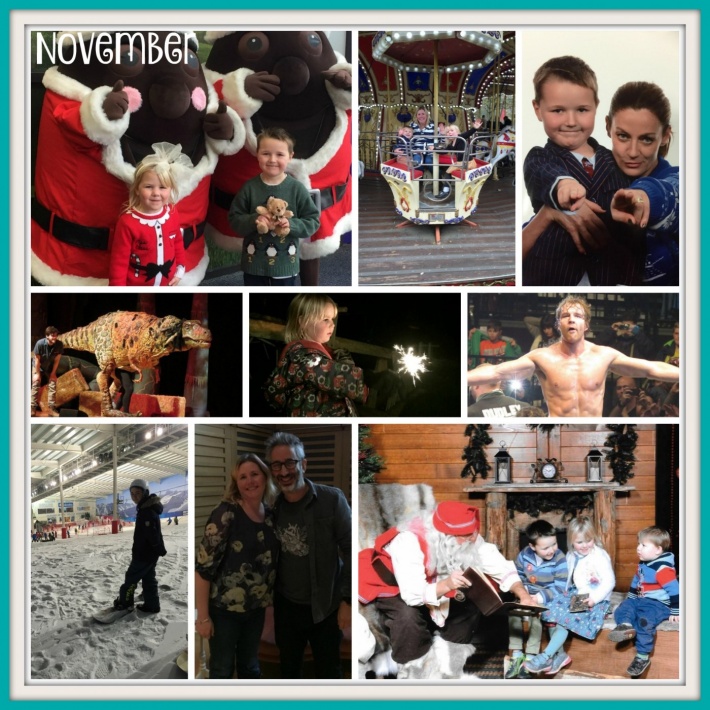 Other highlights of November for me were Blogfest and although I didn't get as much out of it as I hoped, but I got see some of my favourite blogging buddies and seeing Dinosaur Zoo at Lighthouse Poole with the kids.
December
We showed absolutely no sign of slowing down and December featured my proudest moment of the year – Abbey receiving her Duke of Edinburgh Gold Award at St James' Palace where we got to talk briefly to Prince Philip. We were also in London for Brick 2015 and Disney On Ice this month which has made me much more confident driving there.
We did stay closer to home for some events too, with this years Pantomime visit to Snow White at the Pavilion and a delightful children's show called Otto and the Robin at Poole Lighthouse. We also had a rather blustery trip aboard a Santa Cruise in Poole Harbour.
Looking back at this post I cannot believe how much we have done this year as this doesn't include most of our local days out to places like Farmer Palmers and the Oceanarium.
Lets hope next year is just as fun!
Happy New Year to you all.