Last year we attended a Princess Ball held by a lovely local party company called Dorset Dreamers where Eliza, who was a little overwhelmed, got to meet Cinderella, Rapunzel, Ariel and of course Anna and Elsa.
From that moment Eliza decided that she wanted a Frozen party, so I booked for Anna and Elsa to attend and everyone who came to the party had a brilliant time and said how authentic the Princesses looked.
Last month I saw on facebook that Dorset Dreamers were launching some new characters and were planning another Princess Ball to show off their new Princesses so I booked tickets straight away – it was lucky I did as they sold out within a week!  I had to pick a Princess that Eliza would receive a gift from so chose Belle, although it was close call as Eliza also adores Sofia the First.
On the day of the ball Eliza was bouncing off the walls with excitement and decided she would be wearing her Sofia costume.  My brother-in-law Mark was booked to DJ so we set off early to give him a chance to set up whilst Eliza got the bouncy castle all to herself before the other guests arrived.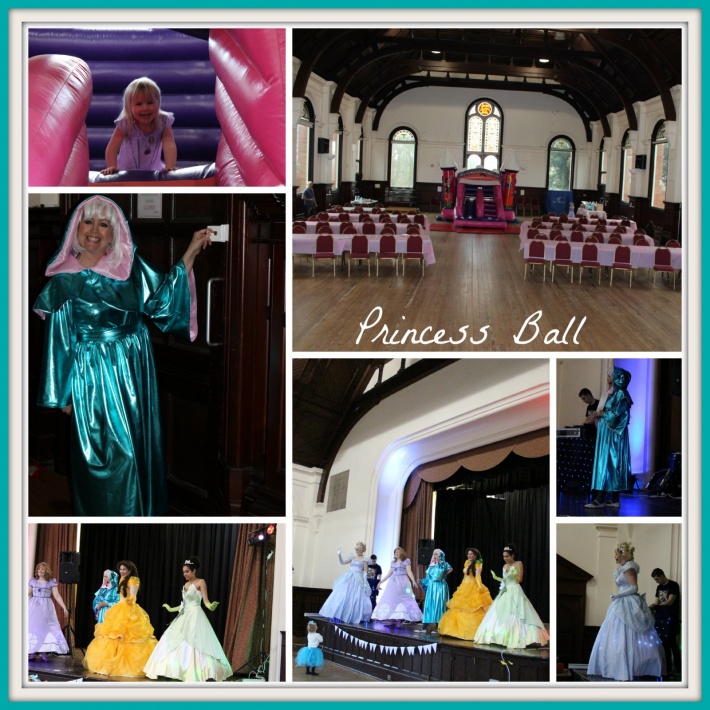 The guests soon started arriving and were greeted at the door by the Fairy Godmother.  Once everyone was in and seated there was a quick safety briefing before it was time to begin.
The song "Every girl can be a Princess" came on and the Fairy Godmother began to sing.  As she danced around the stage the curtains then started to open and on walked Cinderella, Belle, Sofia and Tiana.  As each one came on stage she waved her wand at their dresses which all lit up – it was certainly a crowd-pleasing entrance!
Once the song had finished they headed back behind the curtains, waiting to be introduced individually by the Fairy Godmother.  Each Princess came on singing to a song from their film and then came down from the stage to mingle with their adoring fans and present the children with their gifts.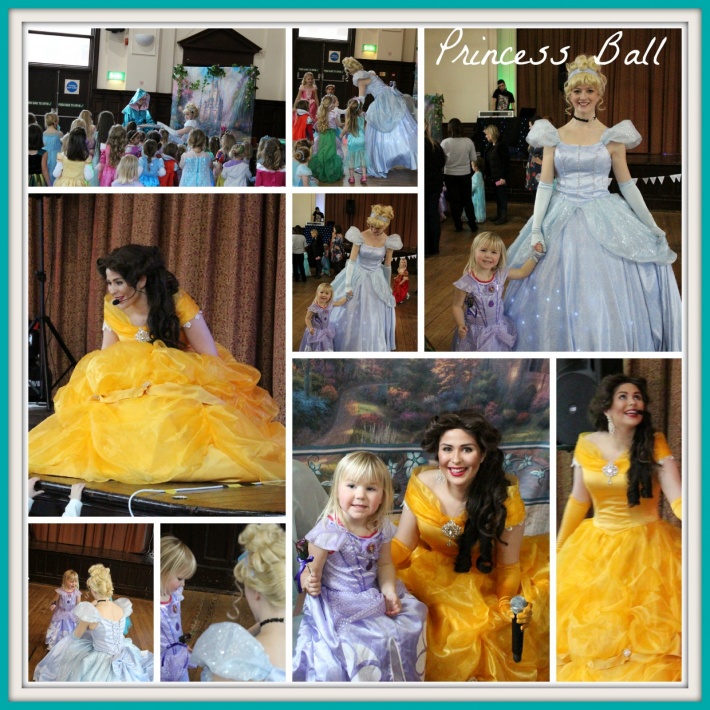 Eliza's chosen Princess was Belle, so she was presented with an enchanted rose which had a jewel hidden inside and sparkled just like it did on the film.  This time there was no hint of shyness from Eliza – she bounded straight up to each princess and was happily chatting away and I was impressed they all stayed out to sit and watch the other Princesses come on stage with the kids.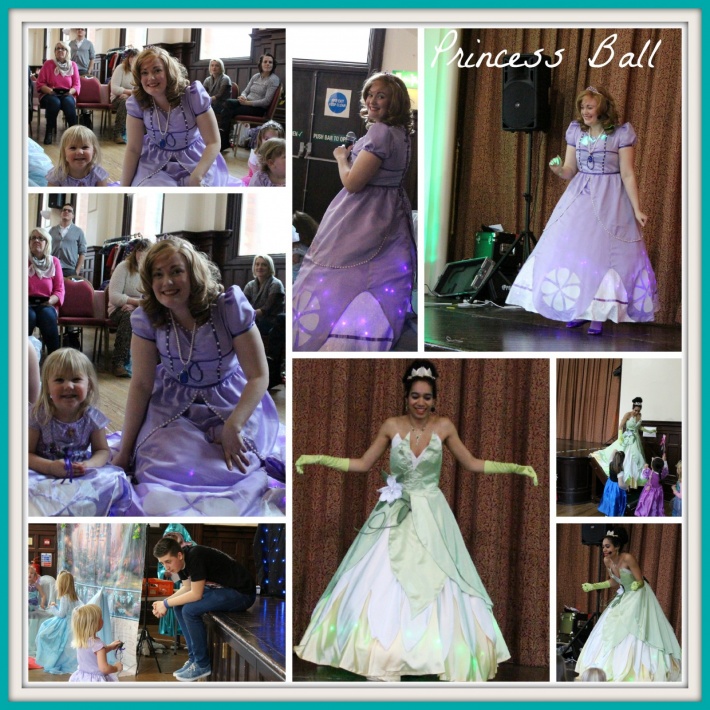 The Princesses not only looked the part but also took moves from the films so acted and danced like the characters too.  The kids were mesmerised and soon got the confidence to dash towards the stage in the hope of meeting them first!
With the first four Princesses introduced it was time for a break where everyone got a snack and the opportunity to dance or play on the Bouncy Castle whilst we waited for the second batch of Princesses to arrive.
Once playtime was over, The Fairy Godmother rounded all the kids up and prepared them for the next Princess arrivals but making them guess who was next with a series of clues.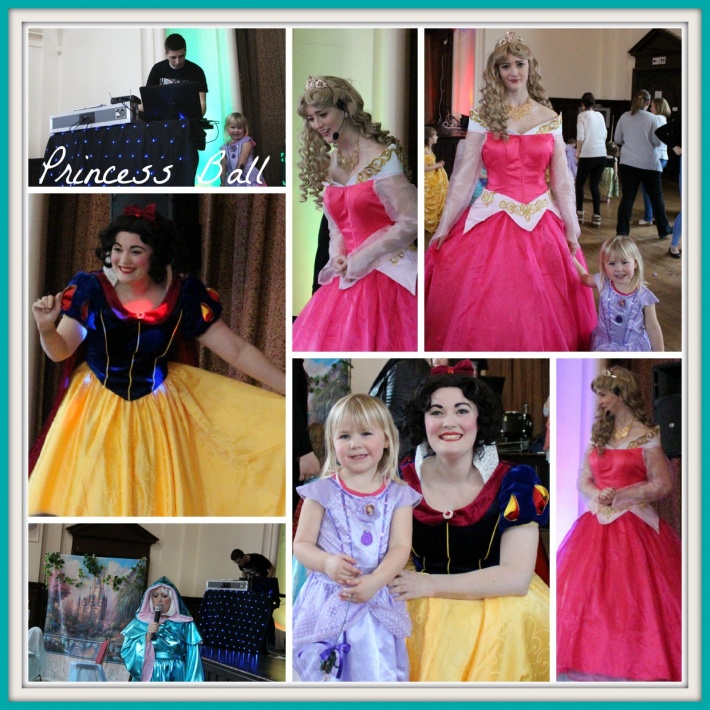 Like the first half once they had been introduced and presented the children with their presents they mingled with the excited girls as the new Princesses arrived on stage.
Eliza was very excited to see Ariel – last time we saw her she had her fish tail, but this time she had her legs and could dance.  Isaac was supposed to be with us but he was poorly so lucky Eliza got two presents as she got to collect his – some magic sea water!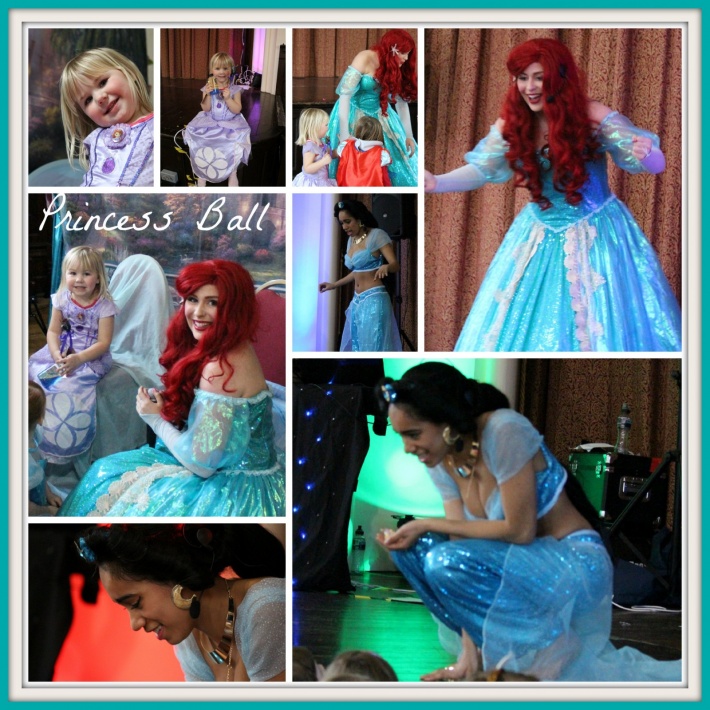 I have to say that the whole day was brilliant from beginning to end and Eliza came away truly believing that anyone can be a Princess!
I have been so impressed with Dorset Dreamers that I have booked them for Isaac's party next month as they have Batman and Iron Man launching soon.
For more information about packages, offers and giveaways you can like Dorset Dreamers on facebook or follow them on twitter @dorsetdreamers