Basil Brush has really stood the test of time and I was shocked to discover he has been around since 1962.  I have fond memories of watching him on television as a child and all my children have watched his shows in one form or another over the years.
We love taking the kids to see shows at the theatre where they can really interact with the characters they know and love from the television, so when we saw Basil Brush was on tour I knew they would love it.
Although he is coming closer to home, we picked his very first show in Weymouth to see him as we will be away when he is more local.  The kids were bouncing off the walls with excitement as I collected our tickets for the box office, whilst I also sneakily put in a request for a mention.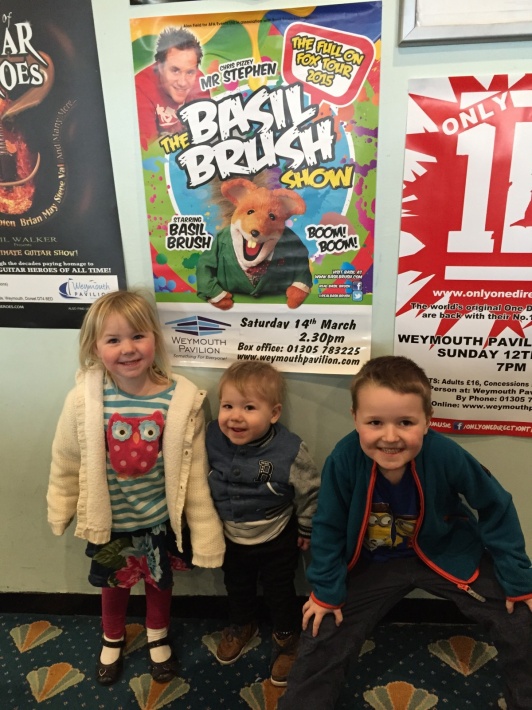 We had a comfort break and then headed inside Weymouth Pavilion to find our seats.  I have to say it was freezing inside the theatre and never really warmed up so we all kept our jumpers on, but, Basil kept us on our toes and the kids entertained by popping up on the screen every now and again to tell a joke, or remind us to have a wee before the show started.
Basil and his TV chum Mr Stephen (aka Chris Pizzey) took us on a journey of laughs, storytelling, song and dance in this brand new specially written 'live' stage show which was packed full of fun and excitement!  They may have been a wardrobe malfunction involving a wig and a moustache, which had both the audience and the cast crying with laughter, but that just added to the fun.
I don't want to spoil the show but safe to say it had all the hallmarks of great family entertainment – danger, slapstick, jokes (some for adults too), singing and dancing and of course audience participation, plus we got our shout out too!  The cast were genuinely enjoying themselves and that really shone through.
Basil is still the naughty and uncontrollable fox that we all know and love and he had the adults and kids in fits of giggles from beginning to end and he came out to meet his adoring fans after the show and laughed at their jokes too!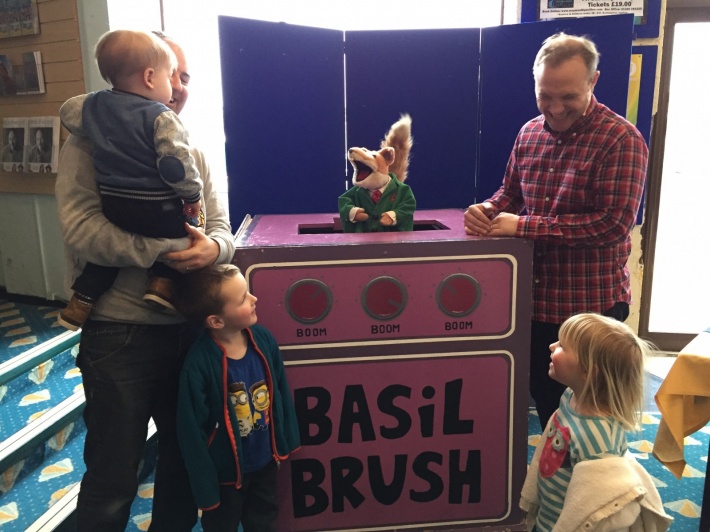 I highly recommended going to see Basil Live, you can find all the tour information at basilbrush.com.  For more information, news and offers follow @realbasilbrush on twitter or like him on facebook here.
Basil also has a new internet series which the kids are now addicted to watching.  It can be found on YouTube, VideoJug or through Basilbrush.com – enjoy!
#BOOMBOOM
Disclaimer:  We received tickets to see the Basil Brush Tour for the purpose of a review, all opinions are our own