As a family we have challenged ourselves to visit every beach in Dorset and we made a good start in 2015 by ticking off Lulworth Cove, Durdle Door, Swanage, Portland, Charmouth, West Bay, Lyme Regis, Kimmeridge Bay and Burton Bradstock as well as the 7 miles of beach we have in our home town of Bournemouth.
Yesterday we headed to the Sea Life Centre in Weymouth and had planned to go up in the Sea Life Tower too but sadly it was closed. I was going to take the kids onto the beach in Weymouth but as we drove in I remembered seeing a sign for Ringstead Bay, somewhere which had been recommended to me but we hadn't yet visited, so we headed back out-of-town in search of somewhere new to visit.
Ringstead Bay lies on the Jurassic Coast and is known for its natural beauty and fossils. The car park is a short walk from the beach and as we rounded the corner of the path to get a view of the beach it was a real "WOW" moment.
Ringstead Bay has a pebble and shingle beach with some sand and Sebby wasn't sure at first as the shingle was quite tricky to walk on, however he soon found his balance and headed down towards the water where they all threw pebbles into the water to make different sounds.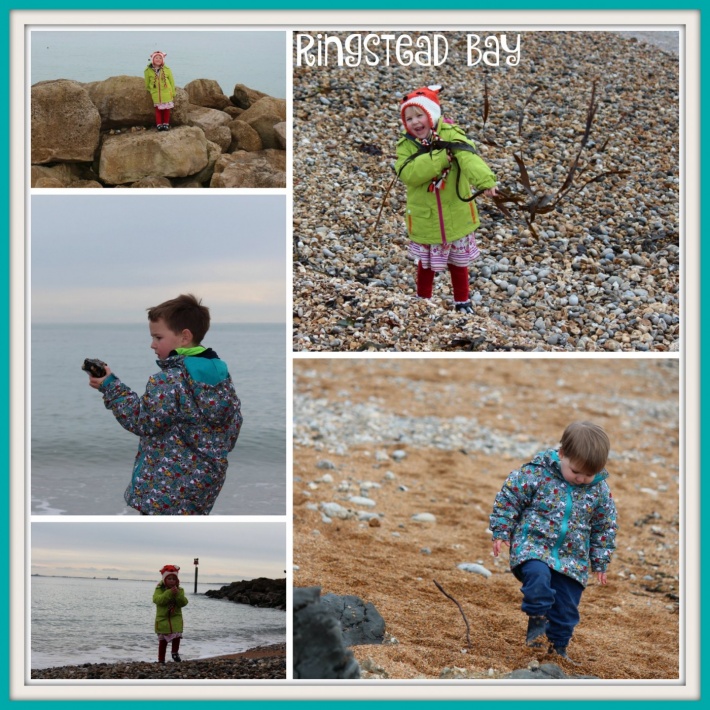 There was lots of seaweed and other debris washed up on the beach thanks to the recent storms and we found a couple of mermaids purses, but Eliza was far more interested in spinning around and using the seaweed like a gymnasts ribbon.
We then headed around the corner and down the wooden steps to another section of the beach. This was framed by clay cliffs and the kids were fascinated by the soft texture of the clay which was dotted along the beach. We didn't find any fossils as I didn't want the kids too close to the cliffs as they are unstable because of the amount of rain we have had recently.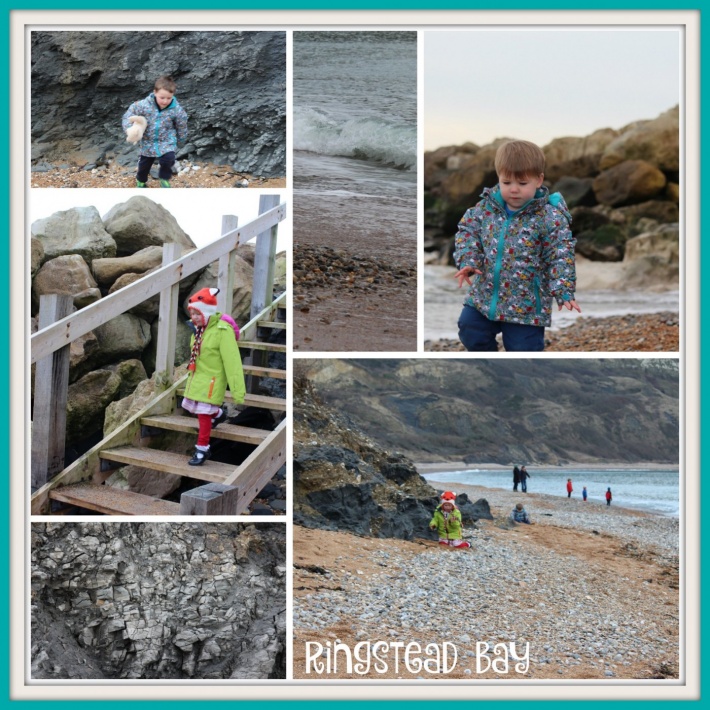 We spent a good two hours exploring the bay and playing on the beach. We even spotted a couple of Cormorants on top of a pole who appeared to be having an in-depth conversation with each other.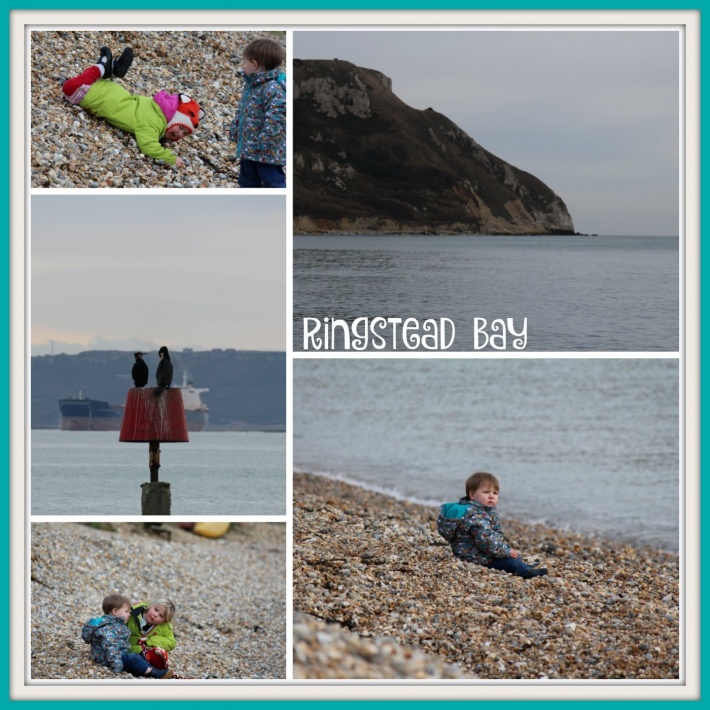 It was a lovely afternoon by the sea and we certainly be back when it is warmer as there is a small outcrop of rock which appears when the tide is low which we want to explore. We could just make it out as waves were breaking over it.