If there is one thing that Walt Disney World is, it is fun for ALL the family.
During our holiday we saw the parks being enjoyed by everyone from young couples to multi-generational families, complete with t-shirts with their family name on and badges displaying how many visits they had made. I even saw one with "60 visits".
Travelling with two boys, aged 4 and 9, plus a girl of 6 we often come up against one of them not wanting to join in and whilst they all individually had their favourite attractions, none of them ever felt excluded or left out.
Walt Disney World is a champion of family time with four theme parks and two water parks, each with unique theming and attractions, plus dining shopping and entertainment experiences, there really is something for everyone at Walt Disney World.
Magic Kingdom
Possibly the most iconic of the four theme parks, Magic Kingdom is home to Main Street which leads to Cinderella's stunning castle.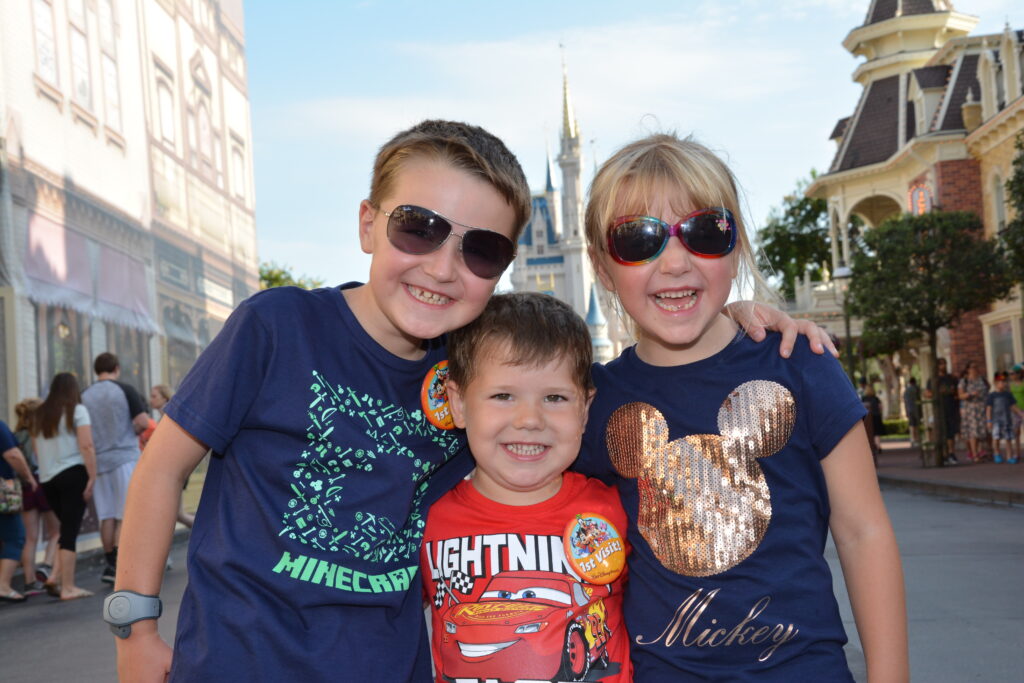 If you are staying in a Walt Disney Hotel, make sure you get there during the parks Magic Hours to take advantage of watching the magical opening of the castle and the chance to get on the rides queue free.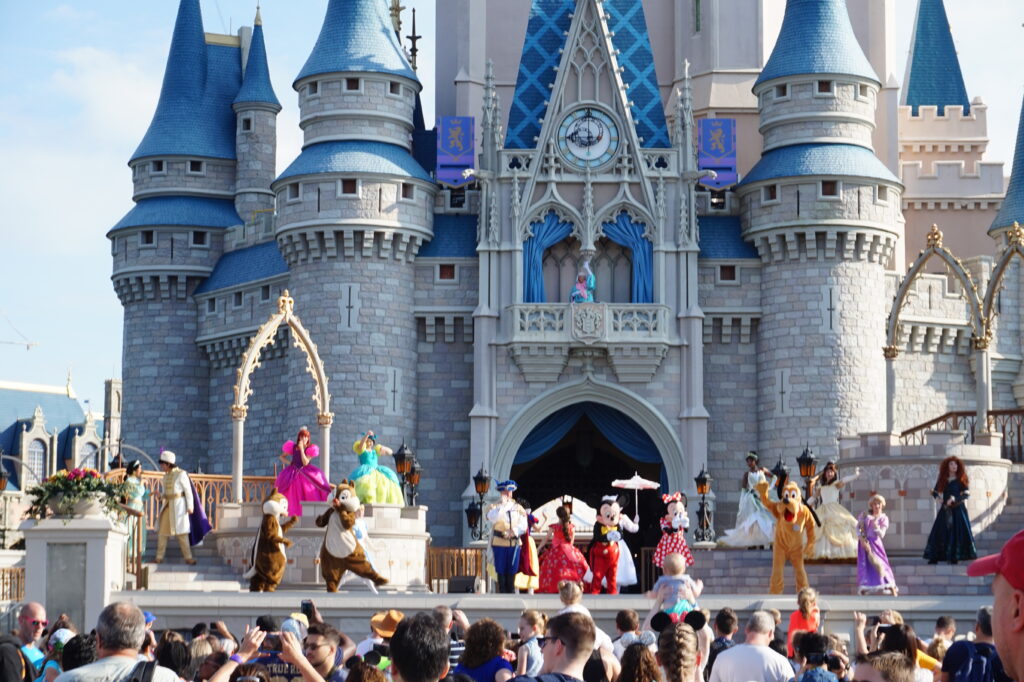 Tomorrowland
The kids favourite rides in this park were almost all in Tomorrowland and top of the list was Buzz Lightyear's Space Ranger Spin, where you fire lasers from a cannon to defeat Emperor Zurg.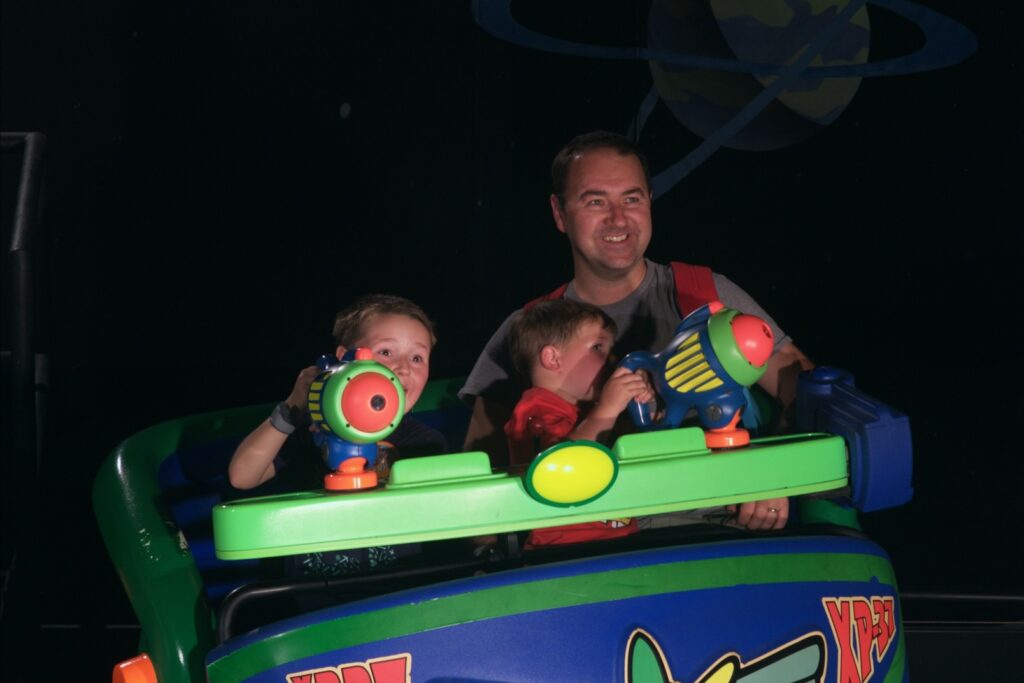 The Monsters Inc laugh floor was another hit and the 'Monster of Ceremonies' was Mike Wazowski. He's convinced that he can fill the laugh meter, but Roz isn't quite so sure of this plan and the cleverly use jokes submitted by the audience and live interaction for this funny show. Isaac now does a mean impression of Roz too.
A surprise hit was the Carousel of Progress, with its catchy tune and moving auditorium that followed the progress of a family from the 1920's through to the present day. We also enjoyed the Astro Orbiter, Tomorrowland Speedway and Stitch's Great Escape.
Fantasyland
It was in Fantasyland where we met our first Disney characters and the kids looked forward to doing this as much as they did the rides. The animated characters interacted with the kids and gave them hugs and high-fives whereas the princesses would stop and have a long chat with the kids which really made their day.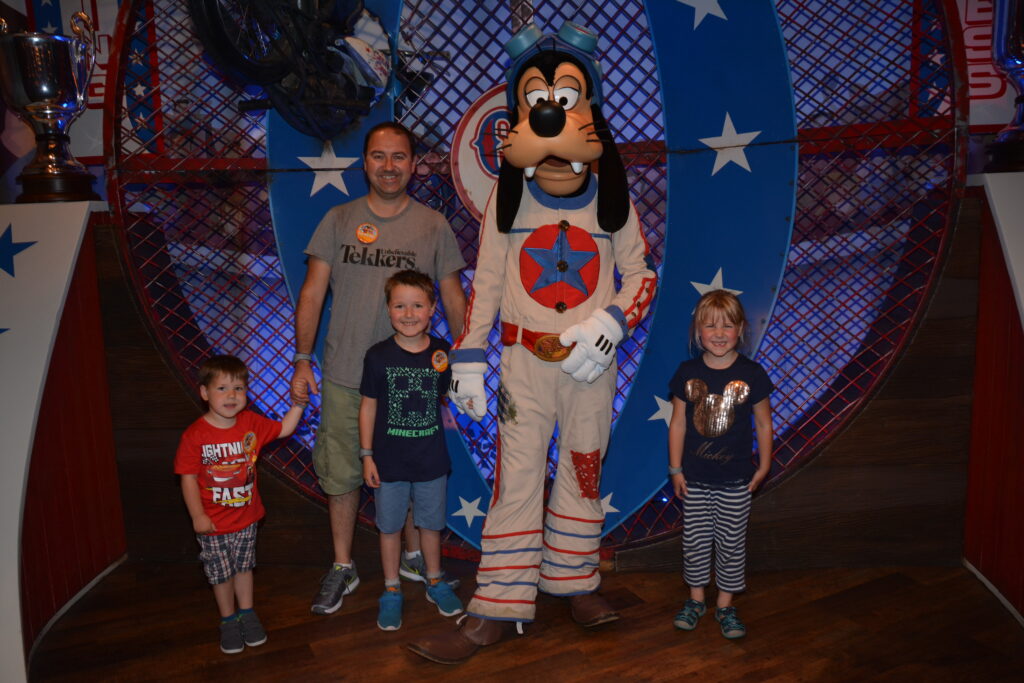 It was also here that we visited Enchanted Tales with Belle, where we headed into Maurice's workshop and then stepped through a magical mirror straight into the Beast's library, where we meet Belle and Lumiere to experience an interactive fairytale.  Sebby played the part of the Chip perfectly to really become part of the story.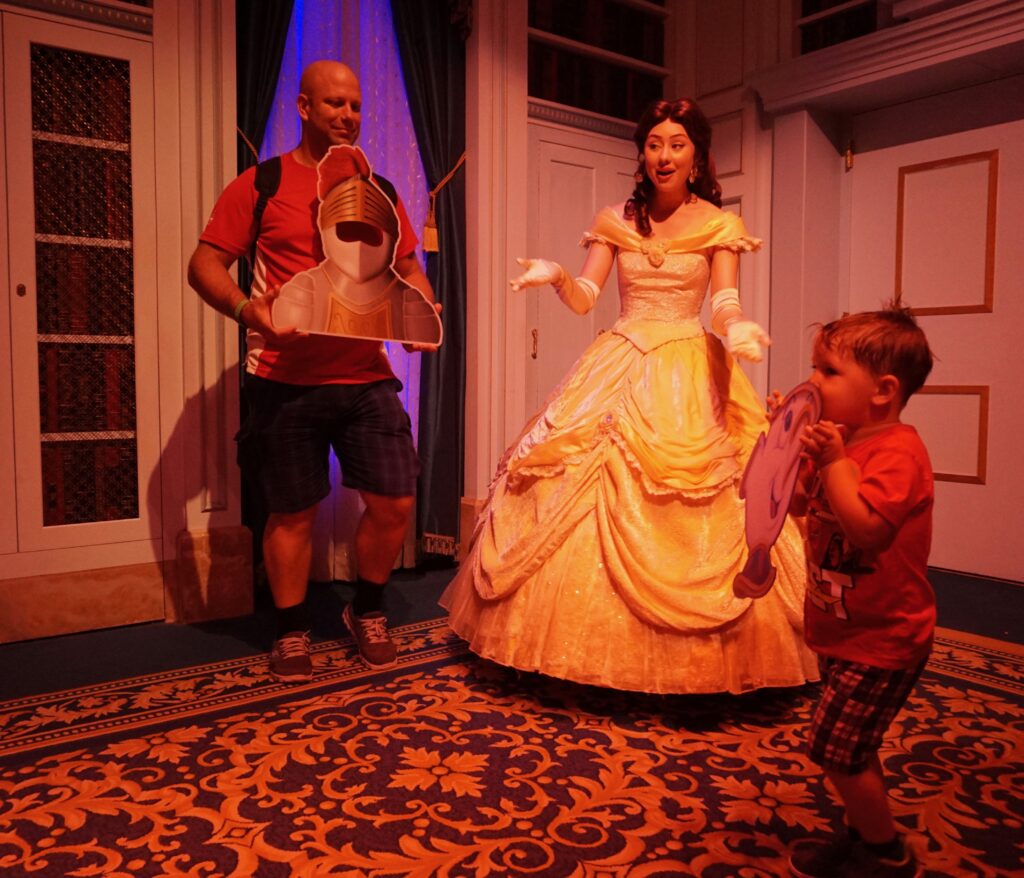 Top Tip: Make sure you seek out the photopass photographers outside for some Disney magic too.
Next up was Journey of the Little Mermaid which made you feel like you had actually gone underwater to Ariel's world in a giant clam shell, followed by the chance to meet the lady herself.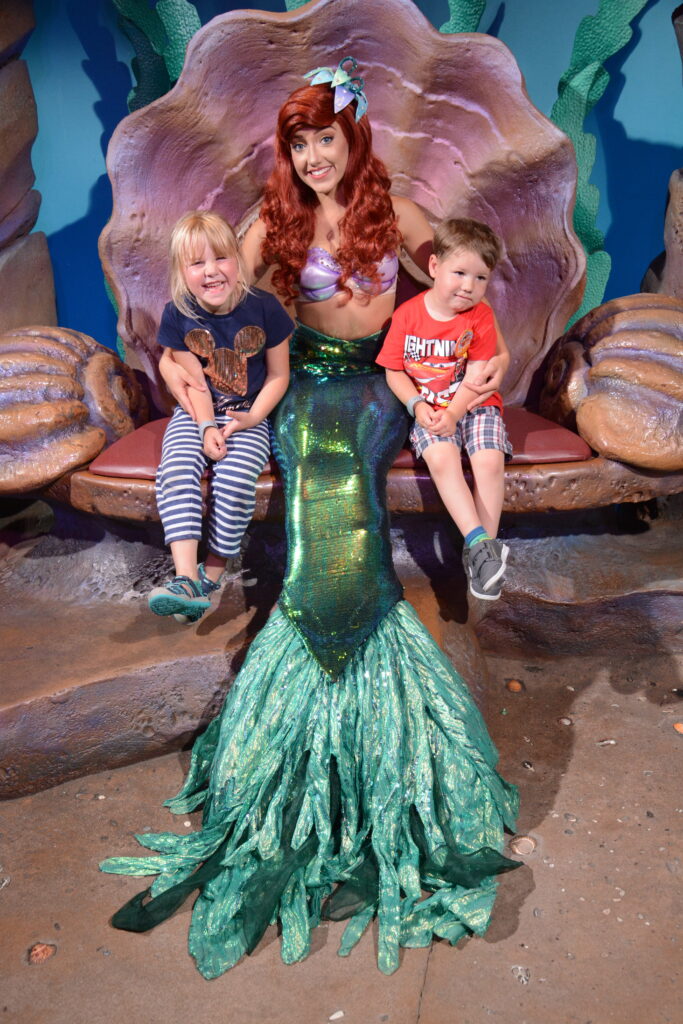 Fantasyland is home to some of the more gentle rides and the only rollercoaster that Sebby could ride as he fell just below the 41″ (102cm) limit. They all adored Dumbo, possibly more as the queuing system involved getting the chance to play in a large circus themed soft play area.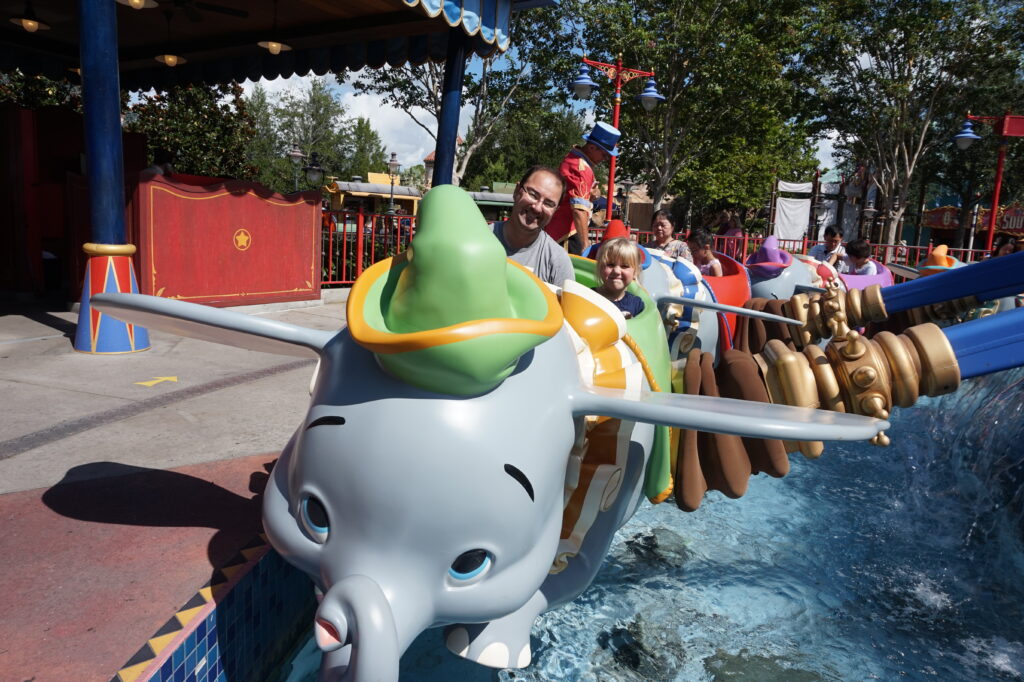 'It's a small world' was also a hit although I still have the song going round and round in my head!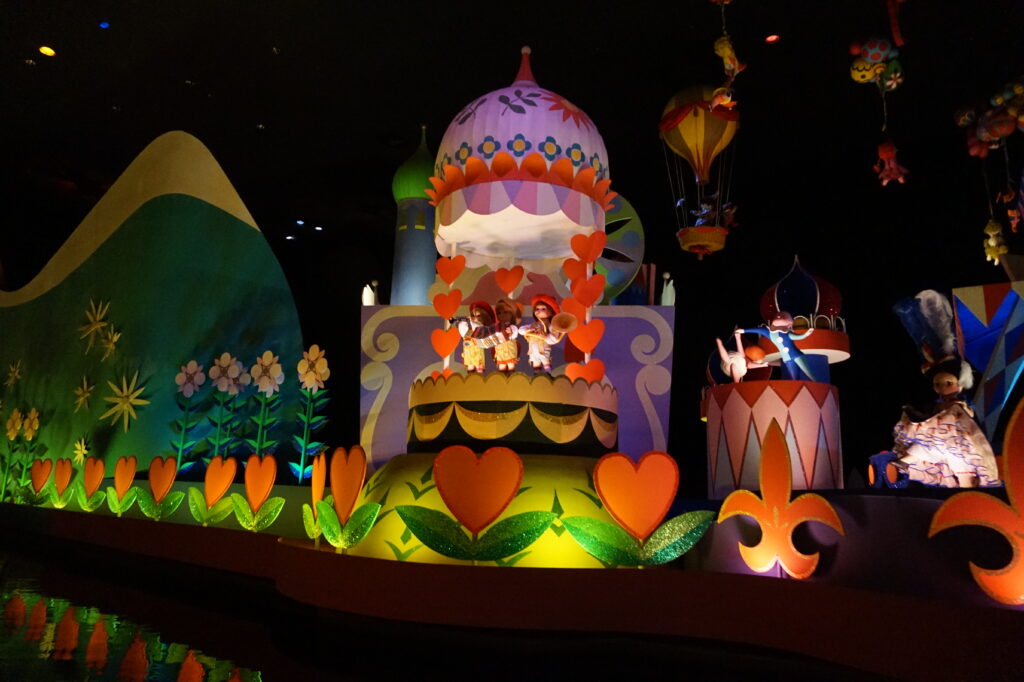 Other rides included Winnie the Pooh where you road around his 'Blustery Day' story, Peter Pan's Flight, Mad Hatters Tea Party (teacup ride), Seven Dwarfs Mine train and Prince Charmings Regal Carousel, plus the chance to meet Princesses such as Merida, Rapunzel, Tiana, Cinderella and Princess Elena of Avalor, who is Eliza's new favourite.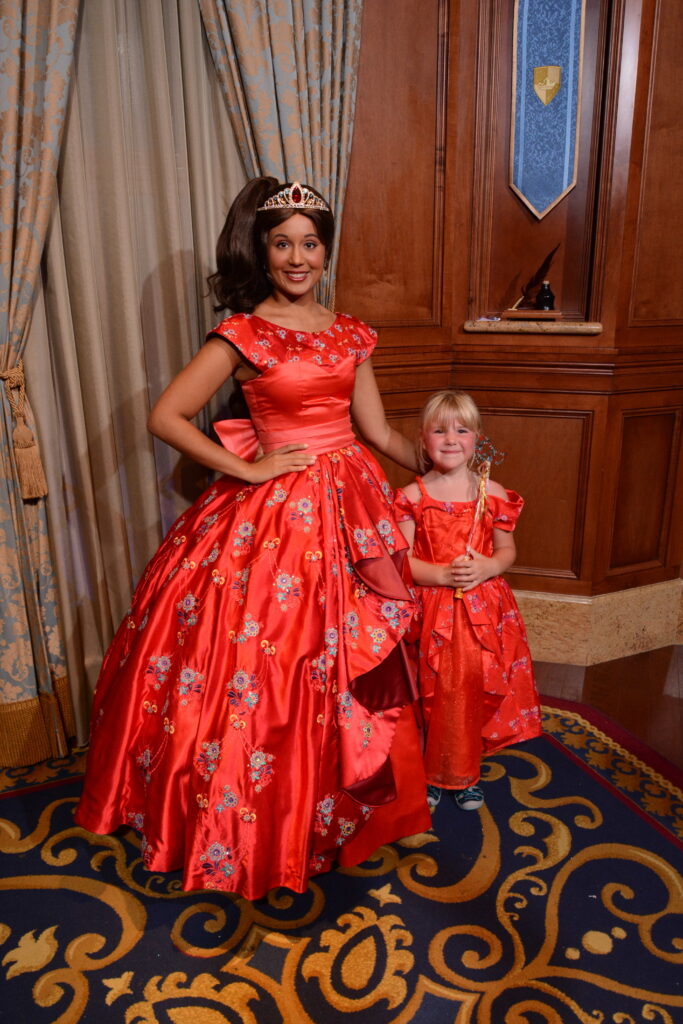 If you find yourself needing to shelter from the rain, or cool down then I also recommend Disney's Philharmagic show, a 4D cinematic delight!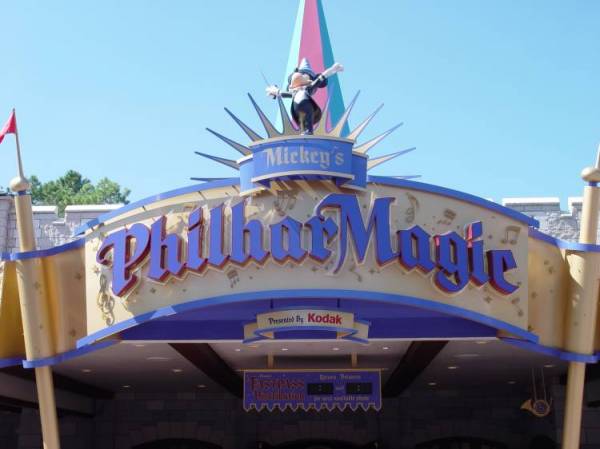 Adventureland
Adventureland was where we found ourselves during our first Floridian downpour – a sight to behold in itself. We decided to find some shelter and headed into the Enchanted Tiki Room.
This was a completely unexpected hit, with bird hosts Jose, Fritz, Michael and Pierre taking us through a show in a tropical pavilion full of flowers, tikis and audio-animatronic birds singing and telling jokes.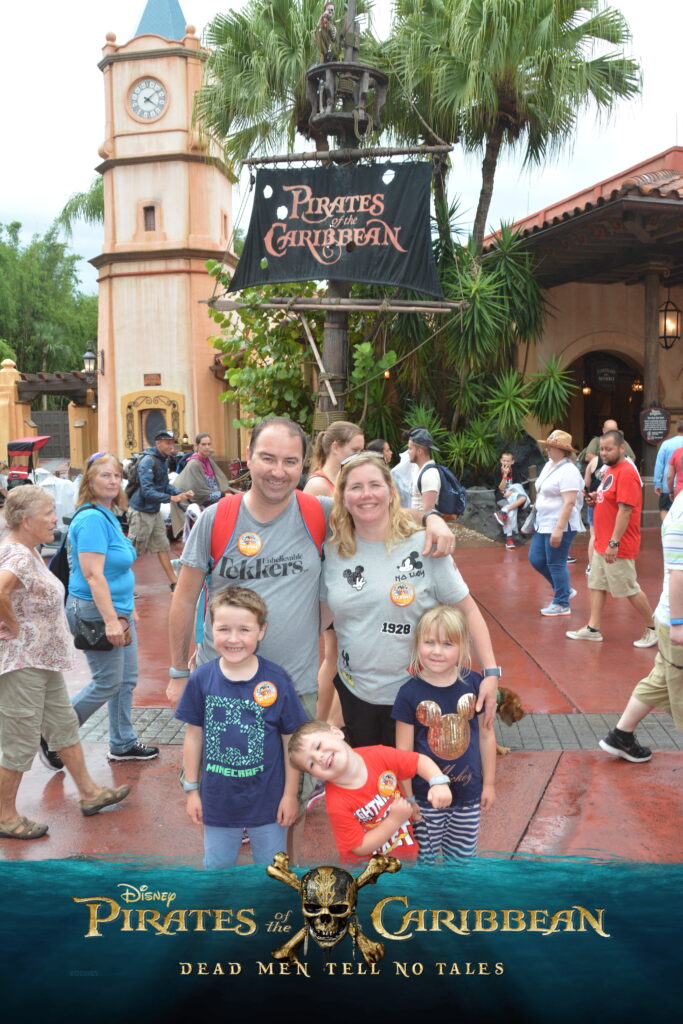 "Yo ho, yo ho, a pirates' life for me." – No visit to Disney would be without visiting the Pirates of the Caribbean and it was clear that it was a popular ride, but the queue moved quickly into cool underground caverns. It is a calm river ride, with one small drop and lots of realistic animatronic pirates around every corner – the eagle-eyed may even catch sight of Captain Jack Sparrow.
Also in Adventureland are the Magic Carpets of Aladdin, the Swiss Family Tree House to explore and the amusing Jungle Cruise.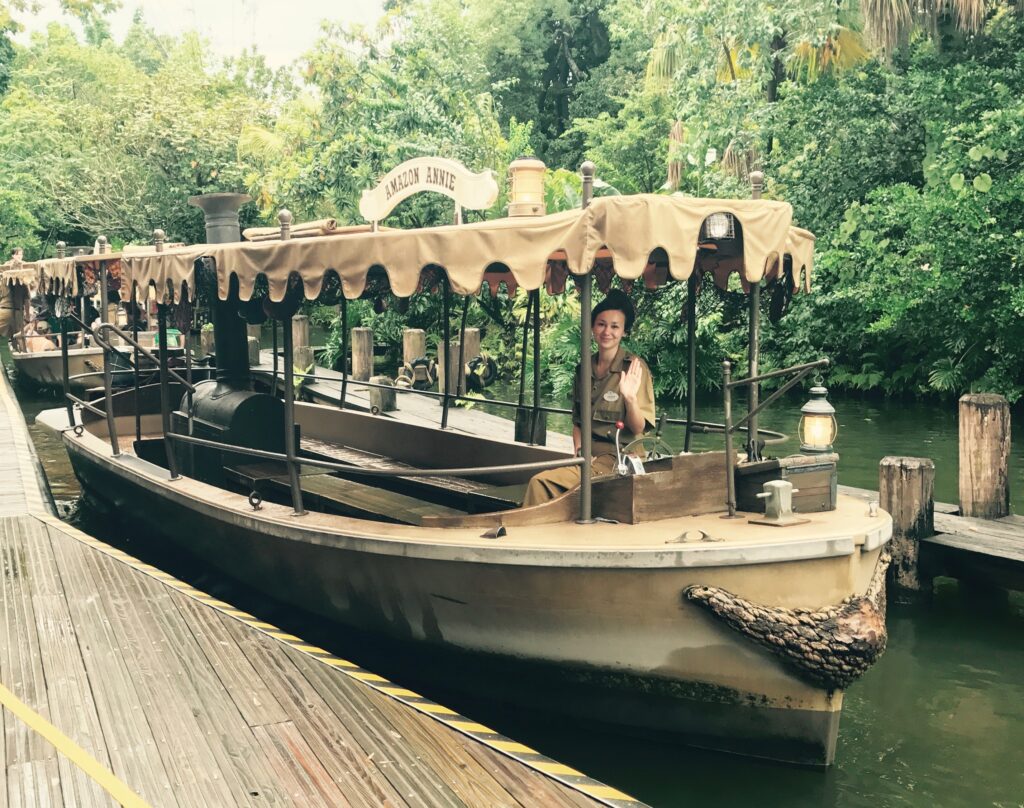 Frontierland
Frontierland is home to two of the three larger rollercoasters in Magic Kingdom; Splash Mountain and Big Thunder Mountain, neither which we could persuade Isaac or Eliza to try, so we consoled ourselves with playing in Tom Sawyer Island and watching the Big Bear Jamboree.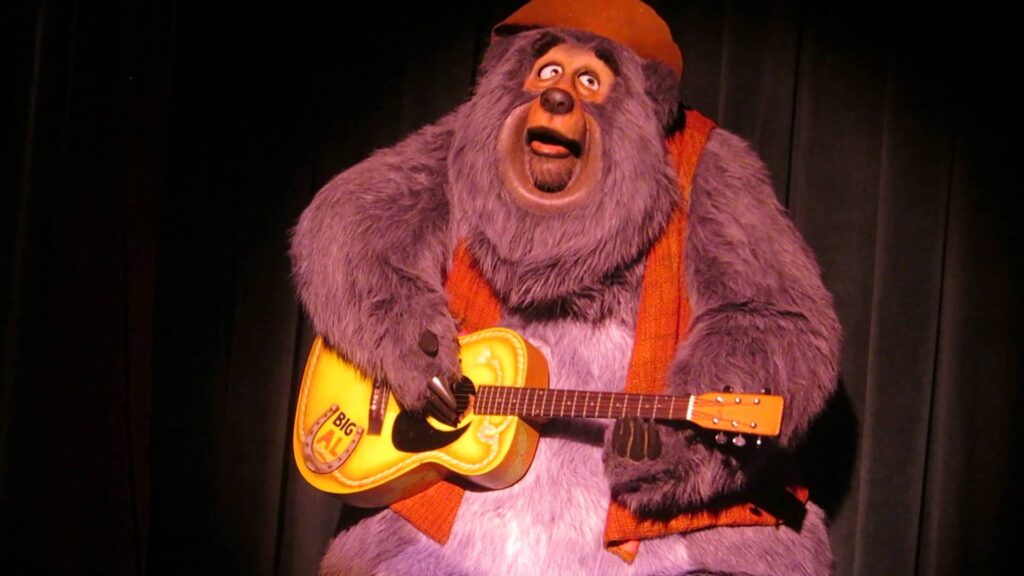 Liberty Square
We probably spent the least time here as there are only three attractions, but it is set in the colonial era of America and is home to the relaxing Liberty Belle paddlewheel boat which takes guests on a cruise around the Rivers of America and the intimidating Haunted Mansion where you board Doom Buggies for a journey through the mansion which tells the story of a Black Widow bride and her many husbands. Only Isaac and Hubby were brave enough for this one.
Main Street
Main Street is where you will find shopping heaven, with shops that sell everything from Pandora charms to Minnie Mouse ears, clothing, costumes and even a hairdressers, plus the chance to find Tinkerbelle.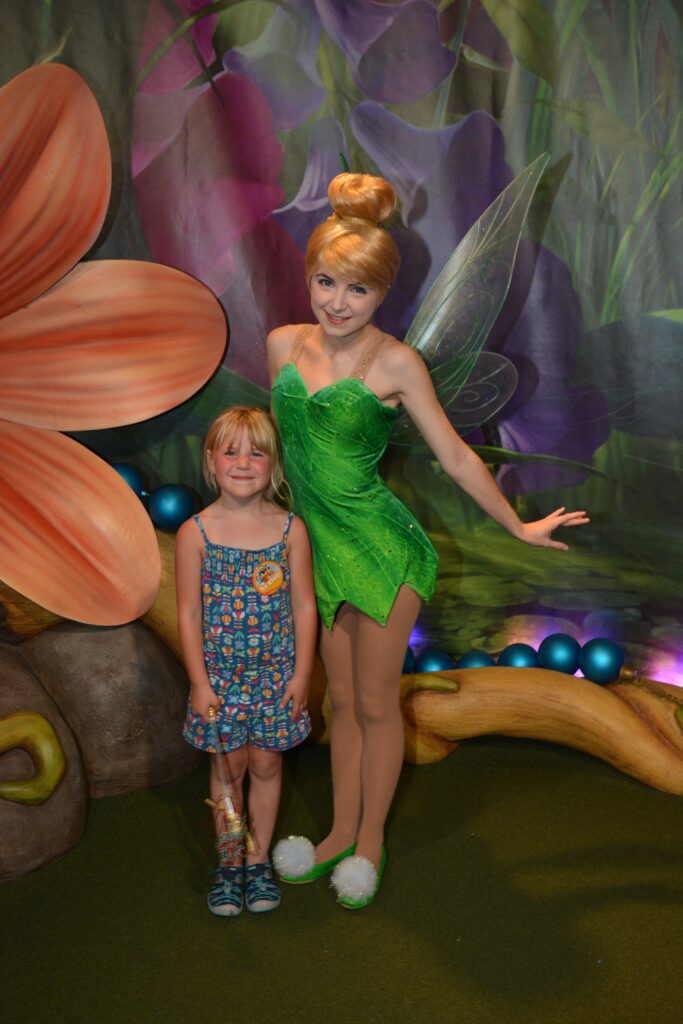 It is also the location for the Disney parades…..
and of course, the finale fireworks!
Please do pop over and check out my top 10 tips for visiting Walt Disney World and keep an eye out for the next installment……..
Disclaimer:  This post is in partnership with Walt Disney World and Mumsnet. I am a member of the Mumsnet Bloggers Panel, a group of parent bloggers who have volunteered to review products, services, events and brands for Mumsnet. I have not paid for the product or to attend an event. I have editorial control and retain full editorial integrity and all opinions here are my own.