How on earth is it November already? It only feels like I started this years Project 365 a couple of weeks ago!
Half term week with us hasn't gone quite to plan. Last weekend we went to London with the kids and it was clear that Sebby wasn't quite himself and by Monday he was clung to me refusing to move and stayed like that until Wednesday.
London was fun though, we went to Comic Con with friends on the Saturday which if I am honest we really didn't enjoy, however we took the Cable Car over to the O2 and took advantage of all the free activities there and had a blast. On Sunday, I headed to Kidzania with Isaac and Eliza whilst Kian and Hubby climbed the O2.
Sebastian was very poorly on Monday and Tuesday but thankfully hubby was at home to help. I did escape the house for Isaac's water polo lesson on Monday and I took him and Kian to the Hollywood Special Effects Show on Tuesday evening, but I cancelled the two events we were due to go to on Wednesday. By that afternoon it was clear we all needed some fresh air and went for a walk at a local Iron Age Fort, Badbury Rings.
Thursday was another quiet day as the weather was atrocious but we did spot a break in the rain and went to the local park for some fresh air.
On Friday we were invited to the Snow Dome at Hemel Hempstead to try skiing and snow boarding with Crystal Ski Holidays. I hadn't skied for 26 years but it seems you don't forget and was off and going immediately. Not quite so good at getting off the lift though.
On Saturday we had booked to go to a promising new local Halloween event. Sadly it didn't live up to expectations and we left early, however, the kids did love playing in the smoke from the smoke machine.
This is my week in pictures: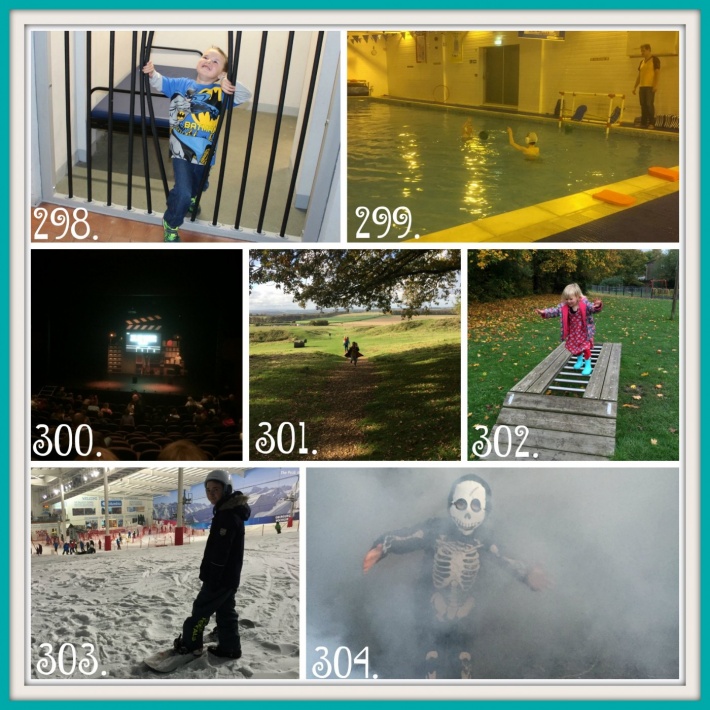 298. Jail break at Kidzania
299. Water Polo practice
300. Hollywood Special Effects Show
301. Running free at Badbury Rings
302. A break in the rain so we hit the park
303. Kian snowboarding at the Snow Dome in Hemel Hempstead
304. Halloween fun