Every since a visit to Adrenalin Quarry and Eden Project in Cornwall, Hubby and Kian have gone Zip Line crazy, so when we saw Zip World on the news we knew we just had to visit.
Zip World is situated in Snowdonia National Park in North Wales, which is a good 6 hour drive away from us, so we knew we would have to stay overnight. Over the summer we were offered a review of The Broadway Hotel in Llandudno and our prayers were answered – we were off to North Wales.
We set off from Bournemouth early Saturday morning and arrived in North Wales at lunchtime. The boys were booked in to do the Tree Top Adventure on Saturday afternoon, with Zip World being saved for Sunday.
There are four different adventures to be had at Zipworld – three in one location; Titan, Zip World Caverns and Bounce Below and the longest and fastest Zip line at another, Velocity.
One day is not enough to do all four zips, so we booked onto Titan, Zip World Caverns and Bounce Below.
Zip World Titan
Zip World Titan is a four person zip line which offers spectacular views over moor, mountain and mine and encompasses three separate zip lines – Anarchy, Bedlam and Chaos! Each rider travels over 2,000m and the total length of the zip lines is over 8,000m!
Hubby and Kian got kitted out in a red flight suit (I did comment they looked a bit like Dr Who when he went in the mine, safety harnesses and helmets before being taken by vehicle to the start of the first zip line, Anarchy – the longest of the three.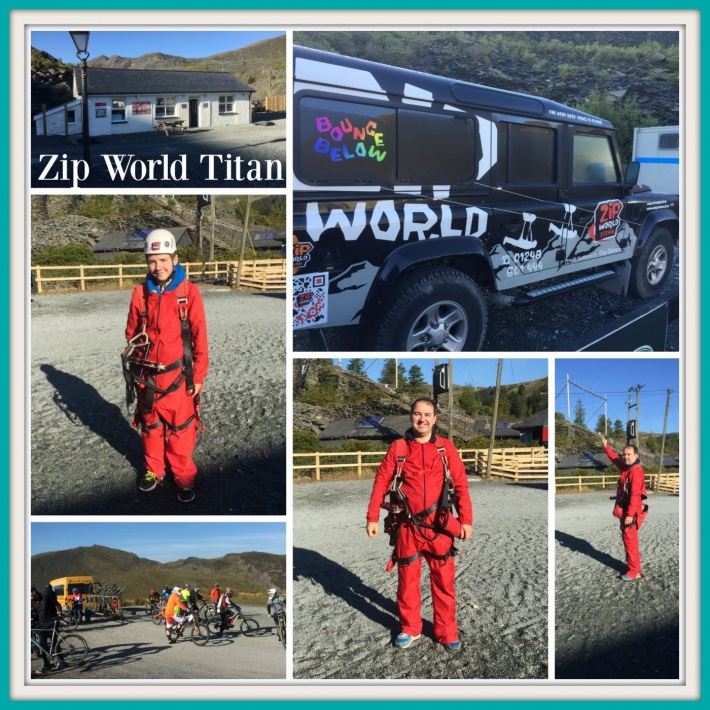 There were 9 people in their group, so the first four went first, followed by a group of three and then hubby and Kian.
The first zip is the longest, but the slowest of the three so it eases you in gently with breathtaking scenery all around you.  Once you have gone down the zip, there is then a short and scenic walk between the end and start of zip line 2.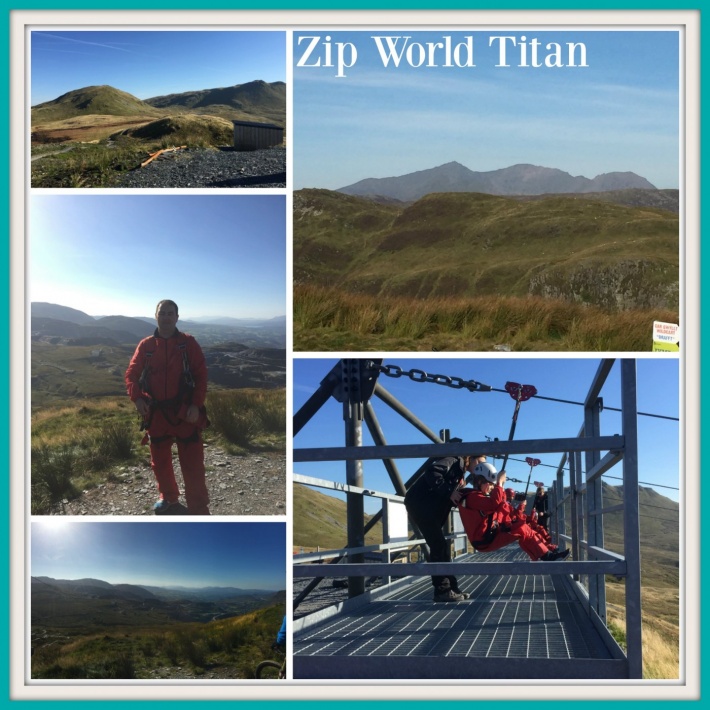 Whilst riding Bedlam and Chaos hubby had to wear a small parachute on his back to slow him down as they came into land as the zips are a lot faster than the previous one. The last zip line, Chaos, takes riders back to Llechwedd Slate Cavern where they started. This involves flying high over the buildings as you come in to land.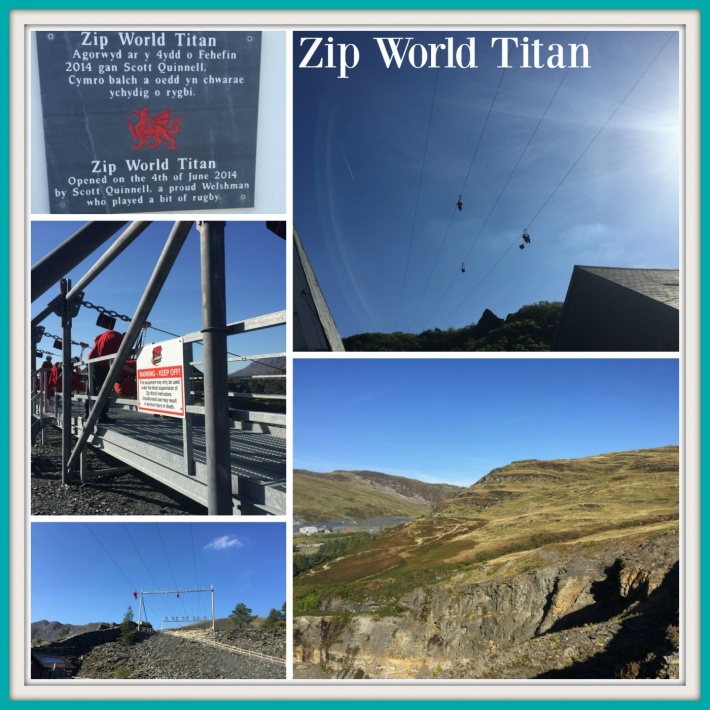 Riding the zip lines was an exhilarating experience for both Hubby and Kian and you can see how they got on in my short video below.
Zip World Caverns
Zip World Caverns is the world's largest fully underground zip line and adventure course is the perfect balance between exhilaration and fear, with adrenalin really kicking in as you tackle zip lines, rope bridges, obstacles and tunnels in almost complete darkness.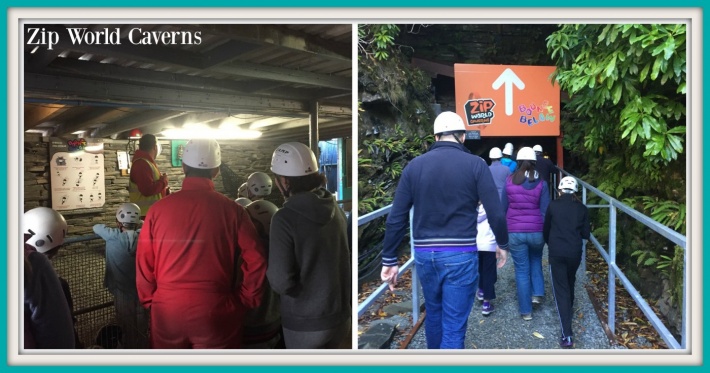 You stay in your red suit and helmet but are also given protective gloves for this adventure. It is also important to ensure you have warm clothing as the caverns are a chilly 10 °C all year round and it is quite a walk down to where you start.
Sadly our Go Pro footage was inside is too dark, but we did film the walk down so you get an idea of what is inside.
Bounce Below
Bounce Below is directly below Zip World Titan and is a thrilling experience hidden underground in a 176-year old disused slate cavern with giant trampolines, walkways, slides and tunnels all made from netting.
You are not wearing a protective suit for this and my only tip is don't wear jeans with buttons on the pockets as these got ripped off. You also wear bizarre netting cover over your shoes to protect both your shoes and the netting in the cavern itself.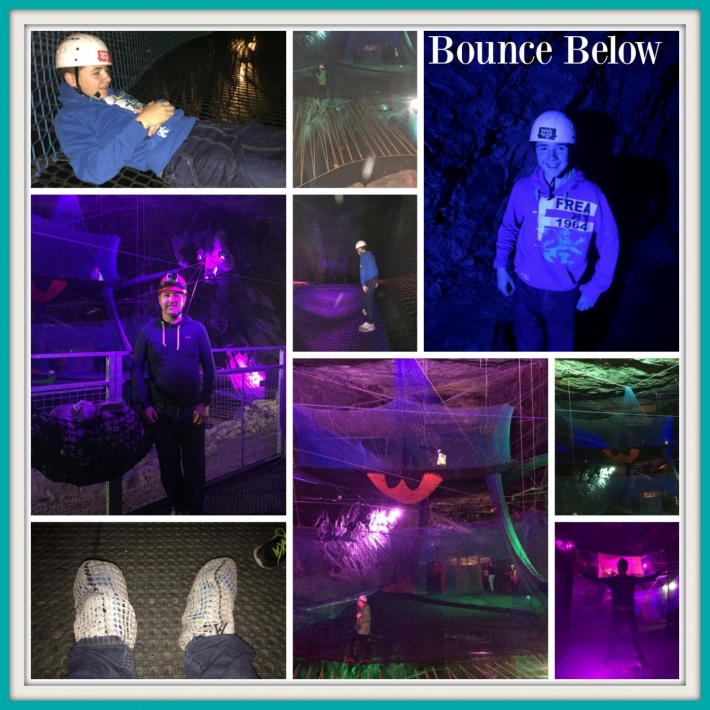 The trampoline like nets of Bounce Below are hung within two vast chambers at different levels, so you can bounce, climb and slide just like a giant playground for adults. You are completely enclosed in the nets so there is no fear of falling and they have split the young children (age 3 to 6) from teens and adults for safety. Expect an hour of giggling as you release your inner child!
The boys had so much fun that we intend to go back next year with all of us, but this time add in Zip World Velocity which is the longest zip line in Europe and reaches speeds well in excess of 100mph can be reached. I cannot fault Zip World or Bounce Below, their service was bright and cheery and safety is paramount but the emphasis was on having oodles of fun!!