I always used to enjoy a visit to Pizza Express until last year when a birthday visit, which also happened to be Fathers Day, went badly wrong at their Tower Park branch. I was so disappointed with the state of the restaurant, food and service that we haven't been back since – until now.
On Thursday we headed to the Bournemouth Pizza Express restaurant which is set in the beautiful old Post Office building in central Bournemouth and our experience couldn't have been more different from our last visit.
The restaurant was well set out, clean and tidy but best of all it was warm and friendly. Our waitress, Delia, was the perfect hostess, introducing us to new food to try, recommending some dishes over others and being genuinely lovely. She even complimented Isaac, Eliza and Sebastian on their behaviour which seemed to make them want to behave even better.
We ordered our drinks and the kids got going on decorating their hats with crayola colouring pens and stickers that were supplied.
When we ordered our food, unusually for us, we decided to have a starter. I love their dough balls and we got a sharing plate with bolognese, pesto and garlic butter dips for the adults although I have to say I preferred the kids balsamic vinegar dip though.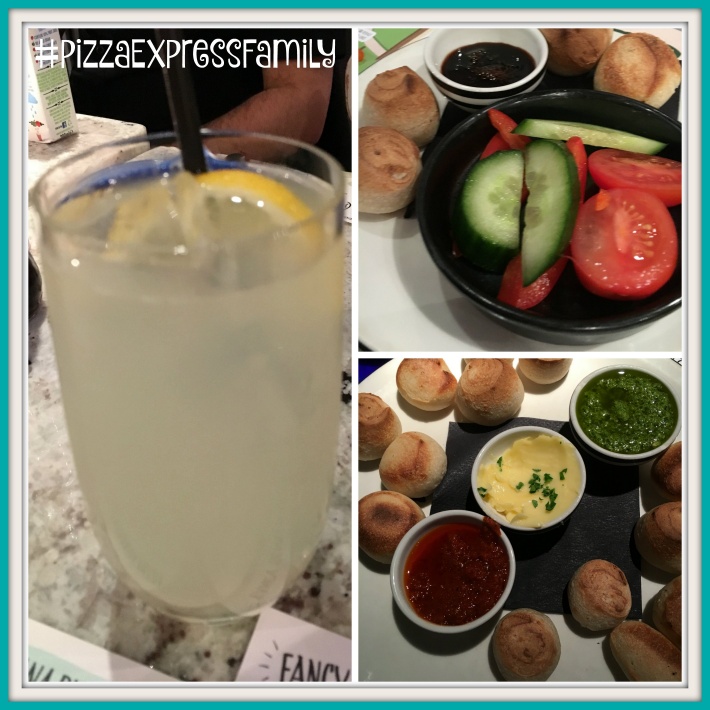 I have heard great things about the cocktails at Pizza Express but sadly hubby met us there straight from work which meant we were both driving, so I consoled myself with a refreshing glass of Cloudy Sicilian Lemonade.
I was really impressed with how quickly our food came out. Upon Delia's recommendation Hubby went for the Calabrese with fiery, soft 'nduja sausage and spicy Calabrese sausage D.O.P with fresh chilli, Roquito pepper, roasted red & yellow peppers, mozzarella and tomato, finished with light mozzarella, rocket, pesto and Gran Milano cheese. I went for the Pollo salad with chicken, goat's cheese, red pepper, fresh tomato, black olives and croutons with seasonal mixed leaves and house dressing and Kian stick to his normal choice of Sloppy Guiseppe with hot spiced beef, green pepper, red onion, mozzarella and tomato. Sebby and Eliza both had pasta and Isaac had a pepperoni pizza.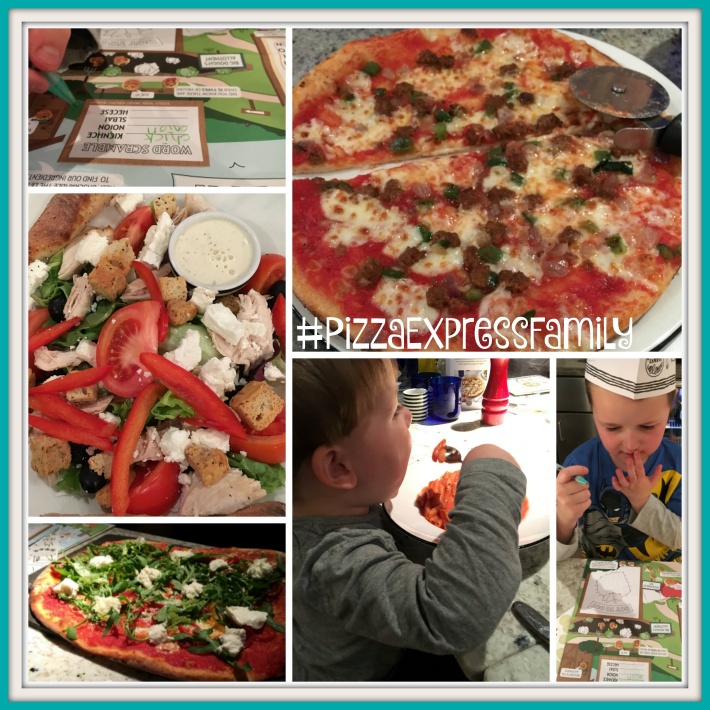 Plates cleared it was time for dessert and I did wonder if I could squeeze anymore in, but I managed a light raspberry sorbet which was delicious. Hubby chose, another recommendation from Delia, the Honeycomb Cream Slice, Kian had the Chocolate Glory that we joked was almost as big as him and the kids chose Sundae's.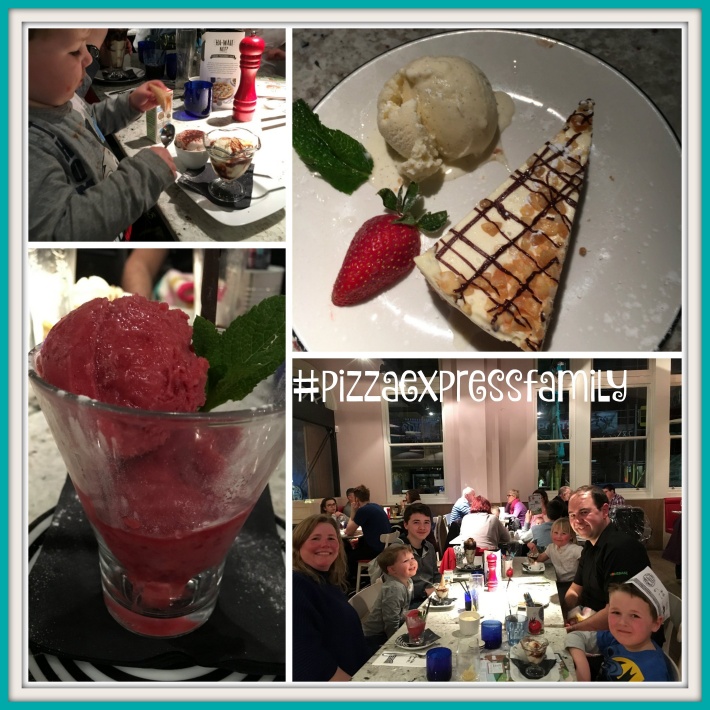 We really couldn't fault this visit to Pizza Express in Bournemouth and my faith is restored in Pizza Express so we will definitely be back soon.
How would you like to win some very yummy Pizza Express prizes so that you can enjoy some family meal time yourself?
I will be co-hosting a Twitter party on the 31st March from 2.00-3.30pm and all you need to do is join in the conversation, tell us what you love about Pizza Express, your best tips for dining out with the family and use the hashtag to show you're on board – #PizzaExpressFamily
Follow the hashtag from now because we will also be bringing you a very exciting competition in a few days, lots of lovely reviews, more information about the Twitter party and a very real party that we'll be covering direct from Pizza Express in Westfield's Stratford City. For now though, consider yourself well and truly invited!
Go on, join the #PizzaExpressFamily! You know you want to like a doughball wants garlic butter!
Disclaimer: We were guests of Pizza Express as part of the #PizzaExpressFamily campaign. All thoughts and opinions are our own.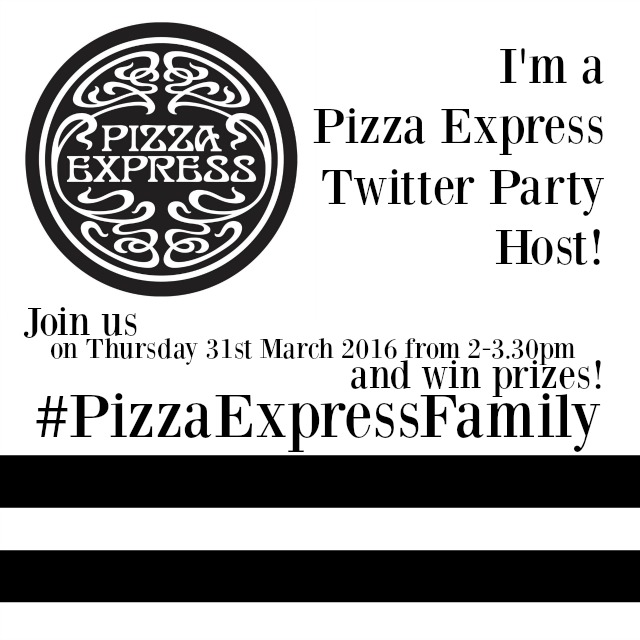 I have a very exciting giveaway below to win a meal with Pizza Express:
To Enter:
Fill in the Rafflecopter widget below to verify your entries
Please read the rules below
If there is no form hit refresh (F5) and it should appear
If still not working please check that your computer is running Javascript
Rafflecopter will tweet, like and follow on your behalf making it really easy to enter
Really want to win the prize? Come back every day for bonus entries via twitter
Terms and Conditions can be found in the Rafflecopter form below
**Comments may not appear immediately due to moderation
Check out my other giveaways here